Hallo und Wilkommen. Heute habe ich eine Karte für euch, die farblich ja nicht so meins ist. Also doppelte Challenge für mich. Die neue Challenge auf Inspire.Create. ist alles zum Thema, "Danke".
Hello and welcome. Today I have a card for you, which has colours that I don't use that often. So double challenge for me. This fortnights  theme at Inspire.Create. is "Thankful".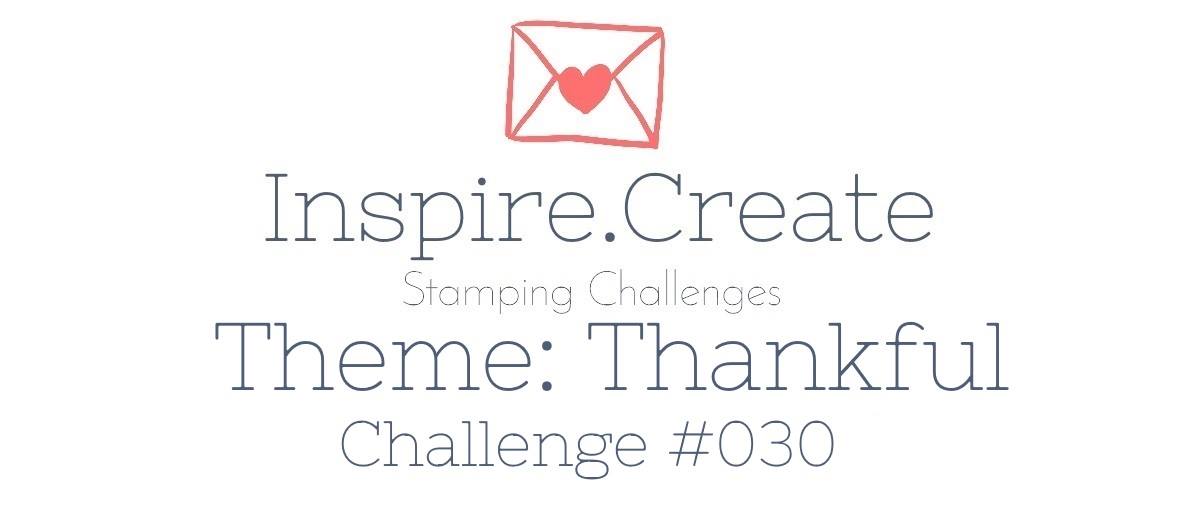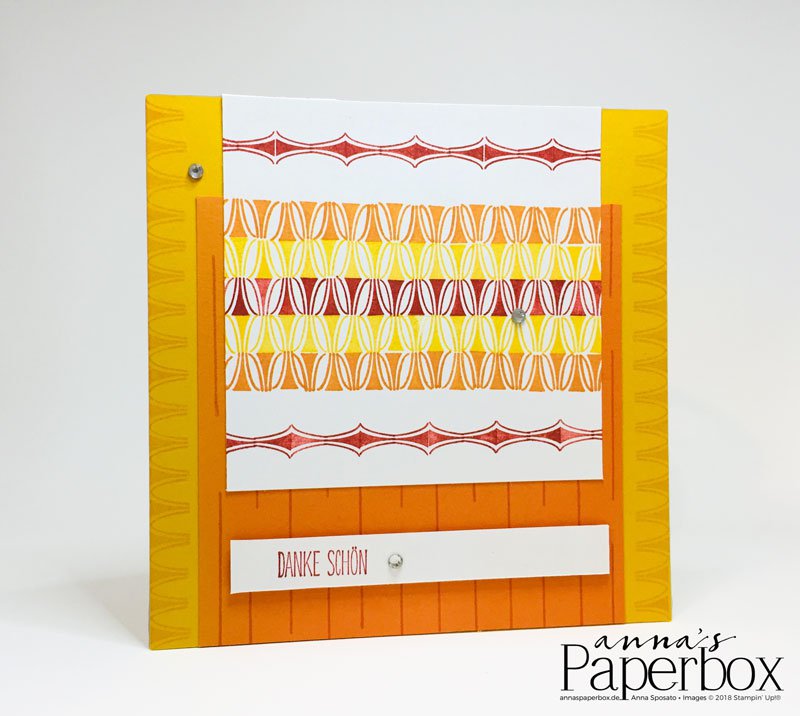 In dem neuen, exklusiven Stempelset "Wintermärchen", das ihr im November kaufen könnt, gibt es einen kleinen Stempel, der eigentlich ein Baumstamm sein soll. Ich habe ihn für meine Karte etwas zweckentfremdet und eine Retro-muster damit kreiert. Da es ein Polymerstempelset ist, kann man die Stempel wunderbar platzieren.
In November we get some gorgeous limited edition products. One of these is the stamp set "Snow Is Glistening". There is a small stamp, which is actually the tree trunk. I "misused" it for my card to create a retro pattern with it. Since it is a Photopolymer stamp set, you can see exactly where to place the stamp.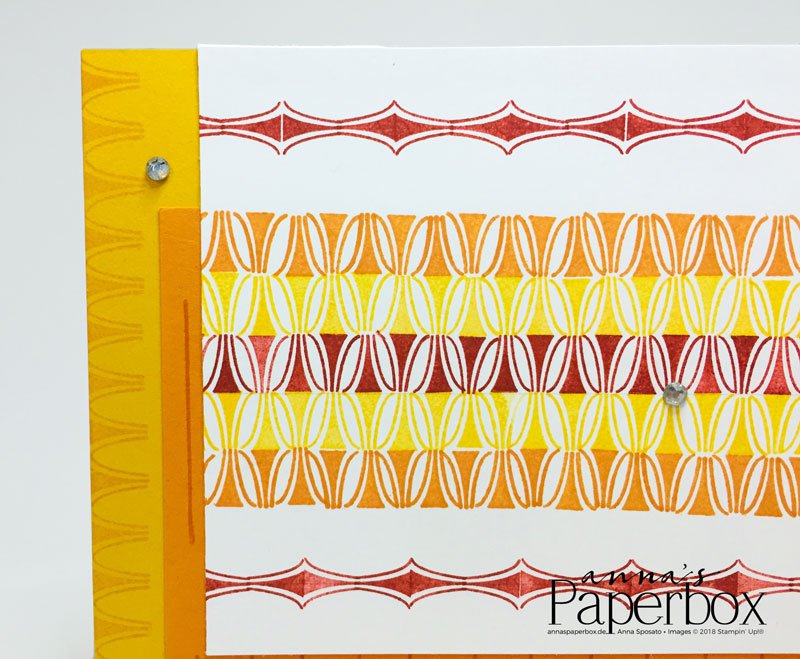 Da ich fünf Reihen gestempelt habe, konnte ich nicht die Mitte als Ausgangspunkt nehmen. Ich hab zuerst die Mitte der Karte markiert und anschließend den Stempel der Länge nach gemessen. Dieses Maß habe ich dann genommen um eine dünne Linie unterhalb der Markierung zu ziehen.  Auf dem unteren Bild ist diese Linie noch zu sehen. Die muss natürlich noch weg radiert werden.
Since I stamped five rows, I could not start at the centre of the card. I first marked the middle on the card and then measured the stamp lengthwise. I then took this measure to draw a thin line below the mark. On the lower picture, this line is still visible. Of course it has to be erased after stamping.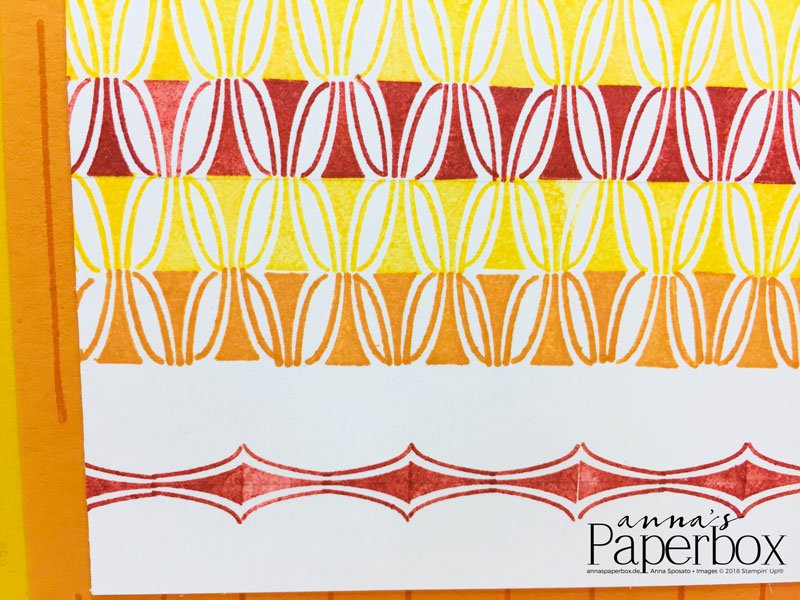 Für die beiden dunkelroten Muster habe ich mir auch eine Hilfslinie gezogen und die Stempel mittig angelegt. Das Muster auf dem orangefarbenen Farbkarton ist ein simpler Strich. Den kann man entweder mit Lineal und Marker ziehen oder den passenden Stempel aus dem Set Alles Liebe, Geburtstagskind nehmen.
For the two dark red patterns, I also drew an line and placed the stamp in the centre. The pattern on the orange cardstock is a simple line. You can either draw with a ruler and a marker or use the stamp from the set Happy Birthday, Gorgeous.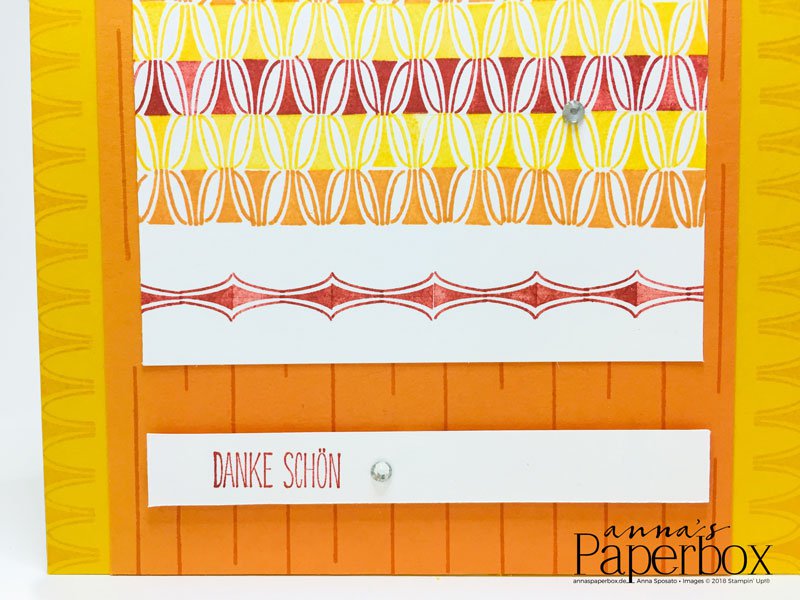 Schaut auf der Challengeseite vorbei, für weitere tolle Projekte zu Thema. Macht mit und zeigt uns eure Kreationen. Wir freuen uns eure Werke zu sehen. Klickt auf den Button unten um direkt zur Challengeseite zu kommen.
Want to see more fab projects? Visit the Inspire.Create blog and see what the other team ladies made this week. We'd also love to see your creations. Click on the button below to get to the Challenge blog.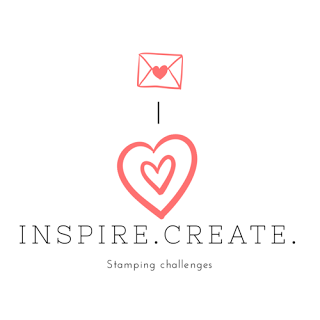 –
Maße für die Karte:

Measurements for the card:

Farbkarton Curry-Gelb:
5½" x 11" (14 x 28 cm)
an der langen Seite bei: 5½" (14 cm) falzen
Farbkarton Kürbisgelb:
4½″ x 4½″ (11,5 x 11,5 cm)
Farbkarton Flüsterweiß:
4″ x 4″ (10 x 10 cm)
4″ x ½" (10 x 1,5 cm)


Crushed Curry Cardstock:
5½" x 11" (14 x 28 cm)
score on the long side at: 5½" (14 cm)


Pumpkin Pie Cardstock:


4½″ x 4½″ (11,5 x 11,5 cm)

Whisper White Cardstock:


4″ x 4″ (10 x 10 cm)
4″ x ½" (10 x 1,5 cm)

–
Product List
–