Hallo und willkommen zu einer neuen Challenge von Inspire.Create. Der Ausverkauf hat bereits begonnen und wir müssen uns bald von den In Color Farben 2016-2017 verabschieden – Ich werde vor allem Pfirsich Pur und Zarte Pflaume vermissen. Daher gibt es heute eine Farbchallenge bei uns.
Hello and welcome to a new Inspire.Create challenge. As you know, we have to say goodbye to the 2016-2018 In Colors. I'm going to miss Peekaboo Peach and Sweet Sugarplum. So this weeks challenge is all about the retiring In Colors.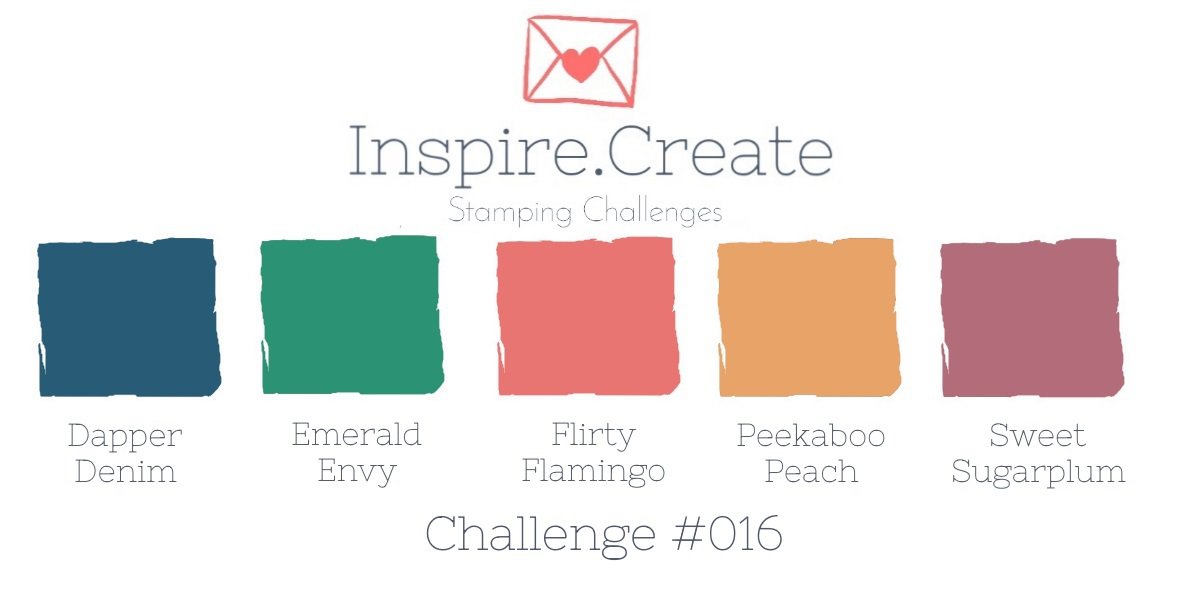 War gar nicht so einfach alle fünf Farben in ein Projekt unterzubringen. Aber ich wollte unbedingt alle verwenden und nach einigen Versuchen und Ideen, habe ich es geschafft 😉
It was quite a challenge to make a project using all the colours. So after a few tries and ideas I finally succeeded 😉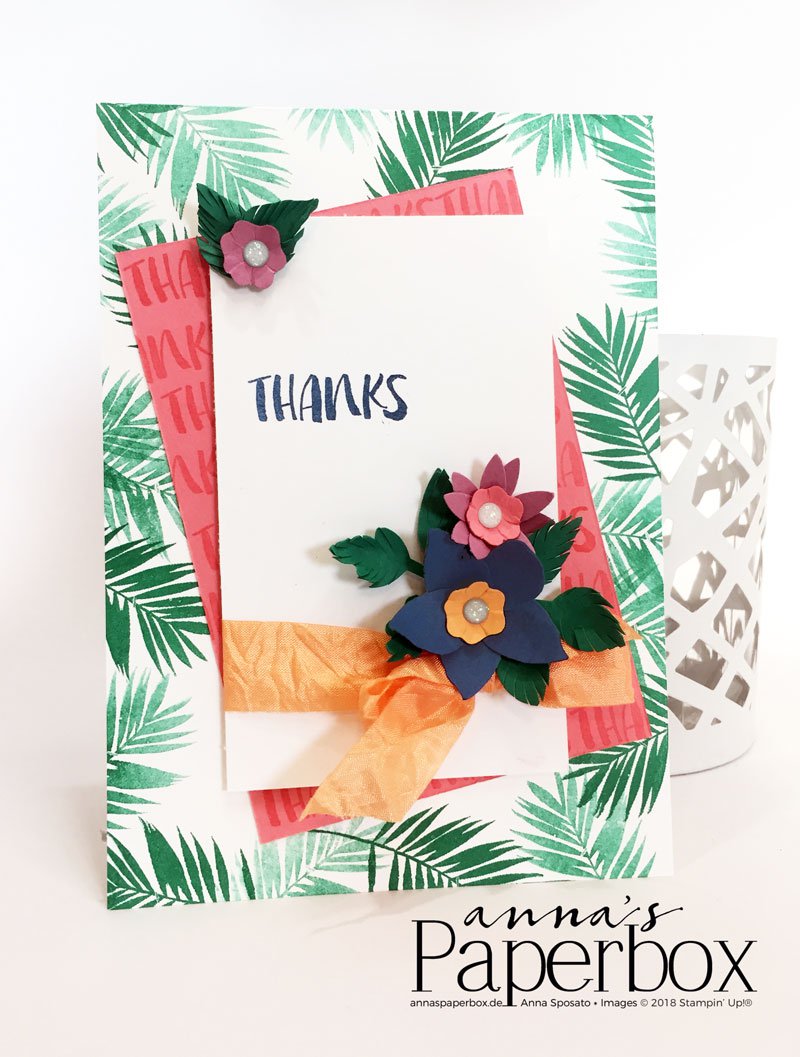 Die Grundkarte in Flüsterweiß habe ich mit dem Palmwedel aus dem Stempelset Fabulous Flamingo (Flamingo-Fantasie) in Smaragdgrün direkt bestempelt. Als nächstes dann die Flamingorote Hintergrundkarte Ton in Ton mit dem Danke Stempel bestempelt.
I didn't use any mats and instead stamped the leafs from the Fabulous Flamingo stamp set directly onto the card base. I also stamped off a few leafs to create a bit of depth and variation in the colour. The piece of Flirty Flamingo cardstock needed a bit of texture or colour and I choose to stamp it tone in tone with the same sentiment stamp as the front greeting.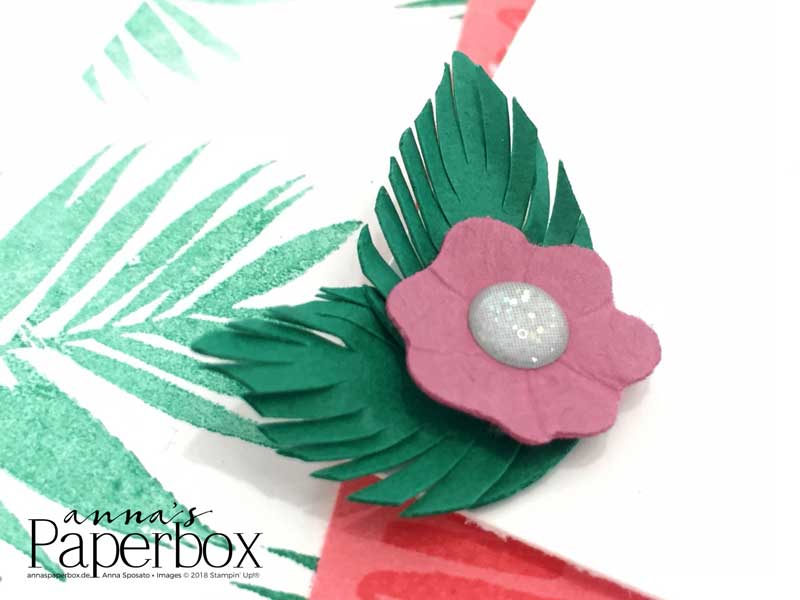 Für die Blätter und Blüten habe ich die Elemementstanze Blüte und die Blätterzweig Stanze verwendet. Die Blätter habe ich eingeschnitten um ihnen einen tropischeren Look zu verpassen.
For the leafs and flowers I used the Blossom Builder Punch and the Leaf Punch and as the theme of the card is rather tropical, I simply snipped the leafs to make them a bit more Palm like.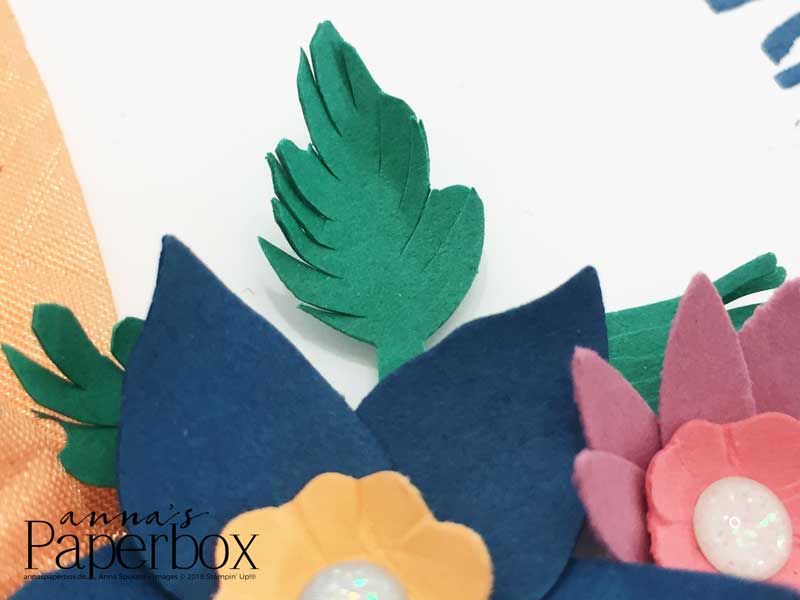 Für die große Blüte (Jeansblau) habe ich auch die Blätter verwendet. Hat mir besser gefallen als die eigentliche Blüte der Stanze.
I also used the leafs from the Blossom Builder Punch to make the blue flower. I like that one better than the actual flower petals.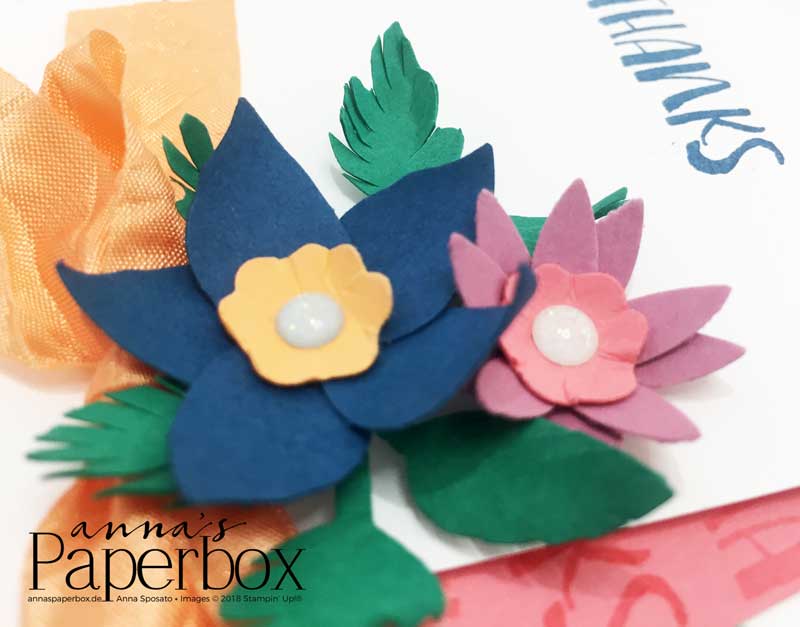 Ich bin echt gespannt was die anderen Mädels diese Woche tolles kreiert haben. Klickt auf das Bild unten um direkt zum Blog zu kommen 🙂
Can't wait so see what everyone else has made this week. Let's head over to the challenge blog and find out 🙂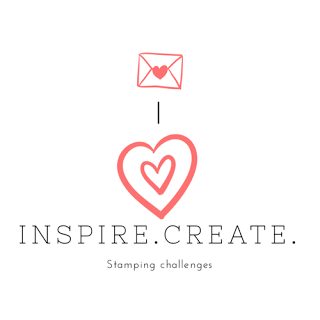 –
Maße für die Karte:
Farbkarton Flüsterweiß:
4⅛" x 11½" (29,7 x 10,5 cm)
an der langen Seite bei: 5¾" (14,5 cm) falzen
2½" x 4⅛" (6,5 x 10,5 cm)
Farbkarton Flamingorot:
3″ x 4⅜″ (7,5 x 11 cm)


Measurements for the card:
Whisper White cardstock:
4⅛" x 11½" (29,7 x 10,5 cm)
score on the long side at: 5¾" (14,5 cm)
2½" x 4⅛" (6,5 x 10,5 cm)
Flirty Flamingo Cardstock:
3″ x 4⅜″ (7,5 x 11 cm)

–
Materialliste/Product List
–