Hallo und willkommen zu…
Hello and welcome to…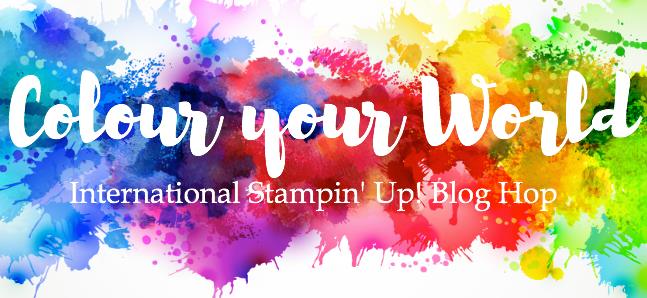 diesen Monat haben wir eine schön, frostige Farbpalette. Saharasand, Ozeanblau, Jeansblau und Marineblau.
this month we've got a beautiful, frosty colour palette. Sahara Sand, Marina Mist, Dapper Denim and Night of Navy.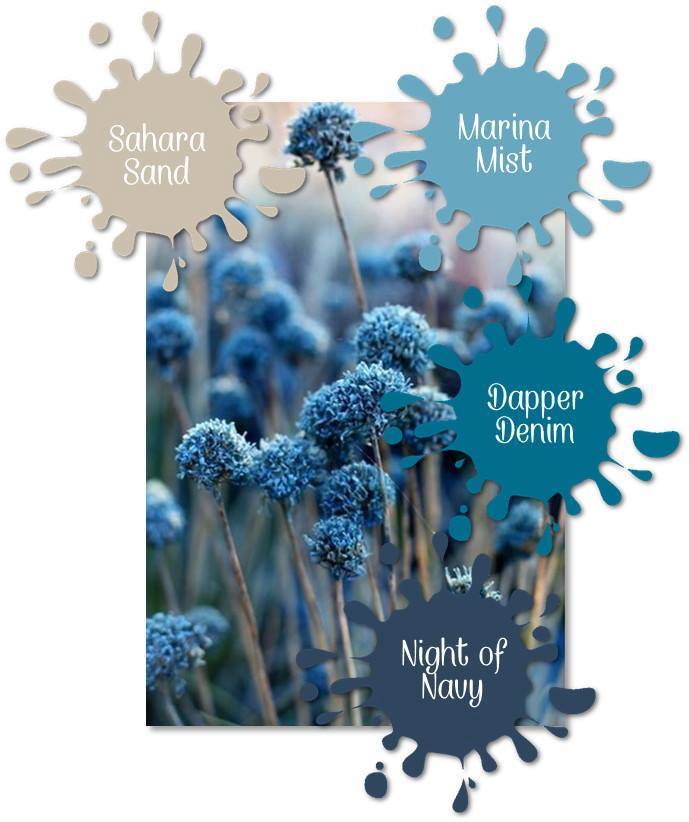 Jeansblau… da war doch was. Yep, Jeansblau ist eine der Farben aus der Produktreihe Farbenspiel und da gibt es gleich zwei Papierpakete, einmal das Designerpapier im Block Farbenspiel und einmal das Karten-Sortiment Erinnerungen & mehr Farbenspiel. Für meine Karte habe ich eine Karte aus dem Karten-Set verwendet. Diese Karten sind ein klein wenig breiter als eine normale Standard Karte. Aber keine Sorge, auch diese Karte passt perfekt in einen unserer Umschläge 🙂
Dapper Denim… hmmm, isn't this colour part of something? Yep, Dapper Denim is one of the colours from the Color Theory Suite and that suite has two paper options, the Designer Series Paper Stack and the Memories & More Card Pack. For my card, I've used one of the cards from the card pack. These cards are a little bit wider than a standard card. But it still fits perfectly in one of our envelopes 🙂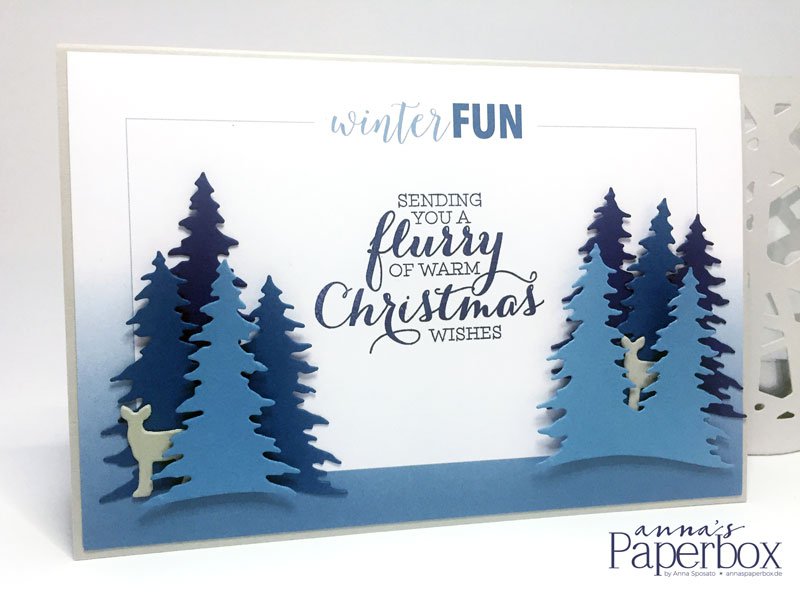 Ich mag es Karten aus den Erinnerungen & mehr Sets zu verwenden. Der Hintergrund ist, wie bei dieser Karte, meist schon fertig und man braucht nur noch ein paar Dekoelemente um schnell eine schöne Karte zu basteln. Das einzige was ich bei dieser Karte gestempelt habe sind die Weihnachtsgrüße. Die findet ihr in dem Stempelset Flurry of Wishes (Flockenzauber).
I like to use cards from the Memories & More packs. You can make cards real quick and easily, as the cards often provide a beautiful already finished background and you only need a few decorative elements to finish a card. On this card I only stamped the Christmas greeting. You can find it in the Flurry of Wishes stamp set.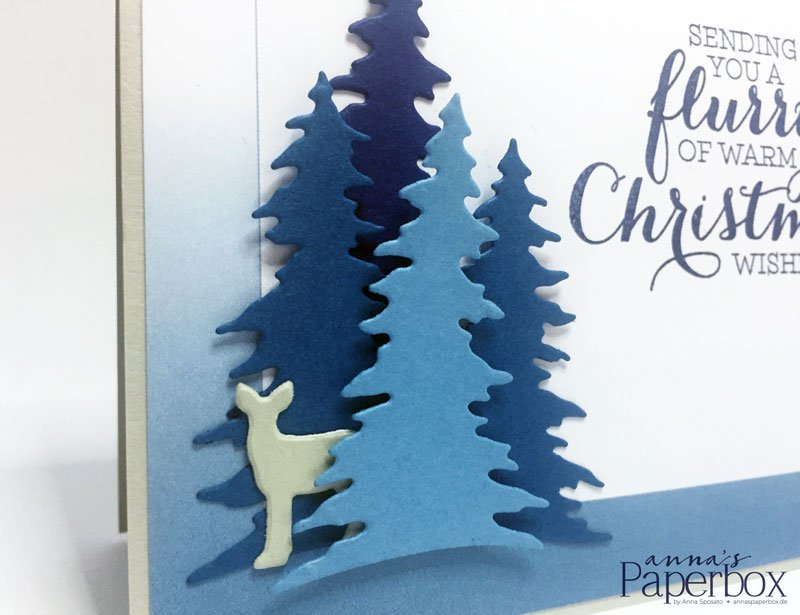 Die Tannen sind mit den Thinlits Formen Festtagsdesign ausgestanzt. Jeweils ein Set (Einzeltanne und Doppeltanne) in jedem Blauton. Beim aufkleben habe ich die dunkelsten nach hinten gesetzt und die hellsten nach vorne. Die beiden hinteren Reihen sind mit Flüssigkleber direkt auf die Karte geklebt, dabei habe ich nur auf dem unteren Teil Kleber aufgetragen damit ein leichter 3D-Effekt entsteht. die vordersten Tannen sind dann mit Abstandsklebeplättchen (Dimensionals) aufgeklebt. Zum Schluss habe ich noch zwei Rehe zwischen die Bäume gesetzt.
The trees are made with the Card Front Builder Thinlits . One set each (single tree and double tree) in the tree shades of blue. I put the darkest one in the back and the lightest in front. The two back rows are glued one with liquid adhesive directly onto the card and I only put adhesive to the lower part of the trees. To create a slight 3D effect. The foremost trees are then adhered with dimensionals. Finally, I let two deers peek out between the trees.
Maße für die Karte
Farbkarton in Saharasasnd: 6⅛" x 8¼" (15,5 x 21 cm)
Lange Seite falzen bei: 4⅛" (10,5 cm)
Erinnerungen & mehr Karte: 6″ x 4″ (15,2 x 10,1 cm)
–
Measurements for the card

Sahara Sand cardstock: 6⅛" x 8¼" (15,5 x 21 cm)
score on long side at: 4⅛" (10,5 cm)
Memories & More Card: 6″ x 4″ (15,2 x 10,1 cm)
… und nun viel Spaß noch mit den tollen Projekten der anderen Mädels 🙂 Einfach die Buttons oder die Direktlinks verwenden und auf unserer Colour your World Challenge Group Seite auf Facebook könnt ihr eure eigenen Werke verlinken. Wir freuen uns auf euren Besuch und habt noch eine schöne Zeit. Bis zum nächsten mal 🙂
… and now have fun exploring the beautiful projects of the other ladies 🙂 Just use the buttons or the direct links below. On our Color your World Challenge Group page on Facebook you can join us in this months challenge and show us your projects. We look forward to your visit. Have a nice day. Until next time 🙂
–
–
Materialliste/Product List
–