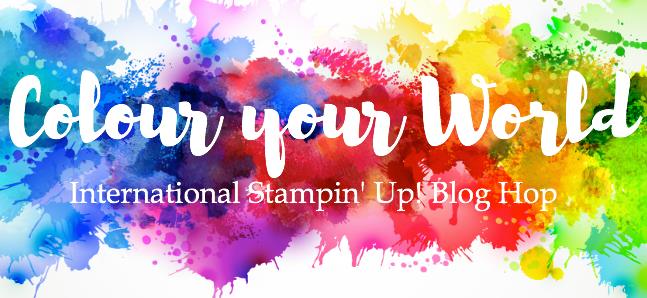 Hallo und Willkommen zur Oktoberausgabe von Colour Your World Blog Hop mit einer herbstlichen Farbpalette.
Hello and welcome to the October issue of Color Your World Blog Hop with an nice autumn colour palette.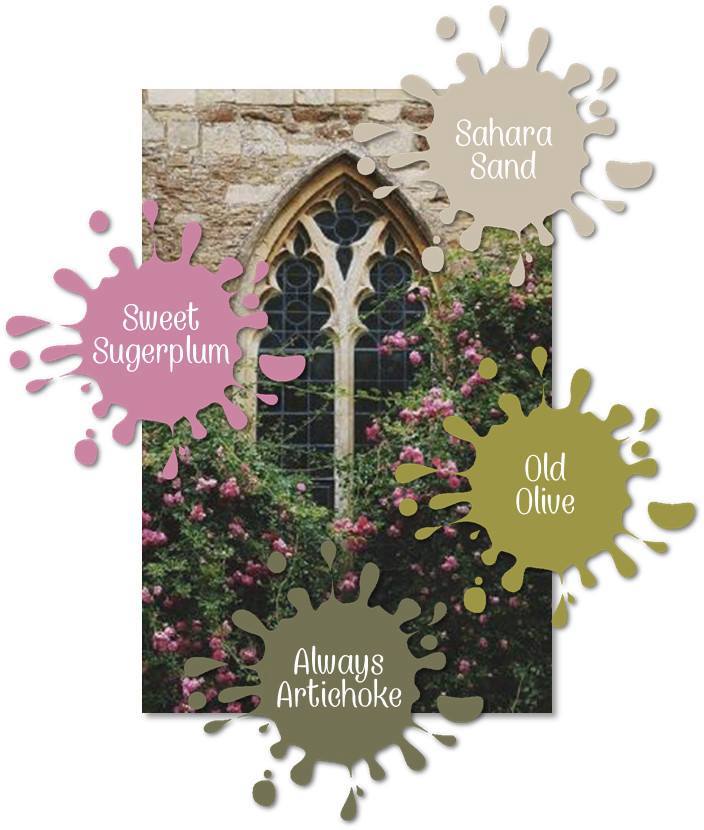 Für meine Karte habe ich mich vom Bild der Palette inspirieren lassen. Das Mauerwerk habe ich mit einer Holzoptik ausgetauscht und die Rosen mit herbstlichem Laub. Da eignet sich das Stempelset Herbstanfang super dafür.
For my card, I was inspired by the image of the palette. I replaced the brick wall with a wooden look and the roses with autumn leaves from the stamp set Harvest Painting, which is an absosutely goreous stamp set and perfect for my card.
Den Hintergrund habe ich vor dem Prägen leicht mit einem Schwämmchen und den Farben Sahara Sand und Grünbraun eingefärbt. Gibt dem Ganzen ein wenig mehr Struktur und Verwitterung 😉 Beim Prägen mit den Tiefen-Prägeformen, empfiehlt es sich das Papier vor dem prägen anzufeuchten. Damit verhindert man, daß das Papier bricht. Das Etikett hat noch ein wenig "Moos" am oberen Rang abbekommen.
Before embossing the background, I lightly inked it with a sponge dauber and the colours Sahara Sand and Always Artichoke. Gives the whole look a little more structure and weathering;) When embossing with a Dynamic Textured Impressions Embossing Folder, it's recommended to lightly spritz the paper with water before embossing. This prevents the paper from breaking. At the top of the label I sponged a little "moss" on.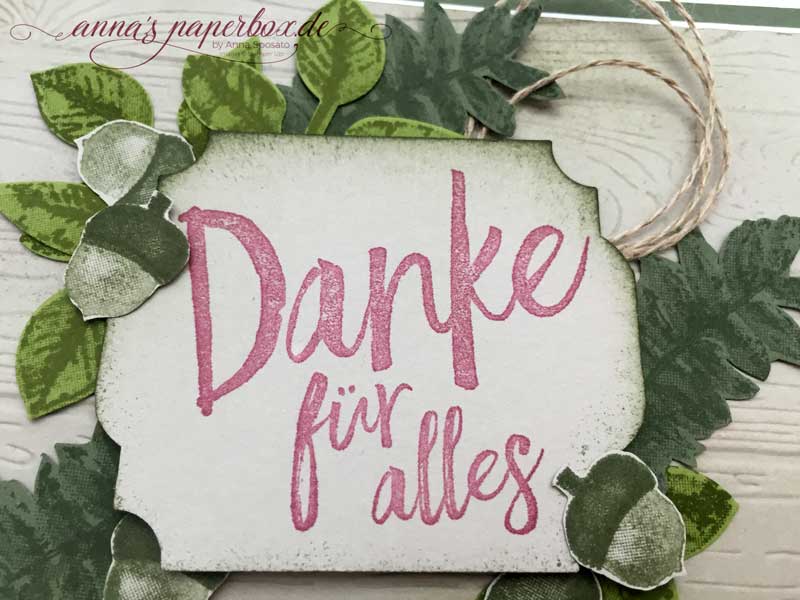 Die hellen Blätter sind mit der Blätterzweig Stanze gestanzt und der Rest per Hand ausgeschnitten. Um mehr Kontrast bei den Eicheln zu bekommen, habe ich den unteren Teil (Nuss) vorher einmal abgestempelt und die Kappe gleich dreimal übereinander gestempelt. Alles mit Grünbraun.
Weiter geht es im Blog Hop mit Alison oder nutzt die Direktlinks unten und vergesst nicht auf unserer Colour your World Challenge Group Seite auf Facebook vorbeizuschauen. Bis zum nächsten mal 🙂
The bright leaves are punched out with the Leaf Punch and the rest are cut out by hand. To get more contrast with the acorns, I stamped the lower part (nut) once off and the cap three times over each other with Always Artichoke.
Hop on over to Alison or use the links below and please join us at our Colour your World Challenge Group on Facebook. CU 🙂
–
–
Materialliste/Product List
Save