Für meine heutige Karte habe ich Eastern Beauty (Schönheit des Orients) mit Metallicglanz kombiniert und als Vorlage, die aktuelle Global Design Project Challenge. Diese Woche ist es ein Thema: Hochzeit/Jahrestag.
For todays card, I've combined Eastern Beauty with some metallic shine and the current Global Design Project Challenge. This week it's a theme: wedding / anniversary.
Der silberne Farbkarton den ich verwendet habe, ist glänzender als der von Stampin' Up! Die Reste die ich von dem noch hatte, waren einfach zu klein für die Karte Deshalb die glänzende Variante.
The silver foil cardstock I used is more shiny than the one from Stampin 'Up! The pieces I had left of that were just too small for the card Hence the shinier version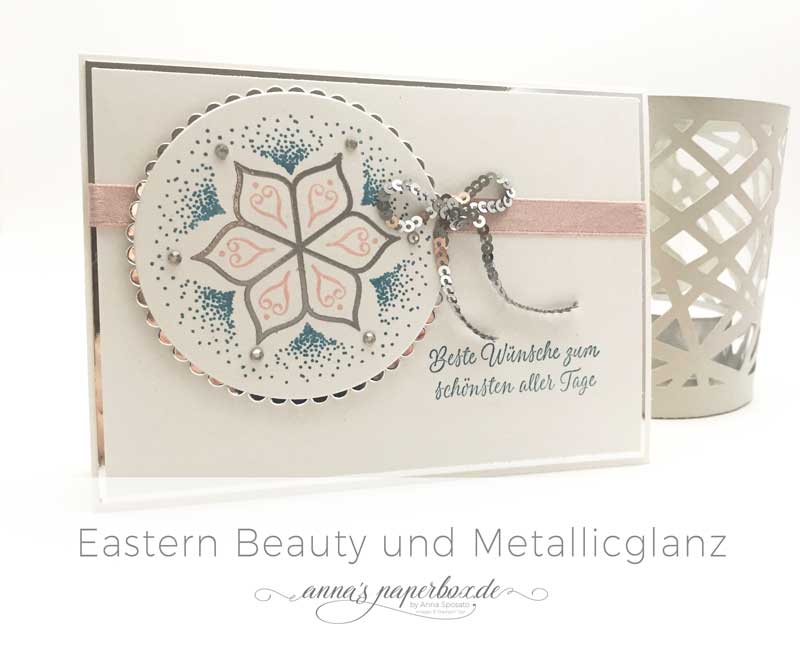 Die Blüte habe ich in Silber embosst. Das Schleifchen mit dem Pailletten band war überraschen einfach zu binden. Habe es mir komplizierter vorgestellt.
I've embossed the flower in silver. The little sequin ribbon bow was surprisingly easy to tie. I've expectet it to be more complicated.
Die Glückwünsche sind aus dem nicht mehr erhältlichen Stempelset "Wintermedaillon". Ich hatte leider nichts passendes in meiner aktuellen Stempelsammlung ‍♀️ also habe ich alte Sets durchstöbert.
The greeting is from the "Frosted Medaillions" stamp set, which is no longer available. Unfortunately, I don't have anything suitable in my current stamp set collection so I went through my retired sets.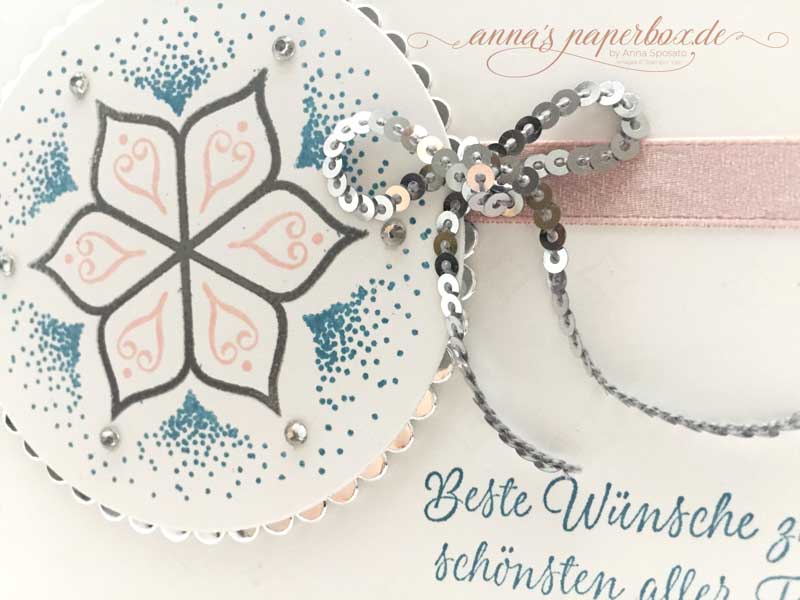 –
MateriallisteProduct List
–