diese Woche heißt es bei Global Design Project, "CASE the Designer". Das CASE steht hier für "Copy And Selectively Edit" und kopiert wird diesmal Steffi Helmschrott.
it's "Case the Designer" week, over at Global Design Project. The CASE stands for "Copy And Selectively Edit". You can take what you like from the design to make your own creation. Be it the stamp set, the colours, the layout, the flowers…
Als Inspiration habe ich das Layout für meine Karte übernommen. Das viele Weiß hat es mir einfach angetan 😍
I chose to copy the layout. Just love all that white space 😍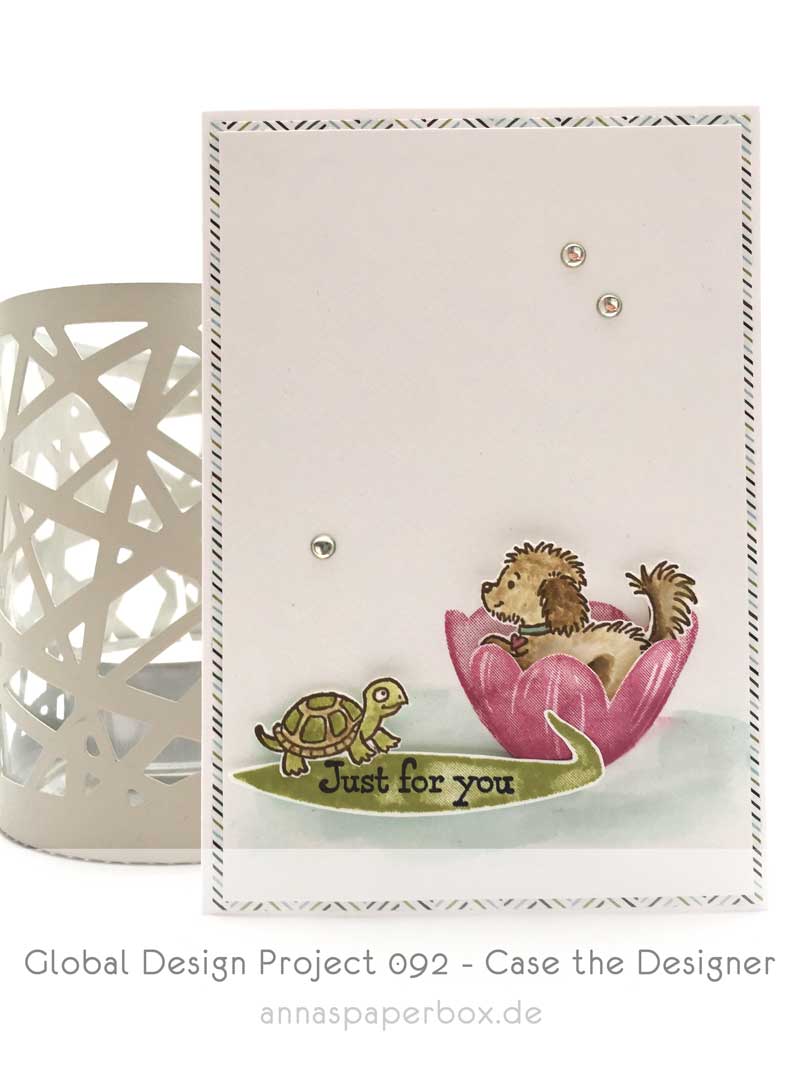 Der süße kleine Hund aus dem Set "Bella and Friends" passt perfekt in die Tulpe aus dem Gastgeberinnen Set "Tranquil Tulips" 🙂 Als erstes habe ich die hintere Tulpe gestempelt und mit einem PostIt abgedeckt, so das die Blüte beim kolorieren des Wassers mit den Wassertankpinseln nicht mit-verwischt wird. Dann Die Vordere Blüte stempeln, ausschneiden und mit den Fingern oder dem Faltbein ein wenig runden.
The sweet little pup from the set "Bella and Friends" fits perfectly in the tulip from the Hostess set "Tranquil Tulips" – gorgeous set by the way. First I stamped the background flower and covered it with a PostIt to prevent it from smearing while colouring the water with the Aqua Painters. Them I stamped the front piece of the flower, cut it out and curved slightly, to give a bit of dimension.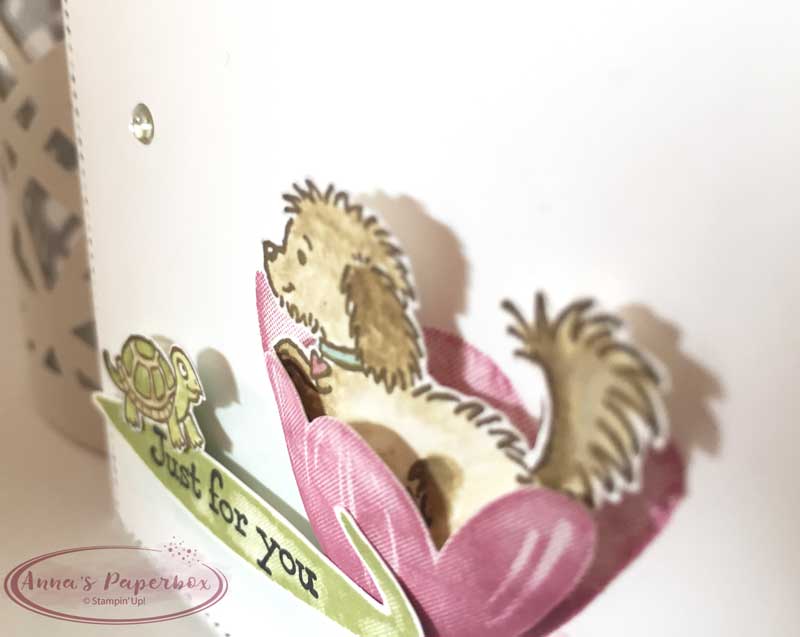 Zum ankleben der Blüte, habe ich einen halben Dimensional am unteren Rand der Blüte geklebt. So bleibt genug Platz für "Bella", die auch mit einem Dimensional versehen wurde. Zuvor noch eine kleine "Not-OP" an Bellas Puschel und dann durfte sie auch schon in die Blüte rein 😉 und selbstverständlich durfte auch einer ihrer Freunde nicht fehlen.
To glue it on I put half a dimensional at the bottom edge, so that there is still enough room for "Bella", who also got a dimensional. But first I needed to perform a teeny tiny "surgery" on her tail 😉 and, off course, one of her friends got also on board, on his own leaf.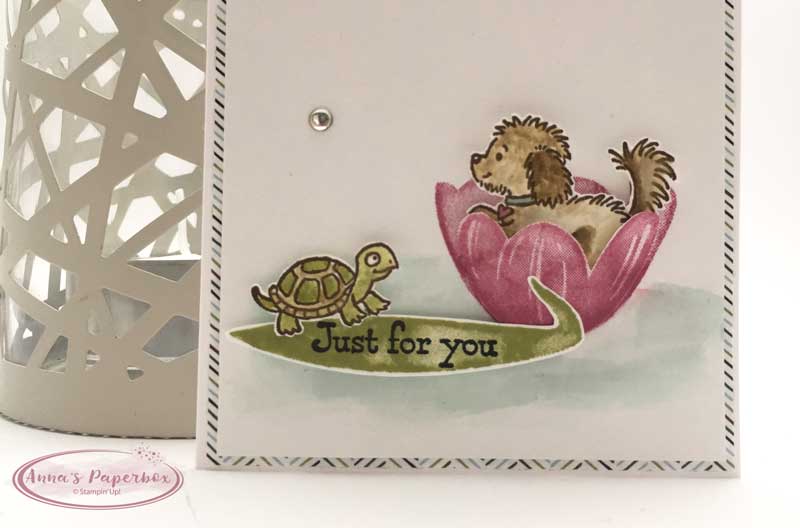 Hier noch der link zur Challenge. Global Design Project
Here's the link for the challenge. Global Design Project

–
Materialliste/Supplies

Save
Save