Hallo und Willkommen zu Inspire.Create.Challenges. Heute gibt es wieder eine tollen Sketch von Hannah.
Hello and welcome to Inspire.Create.Challenges. Today we have a new sketch form Hannah.
Habt ihr schon die neuen Stampin' Blends ausprobiert? Also ich bin begeistert von diesen Markern und mein heutiges Projekt enthält natürlich auch ein mit den Markern ausgemaltes Element.
Have you already tried the new Stampin 'Blends? Well, I just love them. So of course todays project , also includes an element which I coloured with the Blends.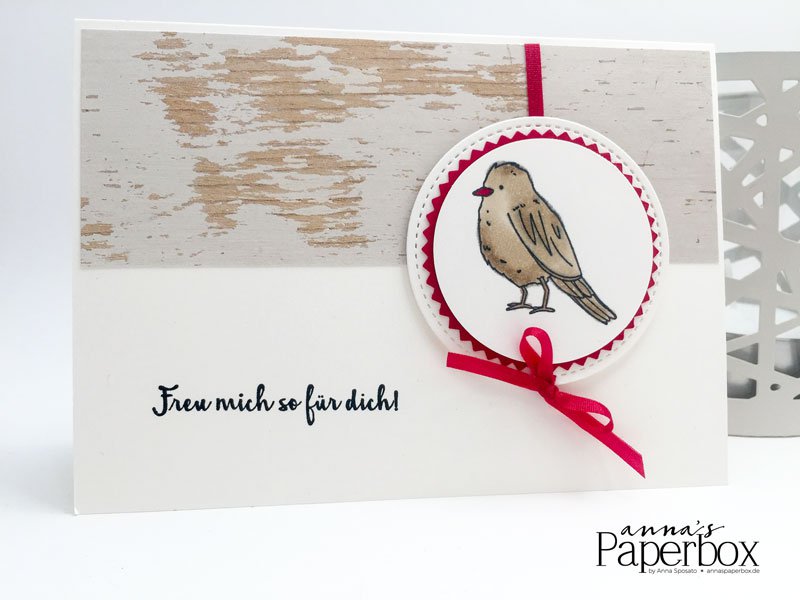 Den süßen Vogel und den Spruch findet ihr in dem Stempelset Farbenfroh. Ein neues Set das zusammen mit den Markern herauskam. Für den Vogel habe ich beiden Savanne Nuancen und Dunkel-Chili benutzt. Nach dem colorieren habe ich den Vogel mit der 2″ (5,1 cm) Kreisstanze ausgestanzt und mit einem Glutroten Sonnenkreis und einem Flüsterweißen Stickmusterkreis geschichtet.
That sweet, little bird and the greeting are from the Colour Me Happy stampset. A new set that launched together with the Stampin' Blends. For the bird I have used both Crumb Cake shades and Dark Cherry Cobbler. After coloring it, I punched it out with the 2″ Circle Punch and layerd it with a Real Red Starburst circle and a Whisper White Stitched Shapes Circle.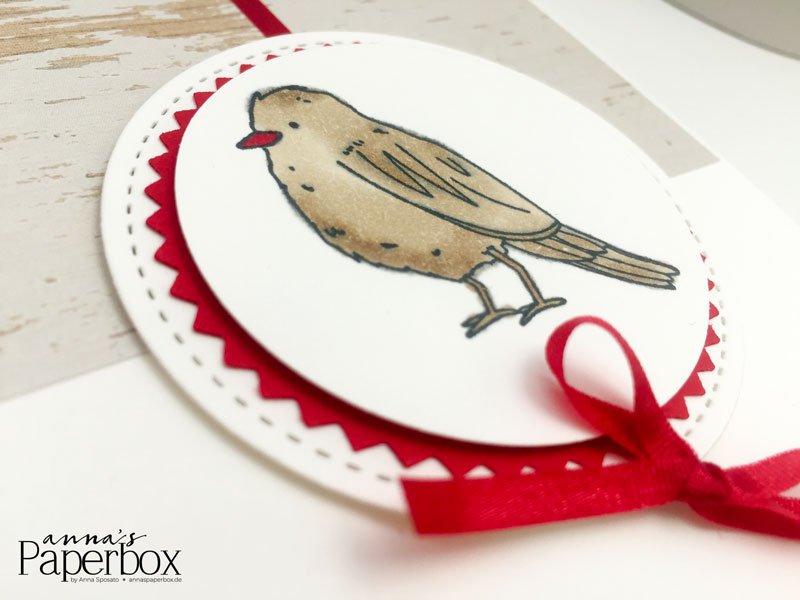 Am oberen Ende der Karte habe ich einen 2″ (5cm) x 4″ (10,2 cm) großen Streifen Designerpapier im Block Holzdekor angebracht. Vor dem Kleben habe ich noch ein Stück Einfarbiges Geschenkband in Glutrot um den Streifen gelegt.
Mach mit bei unserer Challenge und verlinke dein Werk auf Inspire.Create.Challenges.
Before glueing down a 2 "(5cm) x 4" (10.2 cm) strip of Wood Textures DSP at the top of the card, I wrapped a piece of Real Red Solid Ribbon around the DSP strip.
Want to join us in our challenge? Head over to Inspire.Create.Challenges and show us your creation.


–
Materialliste/Product List