Habt ihr eure Weihnachtsdeko schon fertig? Ich muss zugeben, dass ich noch mittendrin stecke . Bei so viel gebastele, hat man doch immer genug Papierreste über, um damit noch irgendetwas kleines zu machen und genau so etwas habe ich heute für euch. Kleine Weihnachtstischkarten und weil es so schön gepasst hat, habe ich sie in den Farben der neuen Challenge auf Inspire.Create.Challenges gemacht. Glutrot, Meeresgrün, Farngrün und Savanne.
Cristmas crafting all done? Well… I have to admit, that I'm still in the middle of it. Are you like me when it comes to cardstock scraps? I keep them, because "you can always make something of it later". So, today I have a little project that is perfect for paper scraps. Table cards! All made up with colours from this weeks colour challenge at Inspire.Create.Challenges.

Für eine Karte braucht ihr ein Stück Farbkarton in den Maßen 4″ x 4″ (10 x10 cm), der an einer Seite bei 2″ (5 cm) gefalzt wird. Die Tannen sind aus dem Thinlitsformenset Festtagsdesign und mit ein wenig Strukturpaste und Glitzer zaubert man ganz fix eingeschneite Bäumchen.
For one card you need a piece of cardstock that is 4″ x 4″ (10 x10 cm). Score it on one side at 2″ (5 cm). The trees are from Card Front Builder Thinlits Dies set. To make them more wintry, I used the Embossing Paste with a bit of Dazzling Diamonds Glitter.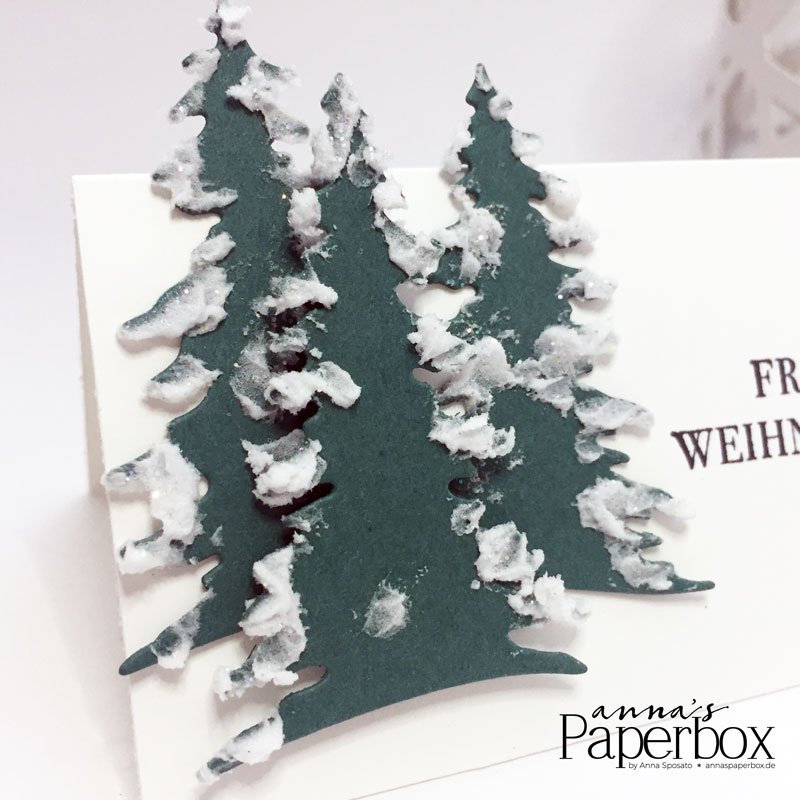 Bei den Beeren habe ich ein klitzeklein wenig geschummelt. Da wir keine kleinen farbigen Perlen haben, habe ich die weißen Perlen mit einem Alkoholmarker eingefärbt. Die normalen Marker sind zum einfärben nicht geeignet, da die Farbe im Gegensatz zu den Alkoholmarkern nicht trocknet und verwischt. Benutzt habe ich die Farbe Hell-Chili. Reh und Blatt sind in Farngrün und Savanne gestempelt.
Since we don't have coloured Pearls and the Enamel Shapes are to big, I had to cheat a little bit and coloured three Basic Pearls with the Light Cherry Cobbler Blends marker. The Stampin' Write marker aren't suitable, because the ink won't dry and stay on as it does with the alcohol based markers. The dear and leaf are stamped in Pear Pizzazz and Crumb Cake.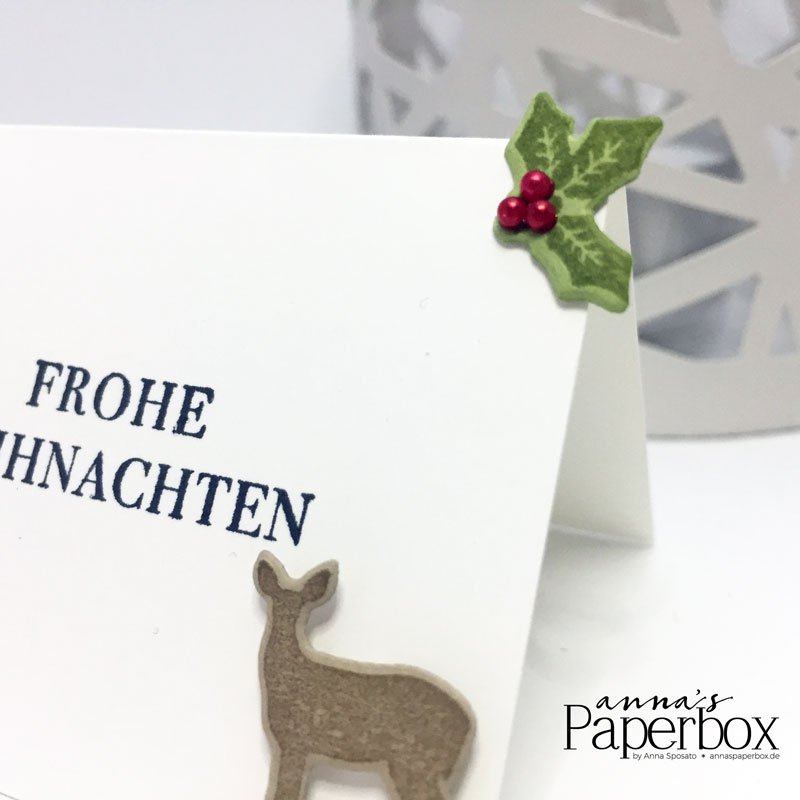 Abschließend, vergesst nicht bei Inspire.Create.Challenges. vorbeizuschauen und euer Projekt zu verlinken. Wir freuen uns auf eure Werke!
Don't forget to come join us over at Inspire.Create.Challenges. and link your project. We'd love to see what you create!

–
Materialliste/Product List
–