Bunte, poppige Farben haben wir heute bei Inspire.Create.Challenges. Bermuda Blau, Wassermelone und Osterglocke.
Today we have a colourful theme at Inspire.Create.Challenges. Bermuda Bay, Melon Mambo and Daffodil Delight.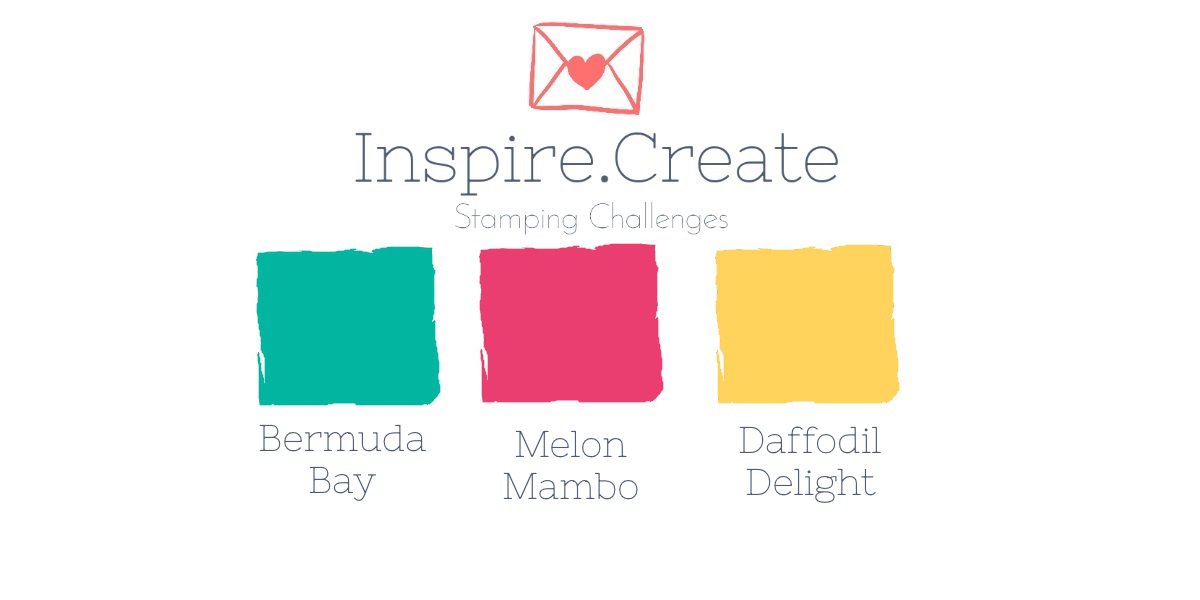 Zugegeben, es war nicht leicht mich mit dieser Farbkombi anzufreunden, aber dafür sind Challenges ja da 😉 . Das Ergebnis ist eine fröhlich bunte Schüttelkarte.
That was quite a challenge for me, as they aren't exactly my colours, but that's what challenges are for, right? 😉 Below you see my take on this. A fun and bright shaker card.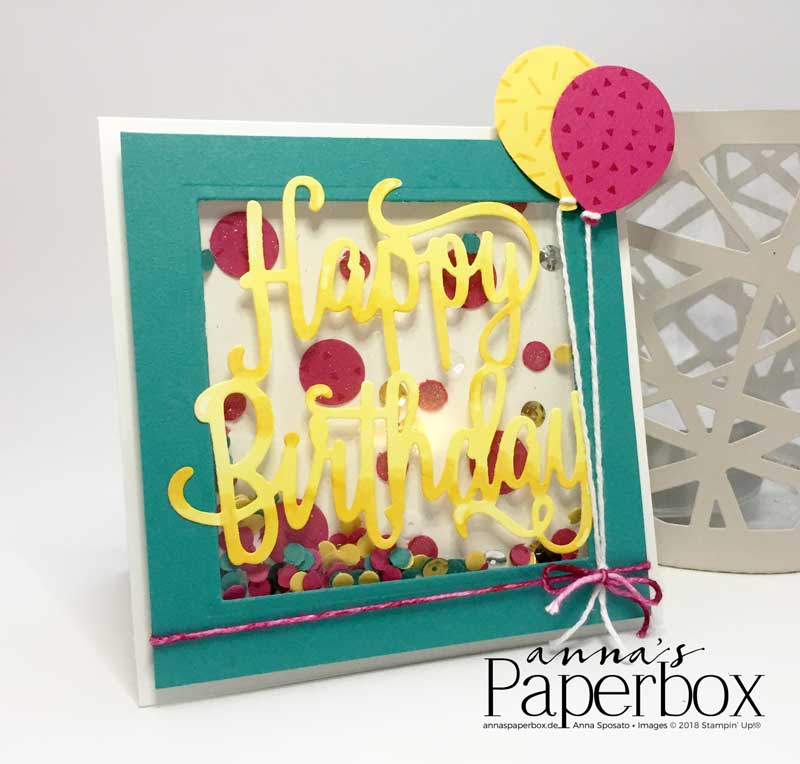 Die Karte ist 4⅛" x 4⅛" (10,5 x10,55 cm) groß. Perfekte Größe für das "Happy Birthday" Stanzteil, das ich mit den Blends' koloriert habe. Der Rahmen ist aus einem 3⅞" x 3⅞" (10 x 10 cm) großen Stück Farbkarton und ausgestanzt mit dem größten der Quadrate aus dem Framelitsset Lagenweise Quadrate.
It's a square card that measures 4⅛" x 4⅛" (10,5 x10,55 cm). Perfect size for the "Happy Birthday" die cut, which I coloured with the Blends'. The frame is from a 3⅞" x 3⅞" (10 x 10 cm) piece of Bermuda Bay cardstock and die cut with the largest square from the Layering Squares framelits.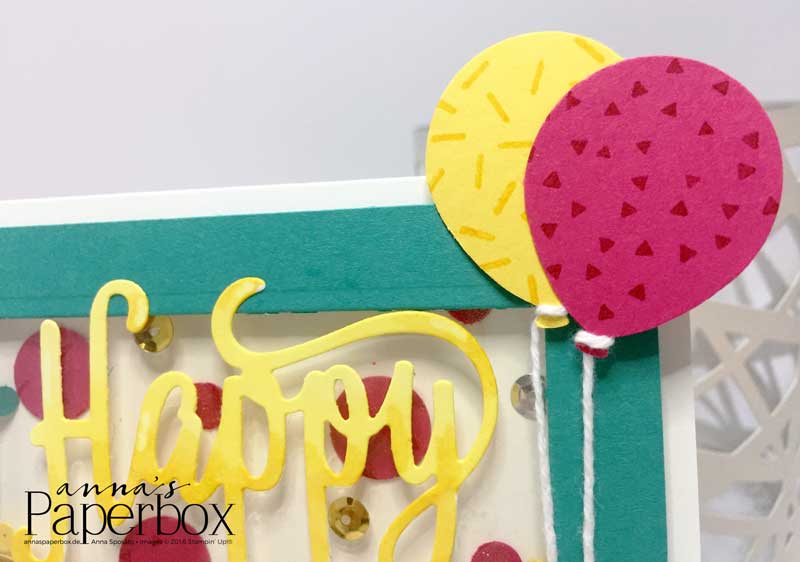 Gestempelt hab ich diesmal nur sehr wenig. Auf einem Stück Farbkarton in Wassermelone und Osterglocke habe ich mit den gleichen Farben Konfetti aus dem Stempelset Perfekter Geburtstag gestempelt und anschließend zwei Luftballons und jede Menge Konfetti ausgestanzt. Die größeren Kreise sind mit der 0,5″ (1,3 cm) und 0,25″ Kreisstanze gestanzt und auf der Karte aufgeklebt. Als Alternative für die 0,25″ Handkreisstanze kann man auch einen ganz gewöhnlichen Locher verwenden. Das lose Minikonfetti hab ich mit der ⅛" (3,2 mm) Handstanze gestanzt und ein paar Metallic Pailetten sorgen für ein bisschen mehr Bling.
Not much stamping on this card. What I did is the confetti on the balloons and the confetti inside the card. For that I stamped the sprinkles from the Picture Perfect stamp set in the same colour as the cardstock and then punched out the balloons and the confetti. The bigger circles are made with the 0,5″ (1,3 cm) und 0,25″ circle punches and glued onto the white card. If you don't have a 0,25″ circle punches you can use a ordinary paper punch. For the loose confetti I used the ⅛" (3,2 mm) Handheld Circle Punch and to add a bit of extra bling I added some Metallic Sequins.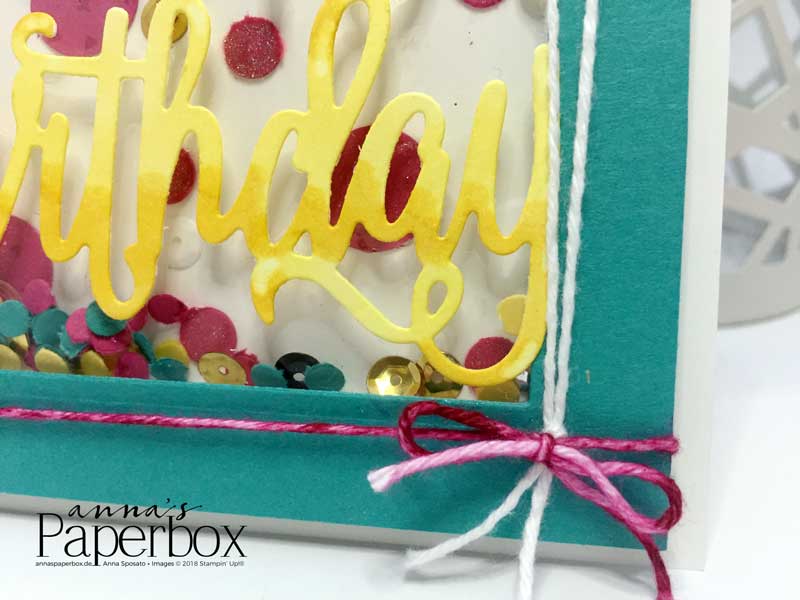 Da es keine Kordel in Wassermelone gibt, hab ich ein Stück Weiße Kordel einfach mit dem Stempelkissen eingefärbt.
Wenn ihr auch mitmachen möchtet, könnt ihr gerne euer Projekt auf dem Challengeblog (Klick auf das Logo unten) verlinken.
I wanted a touch of colour at the bottom of my card and since we don't have bakers twine in Mellon Mambo, I dyed a piece of white twine with the Stampin' Pad. I do like the effect of the colour.
If you too want to take on the challenge, head over to the challenge blog (click on the logo below) and show us your creations. We'd love to see what you come up with.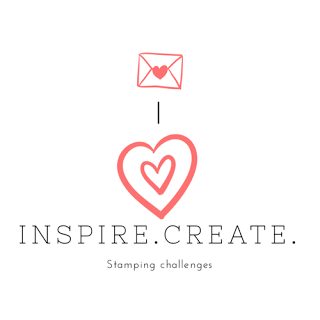 –
Maße für die Karte:
Farbkarton Flüsterweiß:
(1) 8¼" x 4⅛" (21 x 10,5 cm)
an der langen Seite falzen bei: 4⅛" (10,5 cm)
Farbkarton Bermudablau:
3⅞" x 3⅞" (10 x 10 cm)
Measurements for the card:
Whisperwhite cardstock:
(1) 8¼" x 4⅛" (21 x 10,5 cm)
score on the long side at: 4⅛" (10,5 cm)
Bermuda Bay Cardstock:
3⅞" x 3⅞" (10 x 10 cm)

–
Materialien/Product List
–