Hallo und willkommen zur neuesten Challenge von Inspire.Create. Heutiges Thema ist… Kinder.
Hello and welcome to a new Inspire.Create challenge. This week we've got a theme and it's "Kids".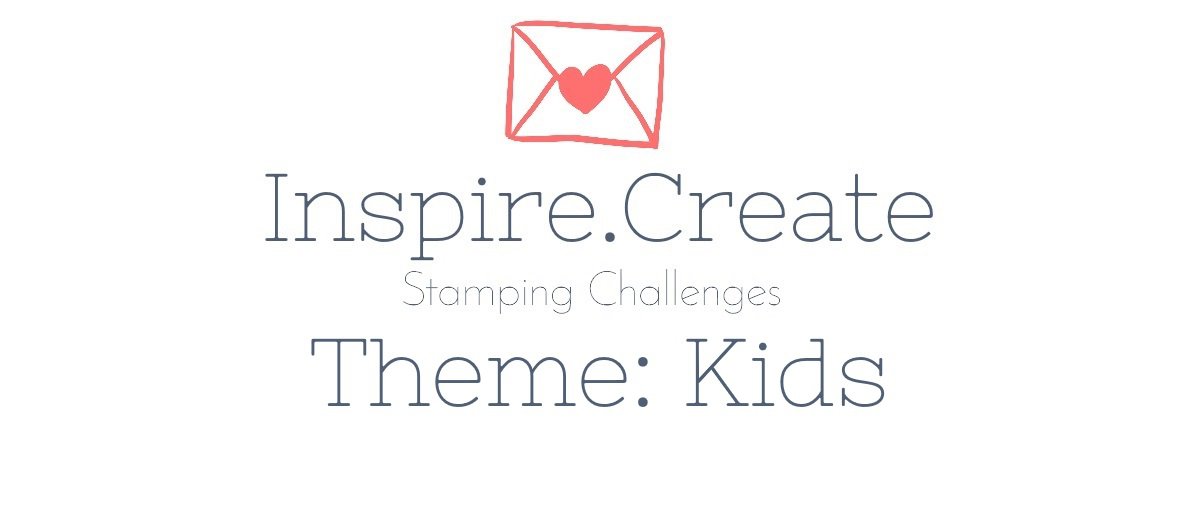 Es ist Ferienzeit hier in Hessen und viele sind schon oder fahren bald in Urlaub. Wer mit Kindern reißt, weiß das diese bei längeren Fahrten/Reisen beschäftigt werden wollen . Daher mein heutiges Projekt. Memory Karten.  Die Idee habe ich von einer lieben Kollegin. Sam Roberts.
School holidays started this week here in Hesse. All those who travel with kids, know that the little ones want to be kept busy and entertained. Hence today's project. Memory cards (no idea if theres a different word for the game ). I've got the idea from lovely Sam Roberts.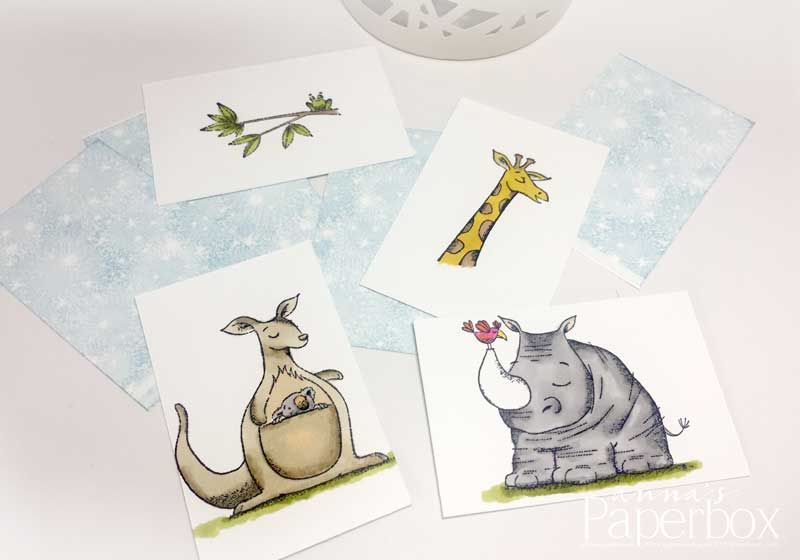 Hintergrundstempel sind klasse und wir haben zwei neue mini Hintergrund Stempel. Die Bokeh Dots. Die habe die perfekte Größe für Kinder Spielkarten. Als Bilder habe ich die putzigen Tierchen aus dem Set Wild auf Grüße genommen und ja, die passen gerade so auf die Karten. Coloriert habe ich mit den Stampin' Blends. 
We have these beautiful mini background stamps. The Bokeh Dots. They have the right size for kids play cards. As pictures I used the Animal Outing stamp set and yes they fit just right. I coloured them with the Stampin' Blends.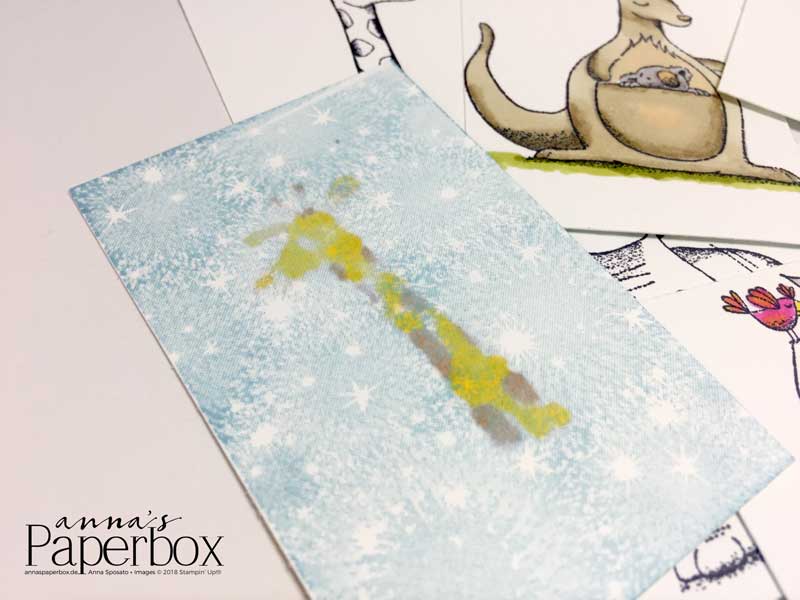 Wenn ihr Alkohol Marker benutzt, denkt bitte daran das diese durch das Papier scheine. Dann müsst ihr die Rückseite mit einer weiteren Karte abdecken. Ich habe die Bildkarten auch mit dem Hintergrundstempel bestempelt. Ist einfacher beim ausschneiden und bestempeln der Vorderseite und man hat weniger Verschnitt.
If you use Alcohol markers keep in mind that they bleed throught the paper. So you need to back them with another card. I still stamped both sets. The one with the pic and the one without, just to make it easier to have the correct size for the cards. Less waste.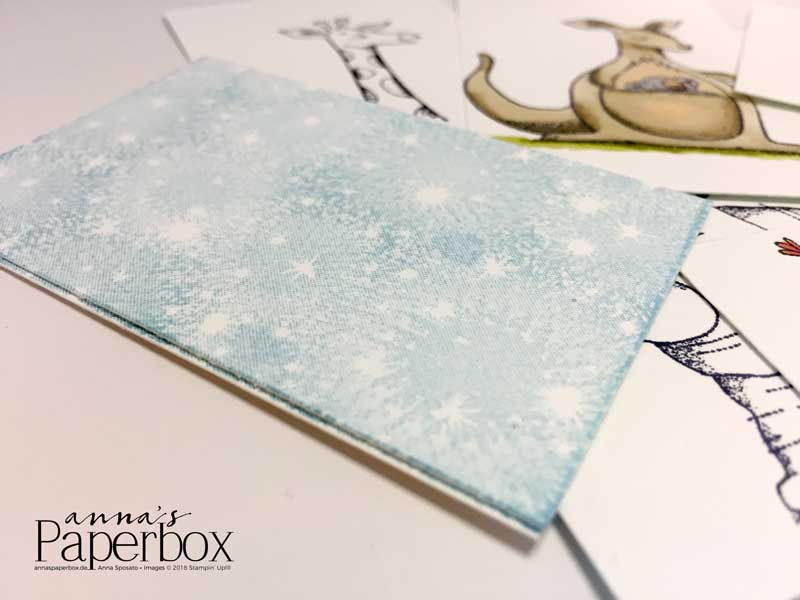 Hier seht ihr die fertige Karte. Macht die Karten insgesamt auch fester und wenn ihr sie noch laminiert halten sie ewig.
This is the card with the back covered. It also makes the card sturdier and to make them last longer  you could also laminate them.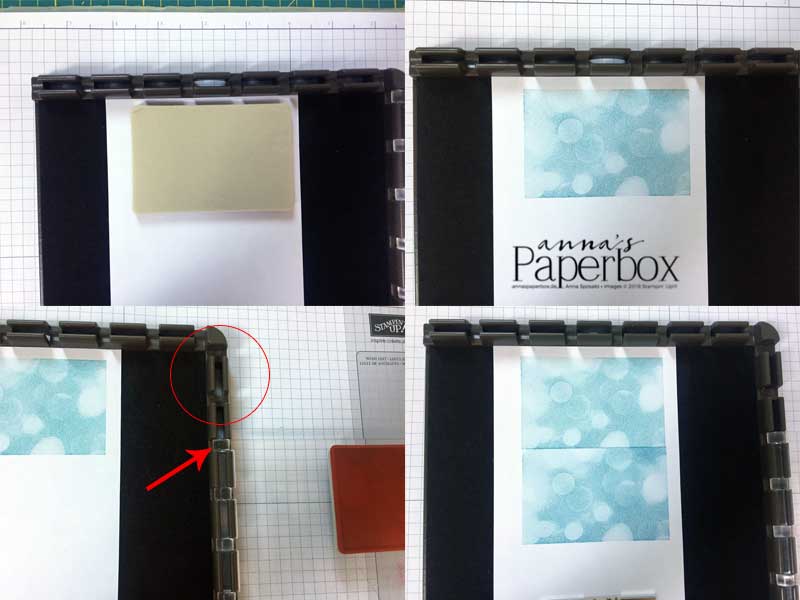 Zum stempeln der Hintergründe habe ich den Stamparatus verwendet. Keine Ahnung ob Absicht oder Zufall, aber wenn man den Stempel oben ausrichtet und beim nächsten zwei Stufen nach unten versetzt. Reiht sich der Abdruck perfekt an den oberen an. Super auszuschneiden, da alles wunderbar auf einer Linie liegt.
On these pics you can see the beauty of the Stamparatus. If you line it up at the top and then move the plate 2 spaces down onto the third hinge, the stamp lines up perfectly. Again so much easier and faster to cut if you have a lot of cards to make .
–
Zeigt uns was euch alles zu dem Thema einfällt. Wir freuen uns über eure Beiträge.
Show us your creations on the blog. We'd love to see what you come up with.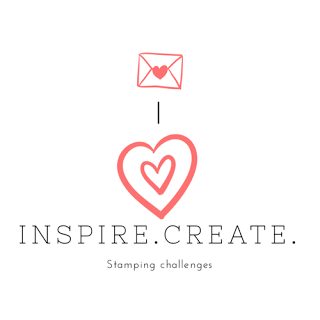 –
Materialien/Product List
–