Hallo und wilkommen. Es ist wieder Zeit für eine neue Inspire.Create Challenge. Diesmal haben wir eine Farbchallenge. Bermuda Blau, Wassermelone und Limette.
Hello and welcome. It's time for a new Inspire.Create Challenge and we have  bright and fresh colours for you.
Ich habe die Farben in eine bunte Geburtstagskarte für Kids gepackt. Der Hintergrund ist mit einem Kreisstempel aus dem Set Glasklare Grüße gestempelt. Passt doch wunderbar, oder?
I've made a colourful Kids card for today's challenge. For the background I used the little circle stamp from the stamp set Jar of Love.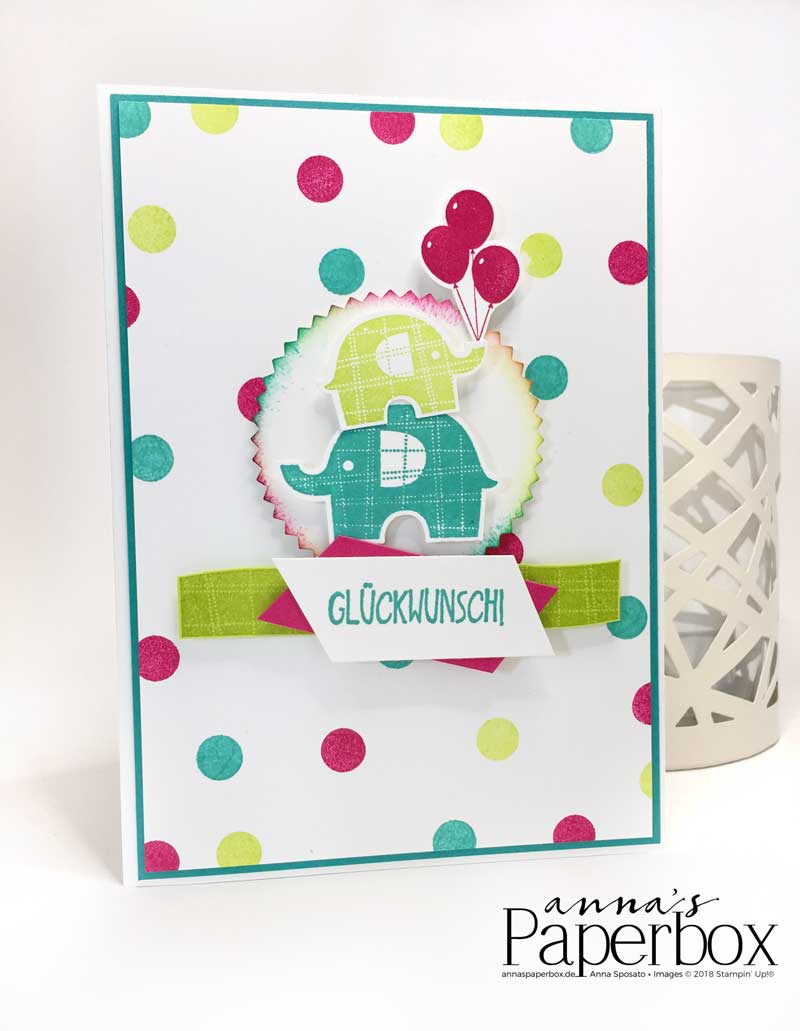 Die Elefanten habe ich auf eine Sonne gesetzt. Die Zacken habe ich vorher noch mit den drei Farben und einem Schwämchen eingefärbt. Die Glückwünsche habe ich auf ein Stück weißen Farbkarton gestempelt und dann mit der Schere in Form geschnitten, so das es nicht ganz so akkurat ist und auf ein Stück Farbkarton in Wassermelone geklebt, das auch per Hand geschnitten ist.
The elephants went on a Starburst with a sponged edge. Then I stamped the congratulation on a piece of Whisper White cardstock and used the snips to cut it in shape as I wanted it a bit wonky. The same goes for the piece of Melon Mambo cardstock. Also cut by hand.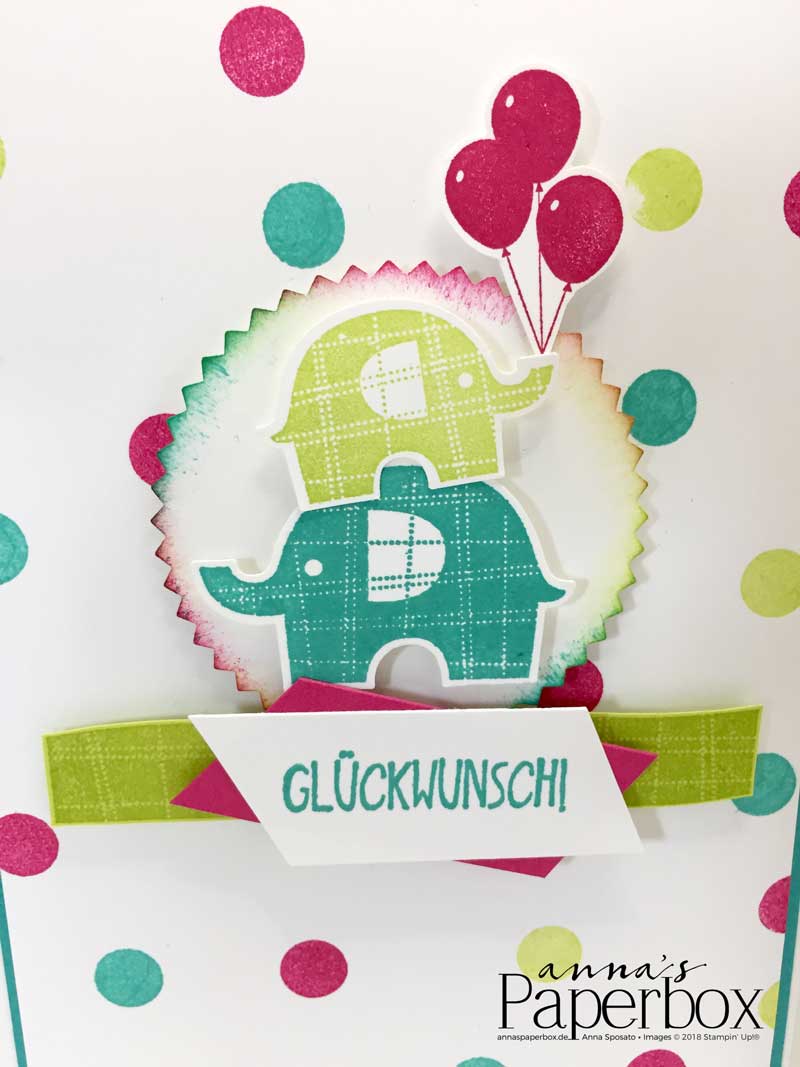 Nun seid ihr dran. Auf unserem Challengeblog könnt Ihr eure Werke verlinken. Klickt einfach unten auf das Bild um zum Blog zu kommen.
Now it's your turn. Just click on the image below to go to the challenge blog where you can join in the challenge.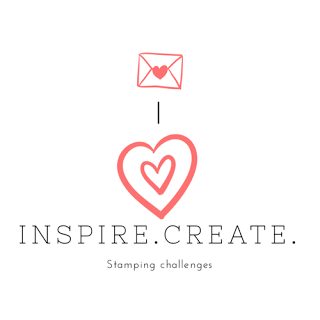 –
Maße für die Karte:

Measurements for the card:

Farbkarton Flüsterweiß:
5¾" x 8½" (14,5 x 21 cm)
an der langen Seite bei: 4⅛" (10,5 cm) falzen
Farbkarton Bermuda Blau:
4″ x 5⅝″ (10 x 14 cm)
Farbkarton Flüsterweiß:
3⅞" x 5¾" (9,5 x 14 cm)

Whisper White Cardstock:


5¾" x 8½" (14,5 x 21 cm)
score on the long side at: 4⅛" (10,5 cm)


Bermuda Bay Cardstock:


4″ x 5⅝″ (10 x 14 cm)
Whisper White Cardstock:
3⅞" x 5¾" (9,5 x 14 cm)

–
Materialien/Product List
–