Inspire.Create Challenges hat diese Wochen einen Sketch für uns. Diese Karte war echt schnell fertig, da ich sofort wusste was ich damit mache.
We've got a sketch for our new Inspire.Create challenge today. This card was pretty easy and fast to make. I saw the sketch and knew what I wanted to make.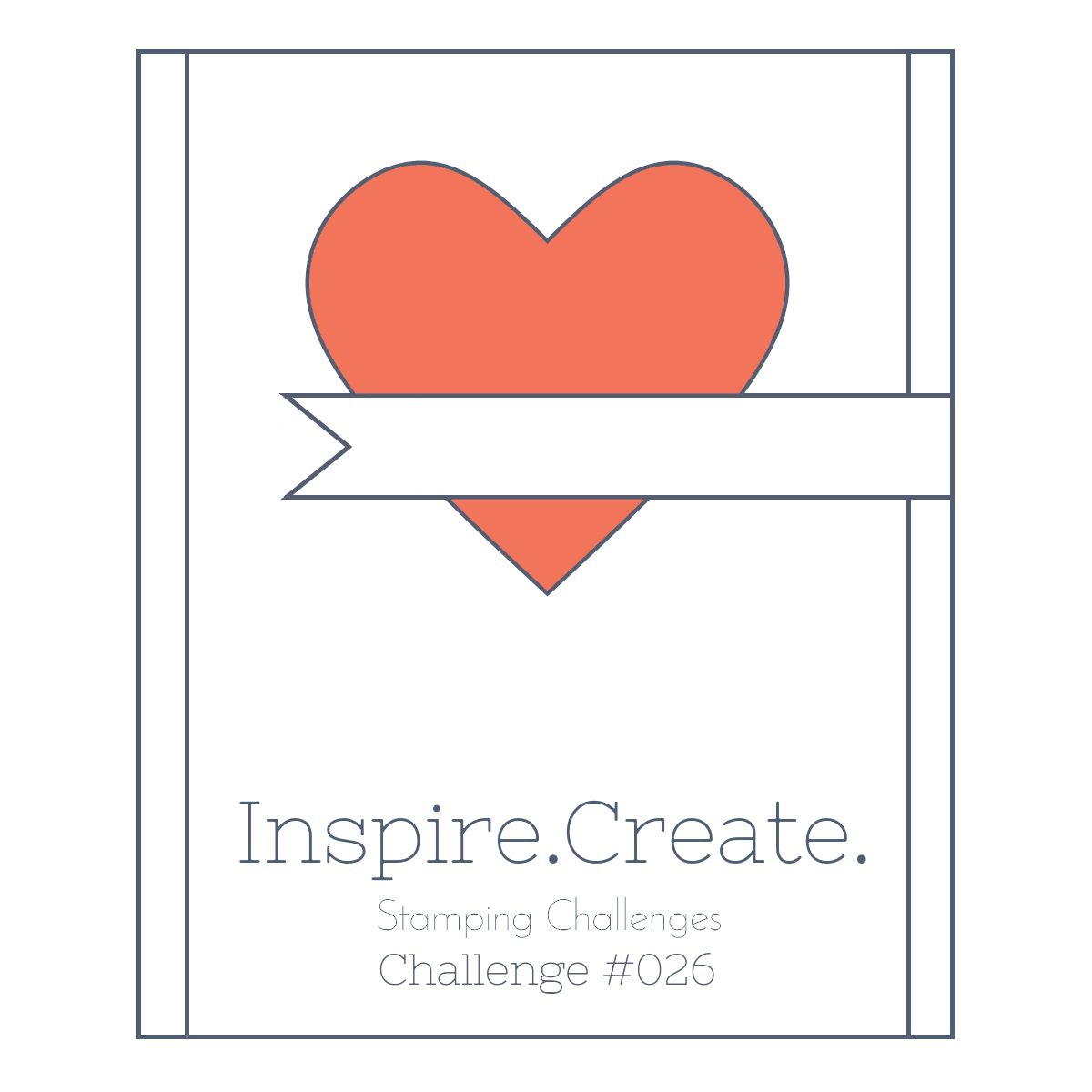 Zugegeben, der WOW Effekt bei dem Papier kam erst nachdem ich es in den Händen hielt. Es sieht live einfach nur klasse aus.
Petal Promenade is one of those Papers, that didn't Wow me when I first saw them in the catalogue. But after holding it in my hands and seeing it… It's simply gorgeous. I love it!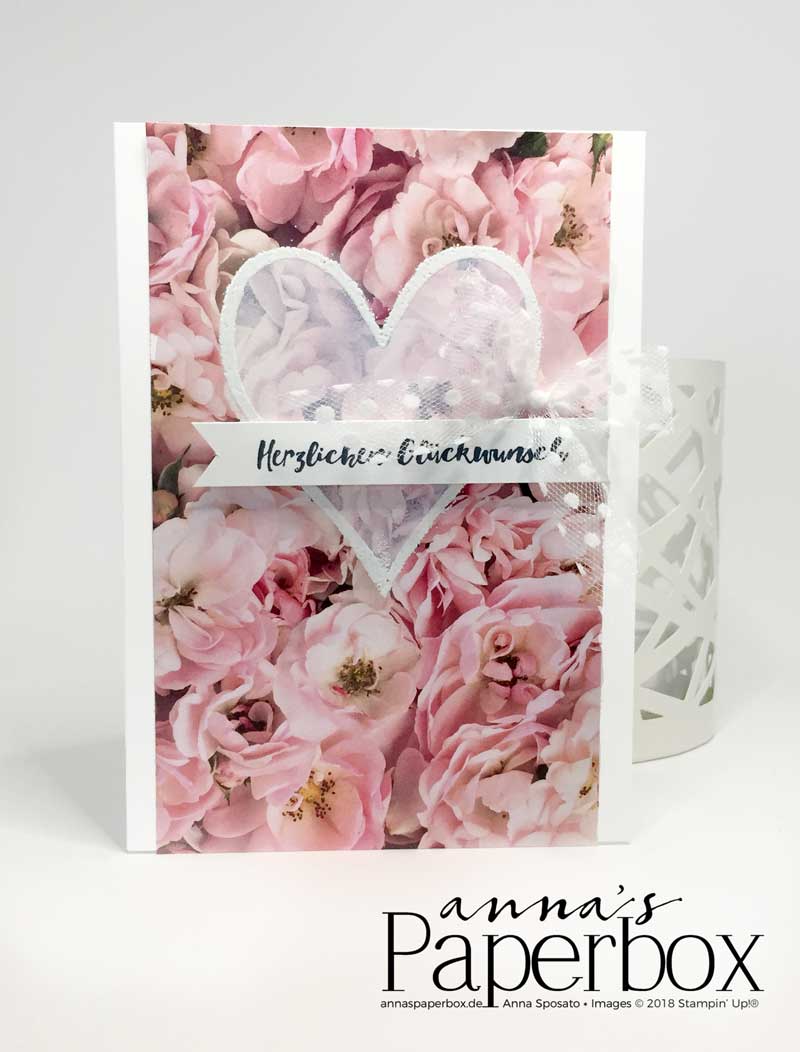 Die Herzstanzformen sind ja leider aus dem letzten Hauptkatalog herausgekommen worden . Daher musste eine andere Lösung her. Für diejenigen die diese Formen oder andere (noch) haben, benutzt diese. Für alle anderen, hier meine Lösung für diese Karte. Einfach ein Blatt Papier Falten und ein halbes Herz zeichnen. Dann ausschneiden und aufklappen. Voila, ein Herz ganz ohne Stanzen und Geräte.
Ohh… there's a heart in the sketch and it's fairly big. We don't have the heart framelits any more in the catalogue. They retired . So I had to find another way to get my heart. Now, if you have the framelits or other punches, go ahead and use them, but if you don't… here's my tip for you. Take a piece of paper, fold it in half and draw half a heart on it. Cut it out, open it up and voila, you have a pretty, symmetrical heart.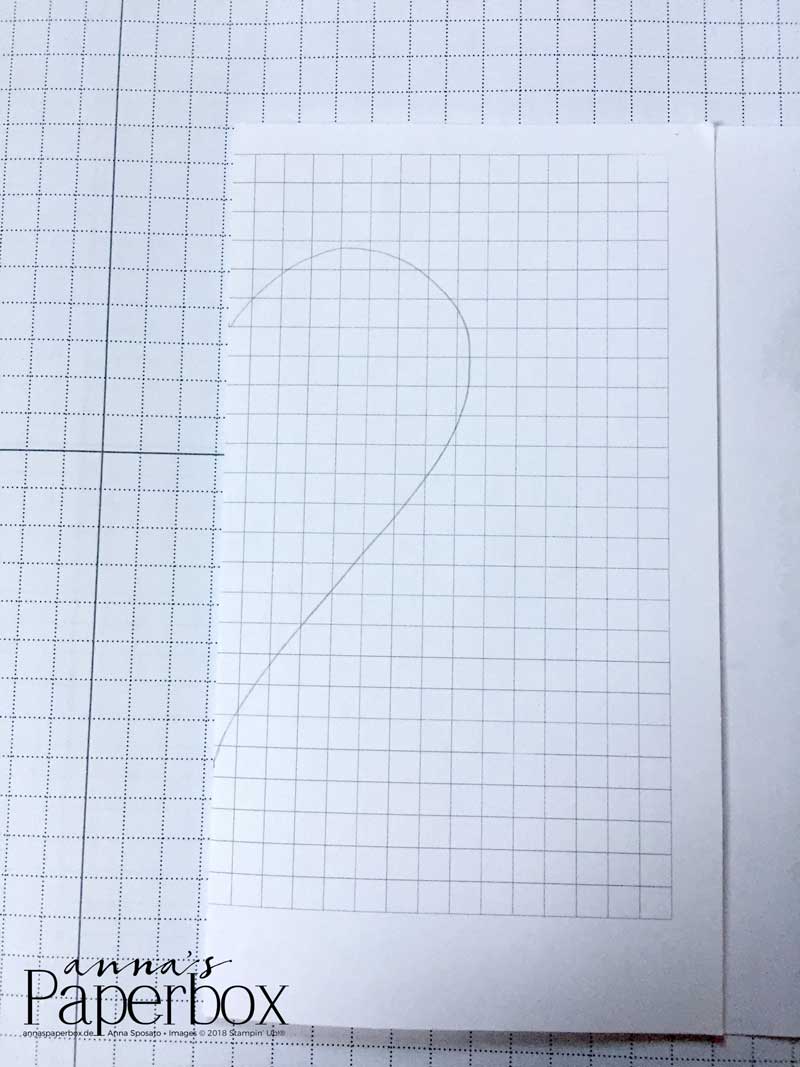 Ich habe das Negativ genommen, also das ausgeschnittene Blatt, und es auf das Designerpapier platziert und mit Washitape fixiert. Dann habe ich mit einem Schwämmchen weiße Farbe aufgetupft. Tupfen deckt besser als einfaches wischen. Anschließend habe ich das ausgeschnittene Herz noch einmal etwas kleiner geschnitten und es auf die noch feucht Farbe mittig aufgelegt.  Danach weißes Embossing Pulver aufgestreut, das Papierherz wieder weggenommen und alles mit dem Erhitzungsgerät getrocknet.
For my card I used the negative (the cut out papersheet), fixed it with some washi tape on the DSP and used a Dauber to dab Whisper White Craft ink on. I found that dabbing ads more opacity to it. When I was happy with the result, I cut away a small rim of the heart and centred it on the still damp ink. Then added white embossing powder and after removing the paper heart, dried it with the heat tool.
Schaut auf der Challengeseite vorbei, um euch mehr tolle Projekte für diesen Sketch anzusehen und wenn ihr ihn selbst Umsetzt, würden wir uns freuen wenn ihr uns eure Werke zeigt. Klickt auf den Button unten um direkt zur Challengeseite zu kommen.
Want to see more georgeous projects made with this sketch? Visit the Inspire.Create blog and see what the other team ladies made this week. We'd also love to see your creations using the sketch. Click on the button below to get to the Challenge blog.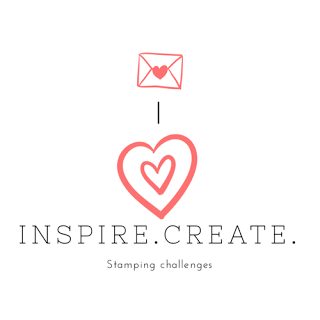 –
Maße für die Karte:

Measurements for the card:

Farbkarton Flüsterweiß:
5¾" x 8½" (14,5 x 21 cm)
an der langen Seite bei: 4⅛" (10,5 cm) falzen
Designerpapier:
3⅞" x 5¾" (9 x 14,5 cm)

Whisper White Cardstock:


5¾" x 8½" (14,5 x 21 cm)
score on the long side at: 4⅛" (10,5 cm)

Designer Series Paper:


3⅞" x 5¾" (9 x 14,5 cm))

–
Materialien/Product List
–