Hallo und Willkommen zu einer neuen Challenge von Inspire.Create.
Hello and welcome to the newest challenge at Inspire.Create.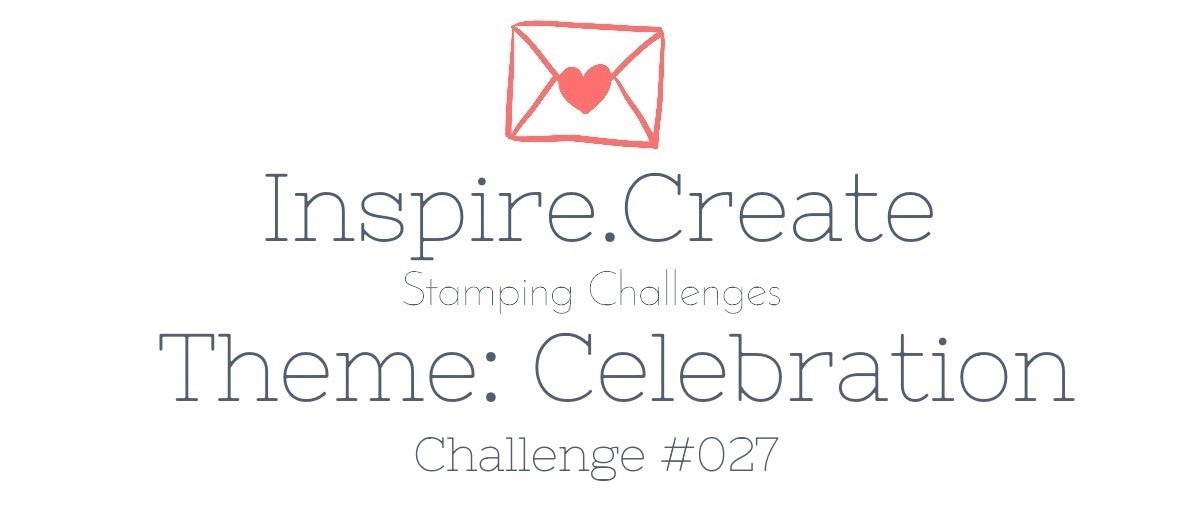 Das Thema ist "Feiern". Da habe ich doch gleich mal das "Festpapier" ausgepackt. Gepaart mit Schwarz und Weiß ist es doch wunderbar festlich. Für den Hintergrund habe ich das Besondere Desigerpapier Broadway verwendet. Das besondere ist, dass es auf der einen Seite mit Gold-metallic Akzenten bedruckt ist.
The theme is "Celebration". Looking through my papers, I found a perfect one for my card. It's a black, grey and gold polka dot paper from the Speciality Designer Series Papers Broadway Bound. These papers have gold foil accents on on side, while the other side is more colourful.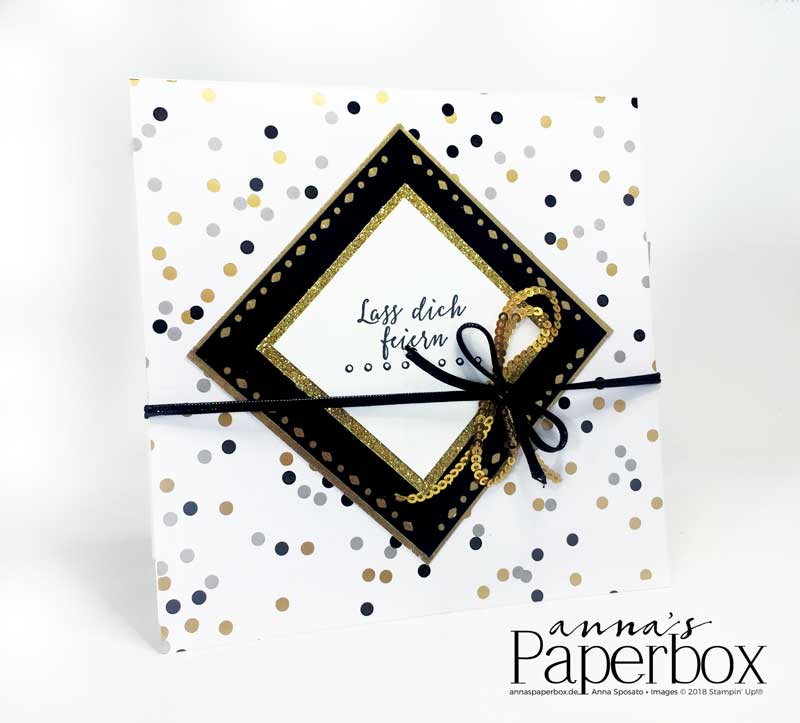 Die schwarze Mattung habe ich zusätzlich an den Rändern mit den Thinlits Zarte Zierde gestanzt. So sieht man doch etwas mehr von dem schönen Gold Metallic Papier. Den Gruß habe ich ganz schlicht in schwarz gestempelt. Zuerst hatte ich ihn in Gold embosst aber das hat mir nicht so gefallen. Zu viel Gold und zu wenig Kontrast. So finde ich es jetzt schöner.
I wanted to see a bit more of the gold metallic foil paper, so I cut out a border with the Beautiful Layers Thinlits. The Sentiment was stamped in black. I found it has more contrast compared to a gold embossed version I also tried.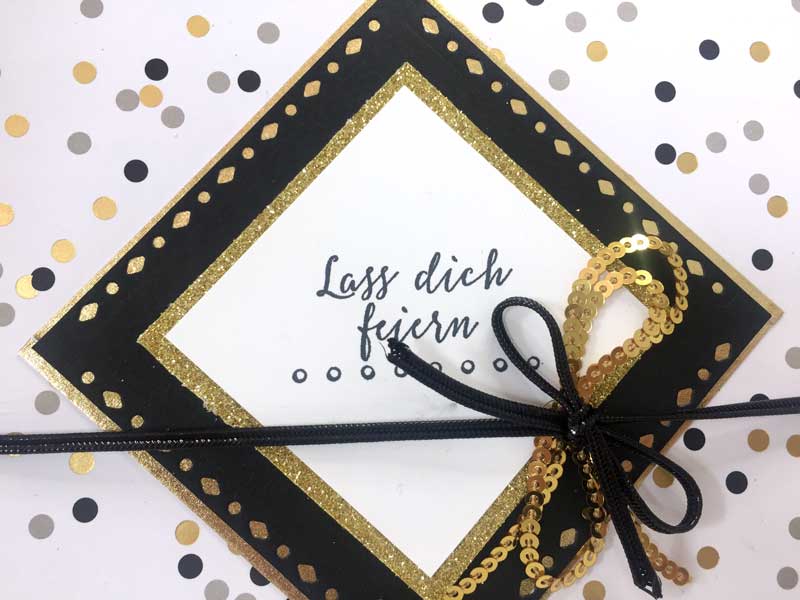 Das Gold Pailettenband habe ich einfach um drei Finger gewickelt und in der Mitte mit Gold Metallic Garn zusammengebunden. Das Garn ist super dünn und nicht mehr zu sehen. Anschließend habe ich es mit zwei Glue Dots auf die Karte geklebt. Zum Schluss kam noch ein Stück schwarze Zierschnur um die Karte.
To keep the Gold Sequin Trim from unravelling, I wrapped it around my fingers and then tied it in the middle with a piece of Gold Metallic Thread. This thread is so thin, you wont see it at all once cut the ends down. Even if you don't place anything on top, like I did with the Black Cord.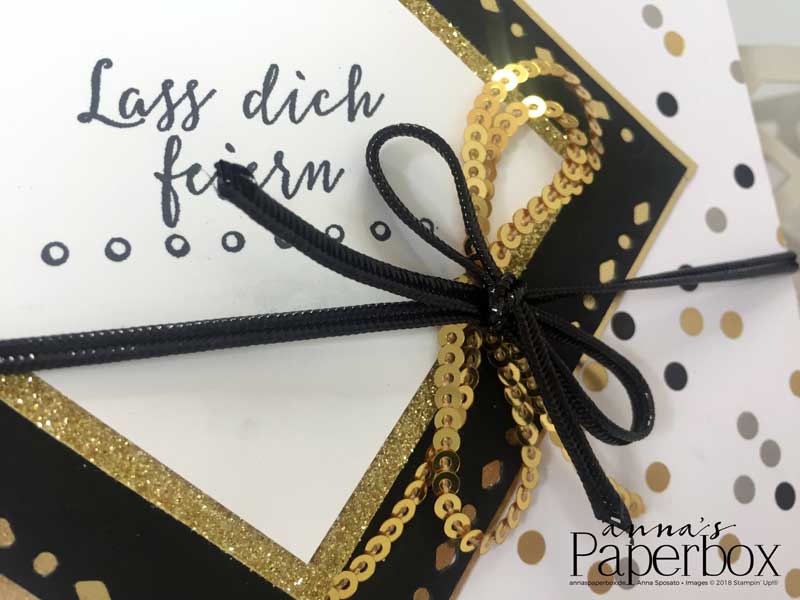 Noch mehr festliche Ideen findet ihr auf dem Challengeblog wo ihr uns auch eure Ideen zeigen könnt.
Want to get more inspiration on this new challenge? Visit the Inspire.Create.Challenge blog and show us your creations. We'd love to see your take on it.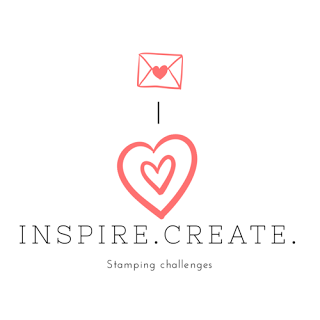 –
Maße für die Karte:

Measurements for the card:

Farbkarton Flüsterweiß:
6" x 12" (15,2 x 30,5 cm)
an der langen Seite bei: 6" (15,2 cm) falzen
2¼" x 2¼" (5,5 x 5,5 cm)
Farbkarton Schwarz:
3¼″ x 3¼″ (8,5 x 8,5 cm)
Metallic-Folie Gold:
3½" x 3½" (9 x 9 cm)
Glitzerpapier Gold:
2½" x 2½" (6 x 6 cm)
Designerpapier:
6″ x 6″ (15,2 x 15,2 cm)

Whisper White Cardstock:


6" x 12" (15,2 x 30,5 cm)
score on the long side at: 6" (15,2 cm)
2¼" x 2¼" (5,5 x 5,5 cm)

Basic Black Cardstock:


3¼″ x 3¼″ (8,5 x 8,5 cm)
Gold Foil Sheet:
3½" x 3½" (9 x 9 cm)
Gold Glimmer Paper:
2½" x 2½" (6 x 6 cm)

Designer Series Paper:


6″ x 6″ (15,2 x 15,2 cm)

–
Materialien/Product List
–