Hallo und willkommen zur Sketchchallenge bei Inspire.Create.
Hello and welcome to this weeks sketch challenge at Inspire.Create.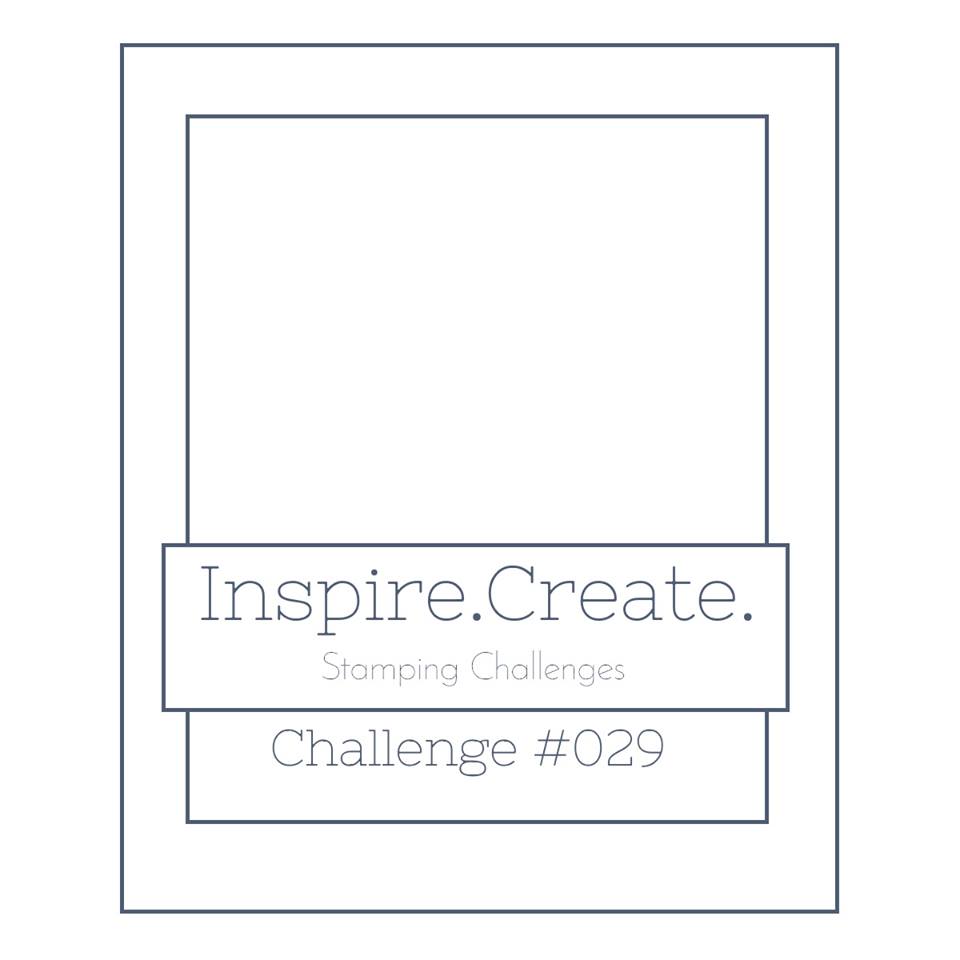 Bei mir geht es heute tierisch wild zu. Das Designerpapier Jetzt wird's wild ist zuckersüß und sehr vielseitig verwendbar. Die eine Seite hat putzige Tiermotive und die andere neutralere grafische Motive. Die beiden Motive auf meiner Karte sind aus dem Designerpapier ausgeschnitten. Den kleinen Frosch auf dem Ast könnte man auch ausstanzen, da es für diesen eine passende Stanzform gibt.
It's an animal outing . The Animal Expedition DSP  is so cute and very versatile. One side has cute animal motifs and the other more neutral graphic motifs. The two motifs on my card are cut out of the DSP. To cut out the little frog on the branch you could also use the matching Animal Friends Thinlits.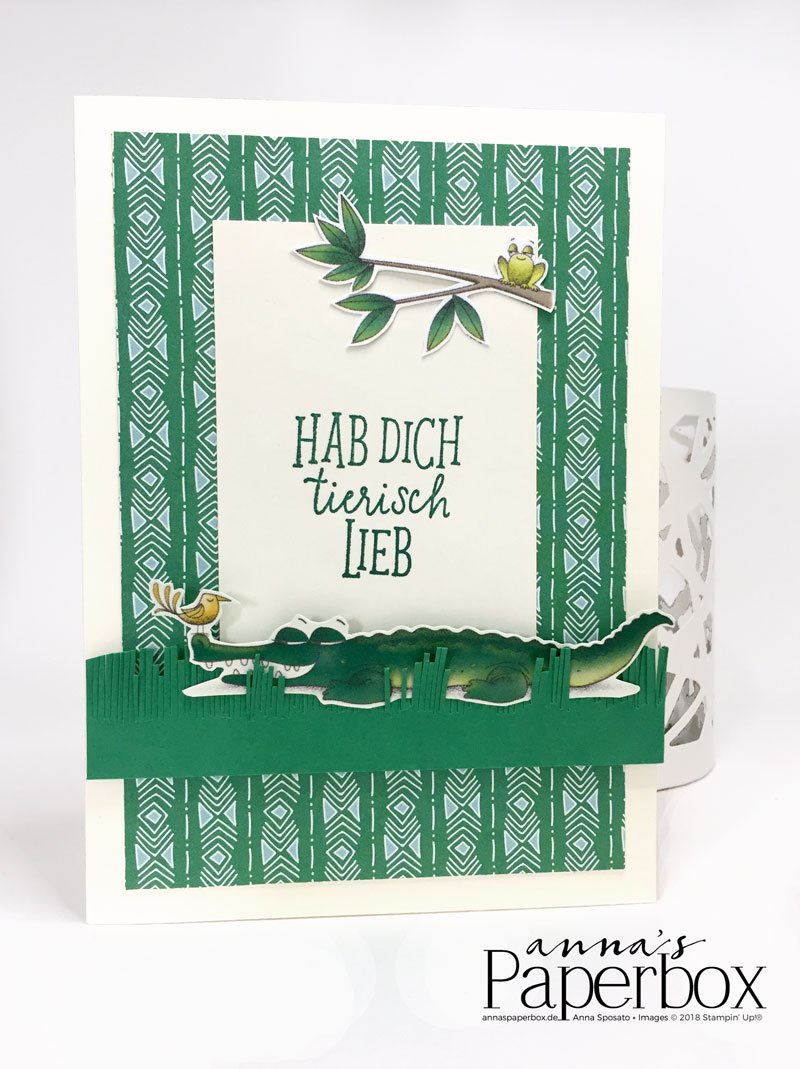 Das Krokodil habe ich in einen Grasstreifen gesetzt. Den Streifen habe ich erst bis zur Mitte eingeschnitten und anschließend den oberen Rand ein wenig wellig nach geschnitten und auch einige Grashalme gekürzt, bevor er mit Dimensionals aufgeklebt wurde. Das Krokodil ist einfach eingesteckt und nicht festgeklebt. Man könnte es zur Sicherheit mit ein paar Dimensionals festkleben.
I put the crocodile in a strip of grass. First I cut small strips till the center and then shaped the upper edge a bit to look more natural. I also shortened some of the blades before fixing it on with Dimensionals. The crocodile is just tucked in and not glued on. You could stick it for security with a few dimensionals.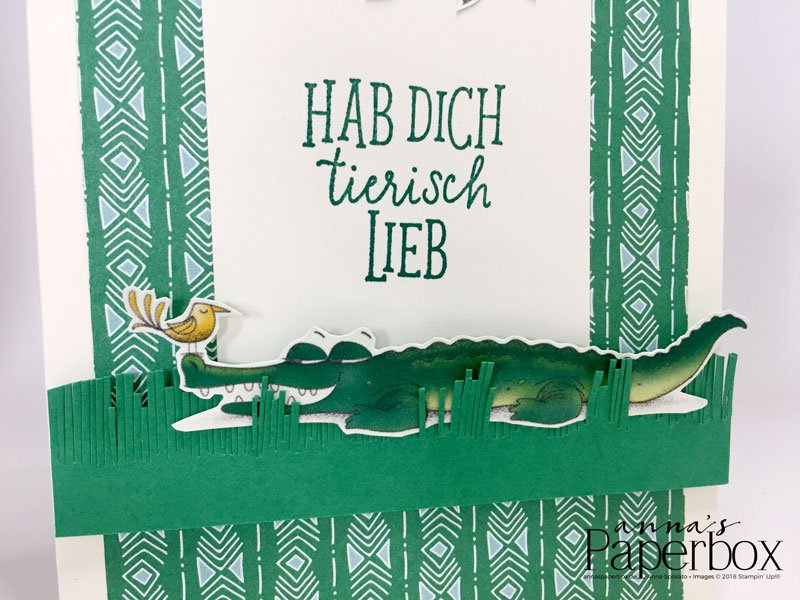 Nun seid ihr dran. Auf unserem Challengeblog könnt Ihr eure Werke verlinken. Klickt einfach unten auf das Bild um zum Blog zu kommen.
Now it's your turn. Just click on the image below to go to the challenge blog where you can join in the challenge.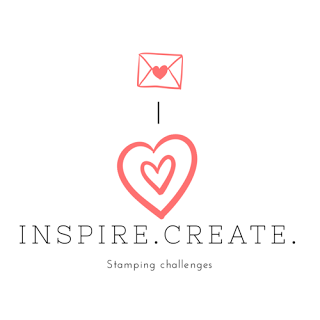 –
Maße für die Karte:

Measurements for the card:

Farbkarton Vanilisdlle Pur:
5¾" x 8½" (14,5 x 21 cm)
an der langen Seite bei: 4⅛" (10,5 cm) falzen
2½" x 3½" (6 x 9cm)
Farbkarton Kleegrün:
1″ x 4⅛″ (2 x 10,5 cm)
Designerpapier:
3½" x 5¼" (9 x 13 cm)

Very Vanilla Cardstock:


5¾" x 8½" (14,5 x 21 cm)
score on the long side at: 4⅛" (10,5 cm)
2½" x 3½" (6 x 9cm)


Call Me Clover Cardstock:


1″ x 4⅛″ (2 x 10,5 cm)

Designer Series Paper:


3½" x 5¼" (9 x 13 cm)

–
Materialien/Product List
–