Hallo und willkommen zu einer neuen Inspire.Create Challenge. Heute haben wir was besonderes für euch. Diese Woche heißt es: Anything goes. Also alles ist erlaubt. Kein Thema, keine Farbpalette und kein Sketch.
Hello and welcome to a new Inspire.Create Challenge. Today we have something special for you. This fortnight it's Anything goes. So you've got a blank canvas. No theme, no color palette and no sketch.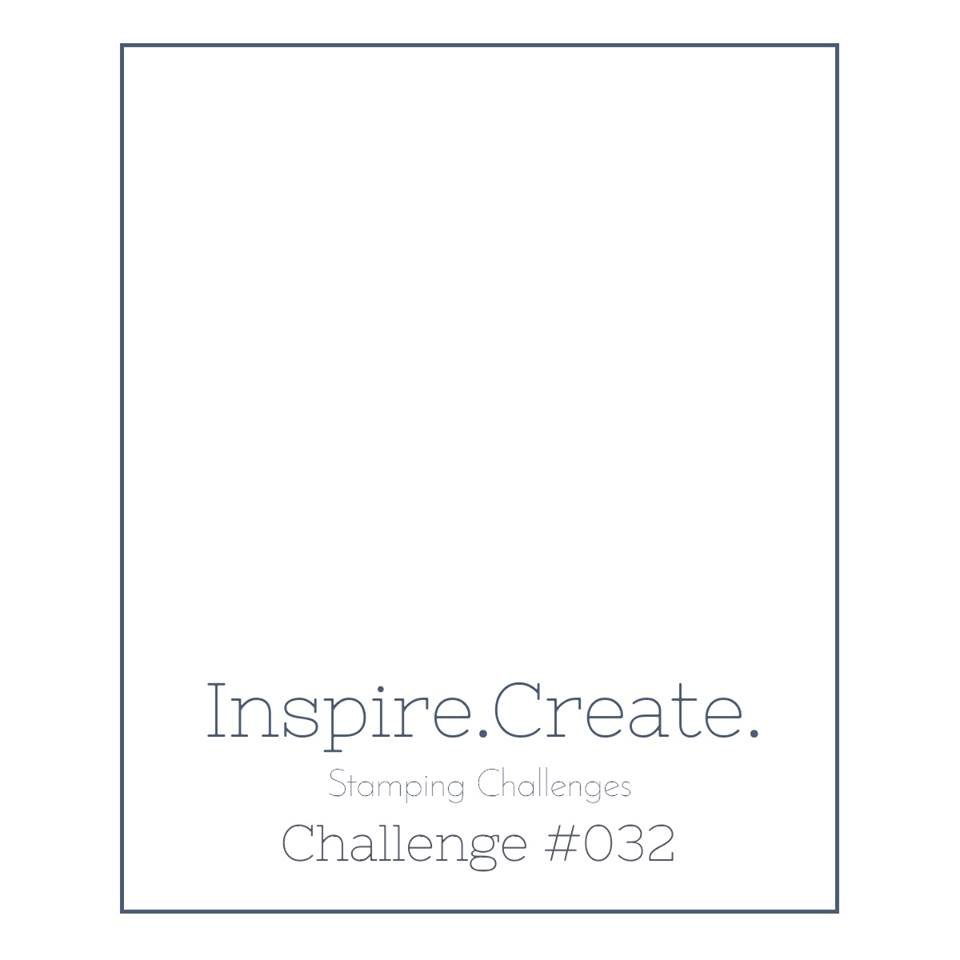 Ich habe eine Weihnachtskarte für euch die ein wenig von den traditionellen Weihnachtsfarben abweicht 😉 . Schwarz, Weiß und Gold.
I've made a christmas card which slightly differs from traditional christmas colors ;). Black, white and gold.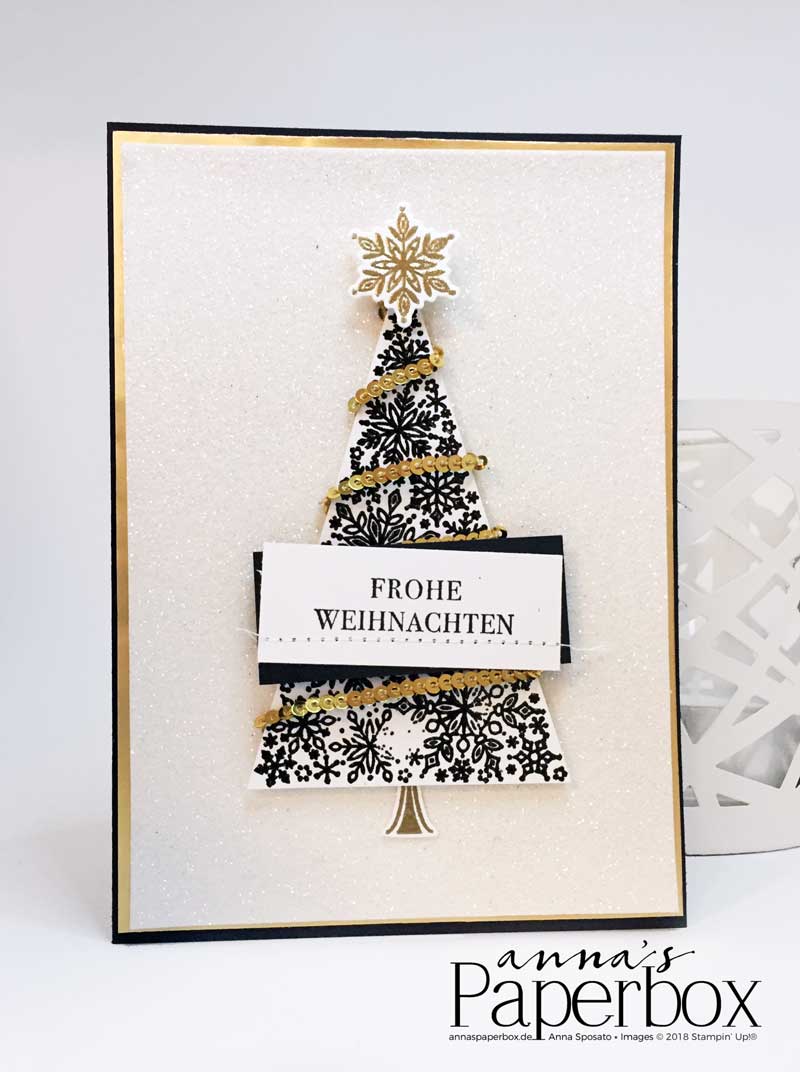 Das Glitzerpapier verleiht dem Ganzen einen schönen frostigen Effekt. Darauf kommt dann der Baum, den ich in Schwarz embosst und mit goldenem Paillettenband geschmückt habe. Das Band habe ich auf der Rückseite mit Glue Dots fixiert, damit es nicht so sehr verrutscht. Überraschenderweise kleben die Dimensionals, die ich für den Baum verwendet habe, recht gut auf dem Glitzerpapier 🙂 . Es ist also kein extra Kleber notwendig.
I chose the Glimmer Paper for a nice frosty effect. The tree is embossed in black and adorned with golden sequin trim. To keep the trim from slipping to much, I fixed it on the back with Glue Dots. Surprisingly enough, the dimensionals that I used on the tree keep quite well on the glitter paper :). So, no extra glue needed.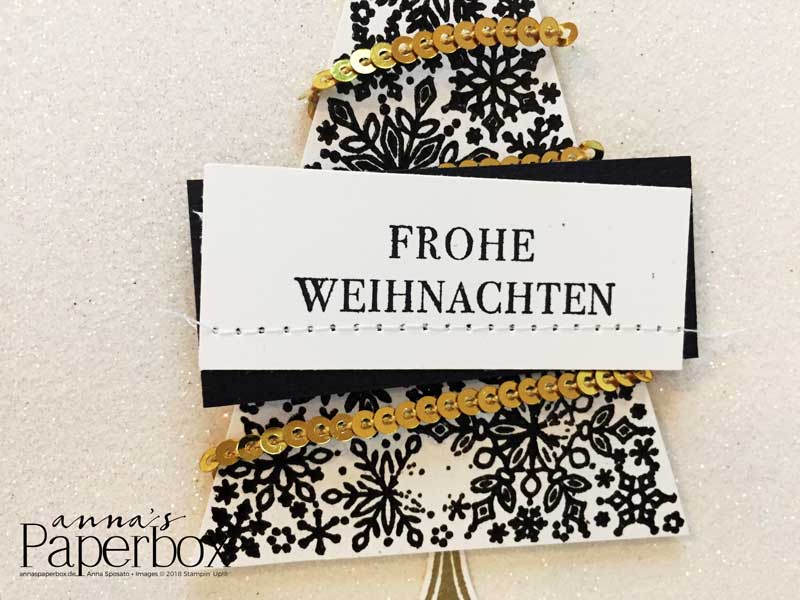 Die Schneeflocke ist in Gold embosst und mit einer doppelten Lage Dimensionals aufgeklebt.
The snowflake is embossed in gold and fixed on with a double layer of dimensionals.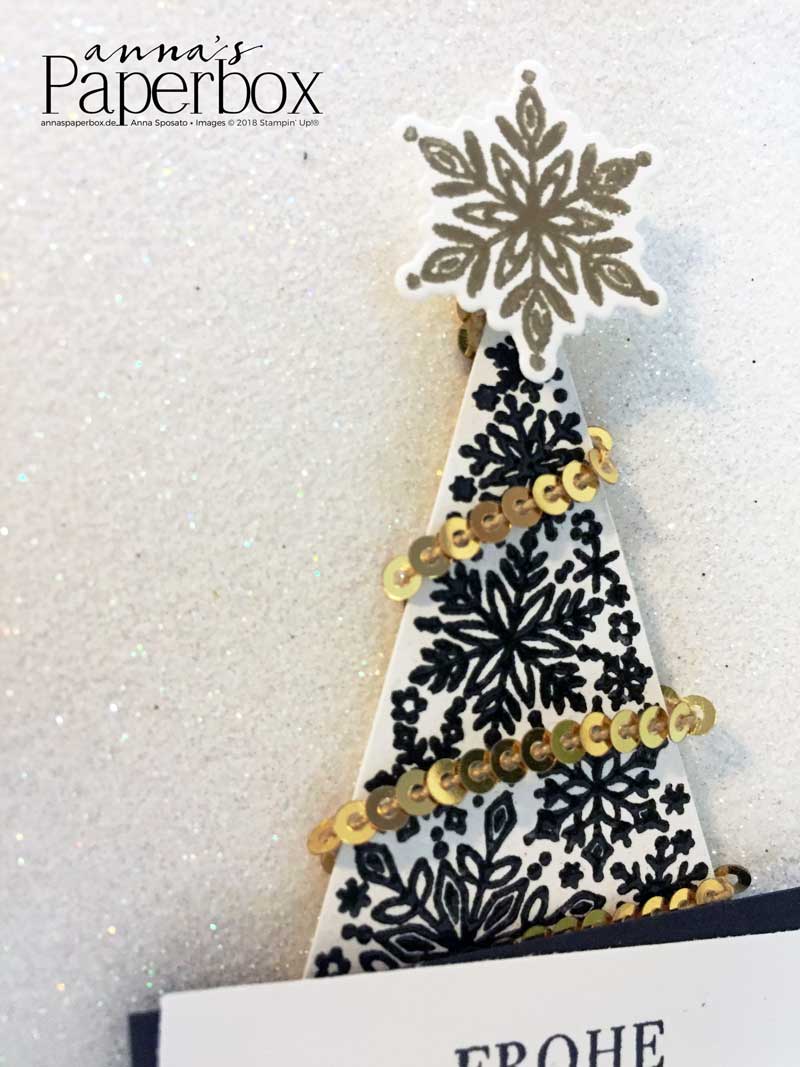 Nun seid ihr dran. Auf unserem Challengeblog könnt Ihr noch mehr tolle Projekte sehen und eure Werke verlinken. Klickt einfach unten auf das Bild um zum Blog zu kommen.
Now it's your turn. Just click on the image below to go to the challenge blog where you can find more fab projects and join in the challenge.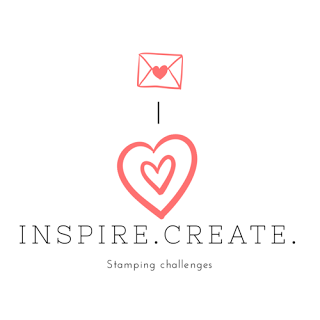 –
Maße für die Karte:

Measurements for the card:

Farbkarton Schwarz:
5¾" x 8½" (14,5 x 21 cm)
an der langen Seite bei: 4⅛" (10,5 cm) falzen
Metallic-Folienpapier Gold:
4″ x 5⅝″ (10 x 14 cm)
Glitzerpapier Sternenschimmer:
3⅞" x 5¾" (9,5 x 13f,5 cm)

Basic Black Cardstock:


5¾" x 8½" (14,5 x 21 cm)
score on the long side at: 4⅛" (10,5 cm)


Gray Granite Cardstock:


4″ x 5⅝″ (10 x 14 cm)

Designer Series Paper:


1″ x 4⅛" (2,5 x 14,5 cm)

–
Materialien/Product List
–