Hallo und willkommen zu einer neuen Inspire.Create Challenge. Heute mit einer Farbchallenge. Grüner Apfel, Kürbisgelb und Blutorange.
Hello and welcome to a new Inspire.Create Challenge. Today we play with colours. Granny Apple Green , Pumpkin Pie and Poppy Parade.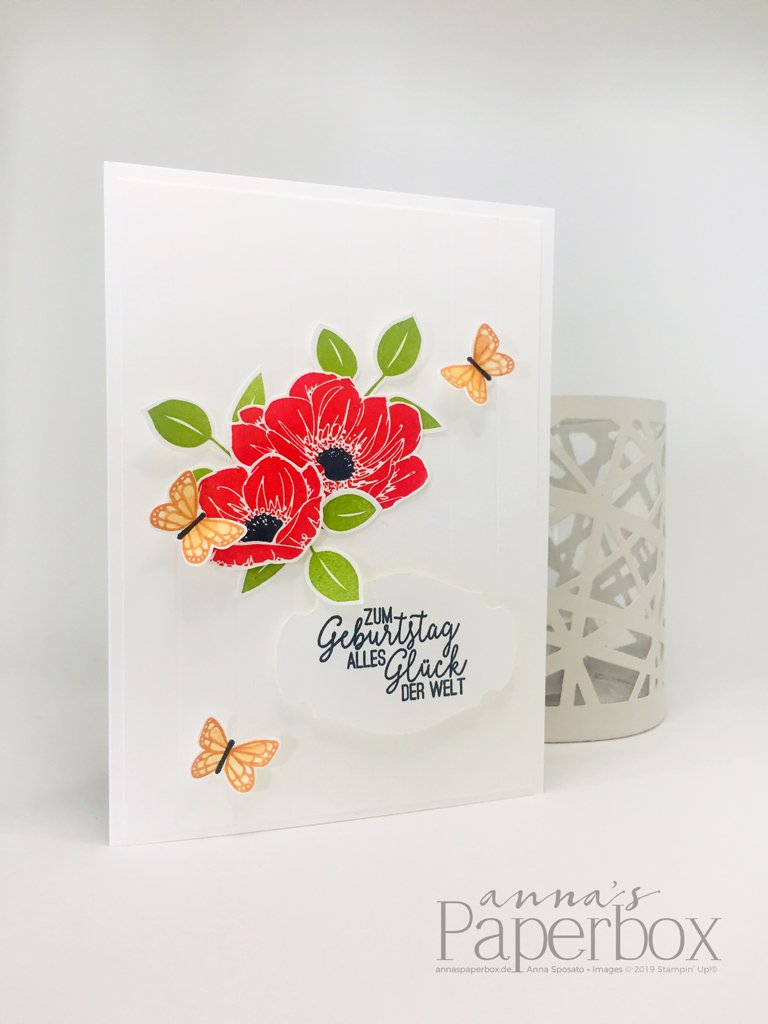 Drei poppige Farben die ich auf einen schönen weißen Hintergrund gesetzt habe. Den Aufleger habe ich mit geprägten Streifen versehen. Diesmal habe ich die Big Shot stehen gelassen und mir den Papierschneider geschnappt um die Streifen zu machen. Man kann auch das Simply Scored Falzbrett nehmen. Die Linien sind im Abstand von 0,5″ (1,2 cm) gezogen. Die Blüten sind per Hand ausgeschnitten und für die Blätter, Schmetties und das Etikett gibt es passende Stanzen.
Three bright colours that pop. That's why I put them on a simple white background. The mat has vertical embossed/scored strips. This time I didn't take the Big Shot out. Instead I used the paper trimmer to score the lines every 0.5″ (1.2 cm). You could also use the Simply Scored board. The flowers are cut out by hand and for the leaves, butterflies and the label we've got matching punches.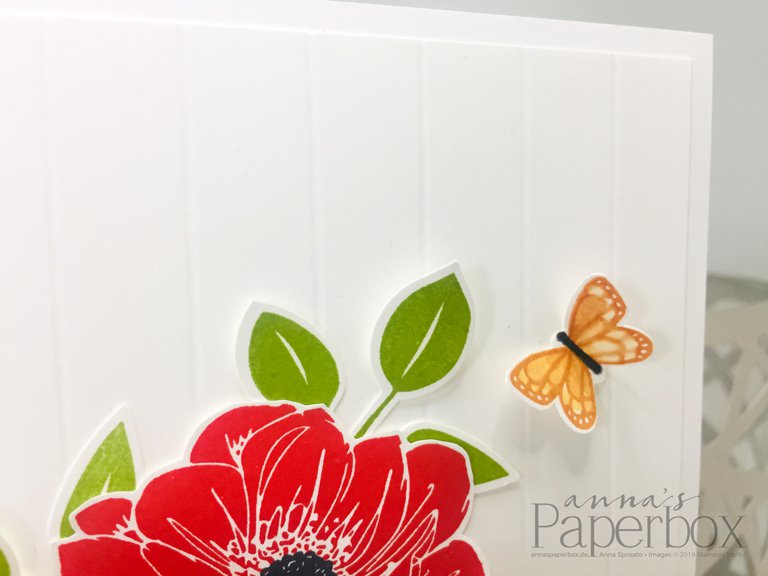 Die Blüten und Blätter sind aus dem Stempelset Florale Freude, das ihr ab Juni bestellen könnt. Falls ihr im März die Wunsch-Etikett Stanze verpasst habt, könnt ihr sie ab Juni bekommen. Die ist nämlich in den neuen Katalog übernommen worden.
Den neuen Katalog könnt ihr gerne bei mir über den Link (Katalog-cover) in der Seitenleiste bestellen.
Die Schmetties habe ich mit einem der Mischstifte und ganz wenig Tinte ausgemalt. Die sind klein genug das teilweise die Tinte des Stempelabdrucks schon reicht ohne das der Umriss verwischt wird.
---
The flowers and leaves are from the stamp set Floral Essence, which will be available starting 4th June. I've got good news if you missed the Story Label punch in March. It's going to be in the new catty as well. YAY!
Speaking of the new catalogue. Drop me a line if you'd like your own copy and I'm happy to send one to you.
To colour the butterflies, I used one of our blender pens. You only need a little bit of ink as they are pretty small. You could also get away with using the ink from the stamped outline to gently colour those fluttering beauties without smearing and blurring the whole image. It's what I did.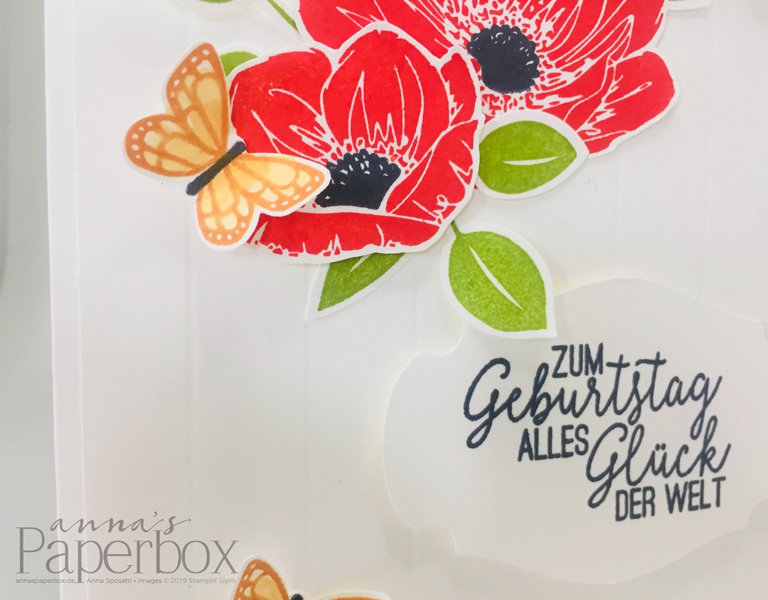 Danke das ihr heute wieder vorbeigeschaut habt. Besucht uns doch auch auf der Challengeseite. Wir freuen uns auf eure Projekte zum Thema dieser Woche.
Thanks for stopping by today. Hope I've given you some idea and we would love to see your creation over at Inspire.Create.Challenges.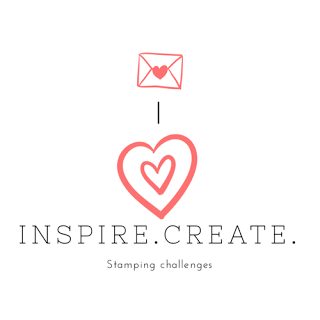 –
Maße für die Karte:

Measurements for the card:

Farbkarton Flüsterweiß:
5¾" x 8½" (14,5 x 21 cm)
an der langen Seite bei
4⅛" (10,5 cm) falzen
3⅜" x 5″ (8,5 x 12,5 cm)

Whisper White Cardstock :
5¾" x 8½" (14,5 x 21 cm)
score on the long side at
4⅛" (10,5 cm)
3⅜" x 5″ (8,5 x 12,5 cm)

–
Materialien/Product List