#simplestamping -Hallo und willkommen zur neuesten Challenge von Inspire.Create. Diesmal ist das Thema: Geburtstag.
simplestamping – Hello and welcome to a new challenge from Inspire.Create with a theme. Birthdays!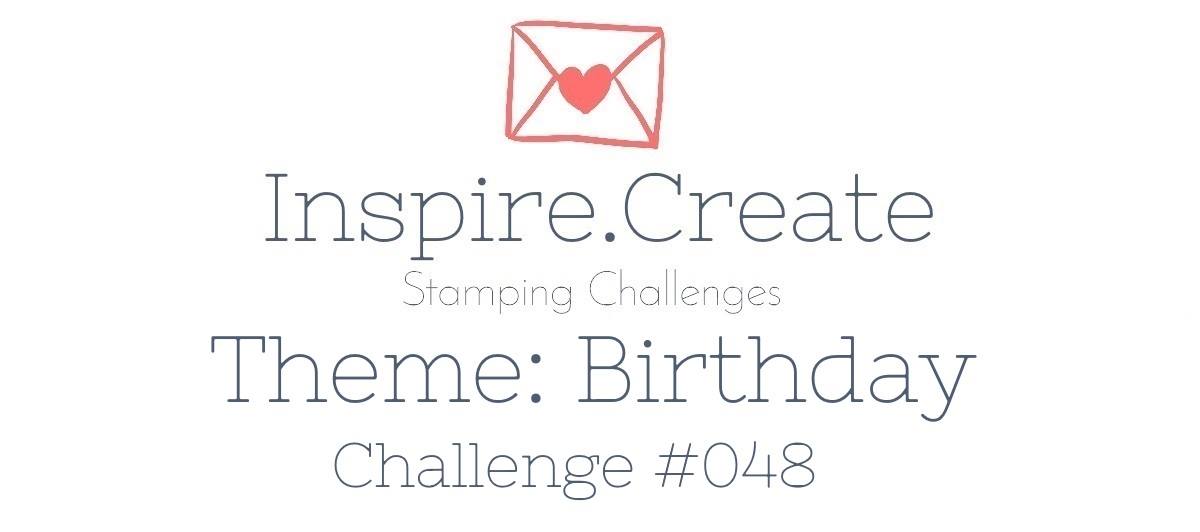 Heute habe ich wieder eine #simplestamping Karte für euch. Stempel, Papier, Farbe und ein Bogen Designerpapier.
Blume und Glückwunsch sind aus dem Doppelstempel-Set Blühende Worte. Koloriert habe ich mit den Blender Pens in den Farben Ziegelrot und Pfauengrün.
Today I have another #simplestamping card for you. Stamp, paper, ink and a sheet of Designer Series Paper.
The flower and sentiment are from the double stamp set Flourishing Phrases. I used the Blender Pens to colour the flower and the inks are Terracotta Tile and Pretty Peacock.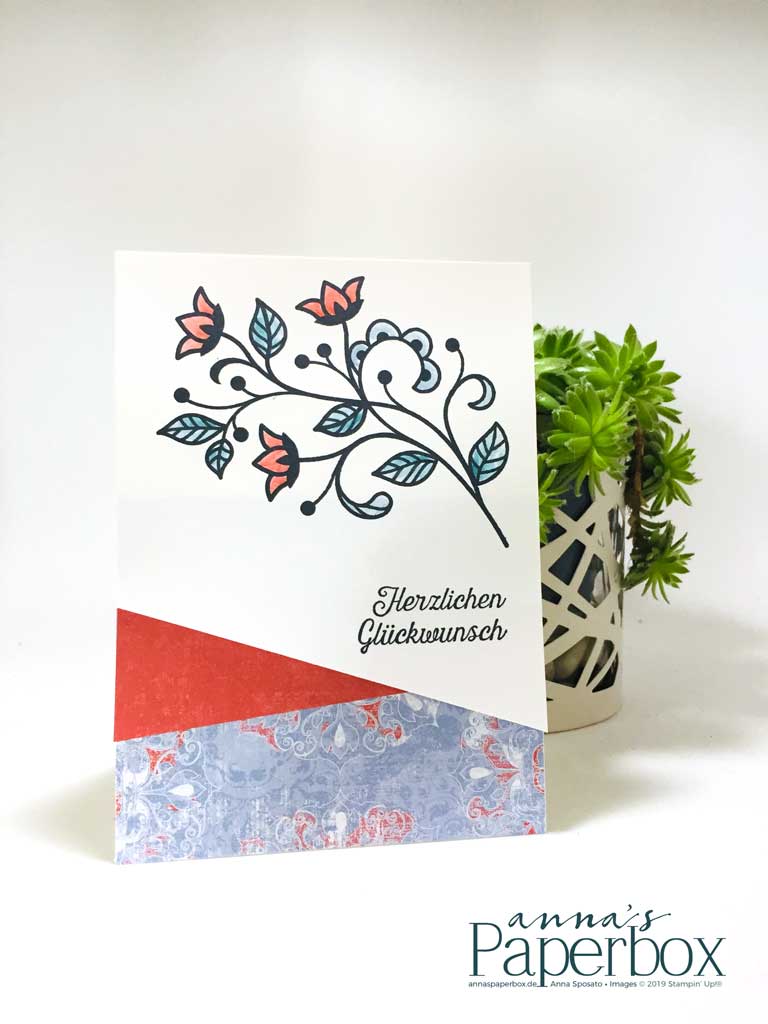 Die einzelnen Lagen habe ich mit dem Papierschneider unterschiedlich schräg angeschnitten. So wie es einem gefällt. Das Design eignet sich auch super um Papierreste zu verwerten. Kleine Schnipsel mit denen man sonst nicht mehr viel anfangen kann und man kann natürlich auch mehr Lagen hinzufügen. Probier es aus.
I cut the individual layers at different angles with the paper cutter. As there are no specific angles to cut, you can use up scraps for this card design and also layer up more paper pieces. Give it a try.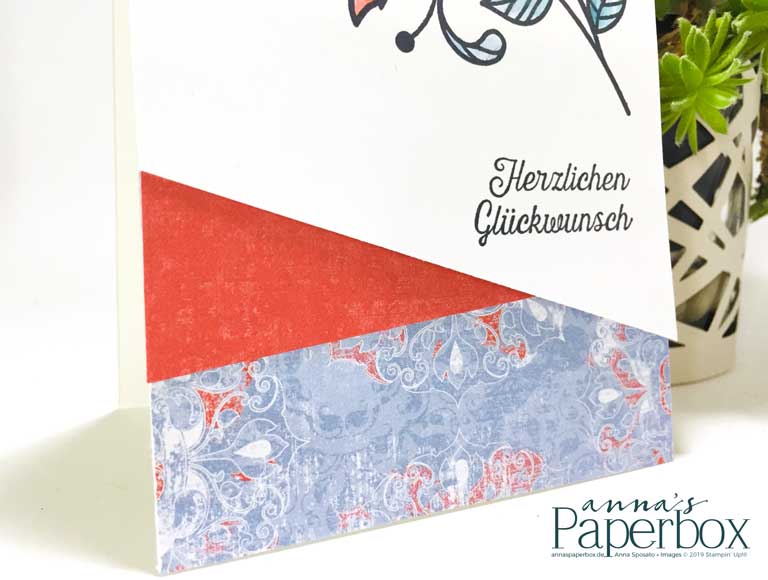 Danke das ihr heute wieder vorbeigeschaut habt. Besucht uns doch auch auf der Challengeseite. Wir freuen uns auf eure Geburtstags Projekte.
Thanks for stopping by today. Hope I've given you some idea and we would love to see your creation over at Inspire.Create.Challenges.
–
Maße für die Karte:

Measurements for the card:

Farbkarton Flüsterweiß:
(1) 11½" x 4⅛" (29 x 10,5 cm)
an der langen Seite bei
5¾" (14,5 cm) falzen
(1) 4¾" x 4⅛" (12 x 10,5 cm)
Designerpapier:
3″ x 4⅛" (7 x 10,5 cm)
2″ x 4⅛"" (4 x 10,5 cm)
Whisper White Cardstock :
(1) 11½" x 4⅛" (29 x 10,5 cm)
score on the long side at
5¾" (14,5 cm)
(1) 4¾" x 4⅛" (12 x 10,5 cm)
DSP:
3″ x 4⅛" (7 x 10,5 cm)
2″ x 4⅛"" (4 x 10,5 cm)
–
Materialien/Product List