Hallo und willkommen zur einer neuen Sketch Challenge von Inspire.Create.
Hello and welcome to a new sketch challenge from Inspire.Create.
Heute habe ich etwas festliches für euch. Eine Karte mit dem wunderschönen Designerpapier Im schönsten Glanz und dem Produktpaket Festtagsglanz.
Today I have something festive for you. A card with the beautiful Brightly Gleaming designer series paper and the Cristmas Gleaming bundle.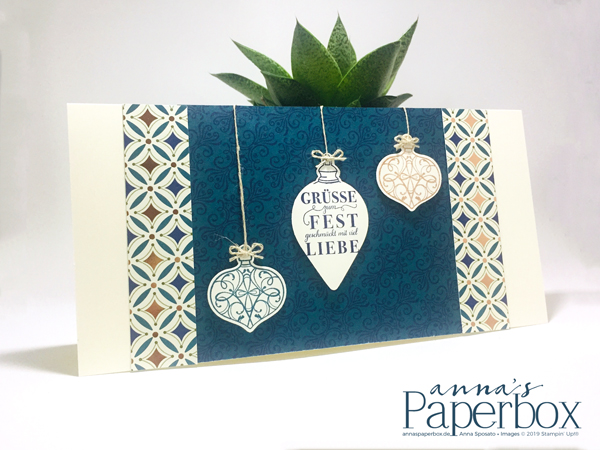 Das Papier hat Kupferakzente auf einer Seite und ist soooo schön und die Farbpalette ist ja eh meins. Grün und Blautöne mit glänzendem Kupfer.
This paper has copper foil accents on one side and it's soooo beautiful. I also love the colour palette of this paper. Greens and blues with shiny copper.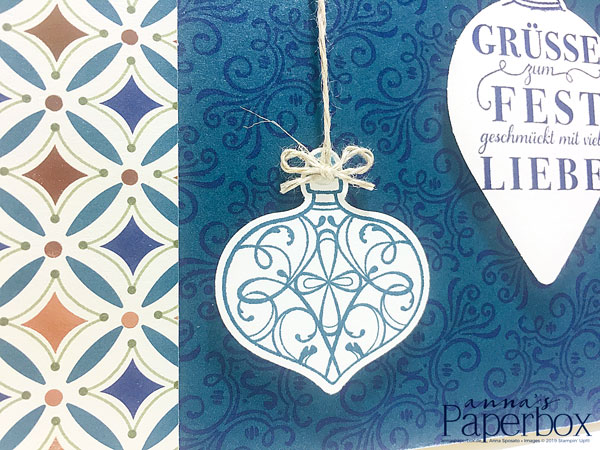 Auf die mittlere Christbaumkugel hatte ich erst nur den Gruß gestempelt, aber es sah so unfertig aus. Daher habe ich den oberen Teil noch hinzugefügt. Dafür habe ich den unteren Teil des Stempels mit Klebestreifen abgedeckt, Tinte aufgenommen, Klebestreifen wieder entfernt und dann das ausgestanzte Teil bestempelt. So hat jetzt alles einen einheitlichen Look.
At first I only had the greeting on the middle bauble, but it looked so unfinished. That's why I added the top part. First I covered the lower part of the stamp (everything that won't be stamped) with adhesive strips, then I inked up the stamp, removed the adhesive strips and finally stamped the punched out bauble. So now everything has a consistent look.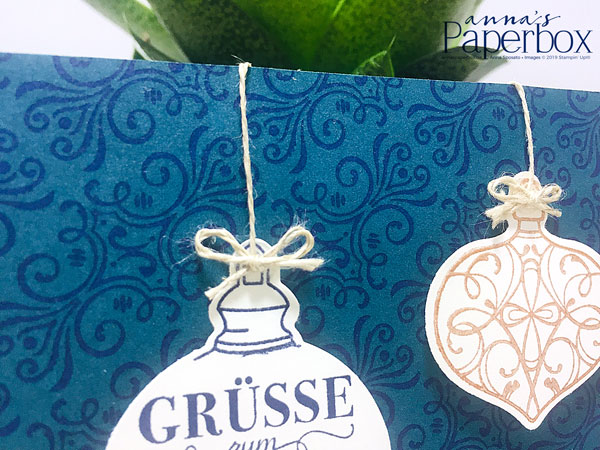 Danke das ihr heute wieder vorbeigeschaut habt. Besucht uns doch auch auf der Challengeseite. Wir freuen uns auf eure Ideen mit dem Sketch.
Thanks for stopping by today. Hope I've given you some ideas and we would love to see your creation over at Inspire.Create.Challenges.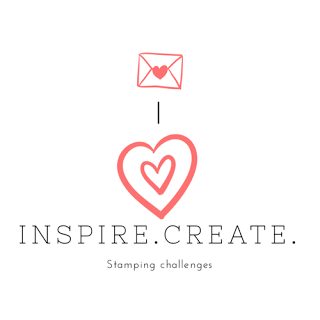 –
Maße für die Karte:

Measurements for the card:

Farbkarton Vanille:
8¼" x 8¼" (21 x 21 cm)
an einer Seite bei
4⅛" (10,5 cm) falzen
Designerpapier:
(1) 4⅛" x 5″ (10,5 x 13 cm)
(2) 4⅛" x 1″ (10,5 x 2,5 cm)
Very Vanilla Cardstock :
8¼" x 8¼" (21 x 21 cm)
score on one side at
4⅛" (10,5 cm)
DSP:
(1) 4⅛" x 5″ (10,5 x 13 cm)
(2) 4⅛" x 1″ (10,5 x 2,5 cm)
–
Product List