Hallo und willkommen zur leztzen Inspire.Create. Challenge in diesem Jahr. Wir beenden das Jahr mit einem schönen Sketch.
Hello and welcome to this year's last challenge from Inspire.Create. We're saying goodbye to 2019 with a fun sketch.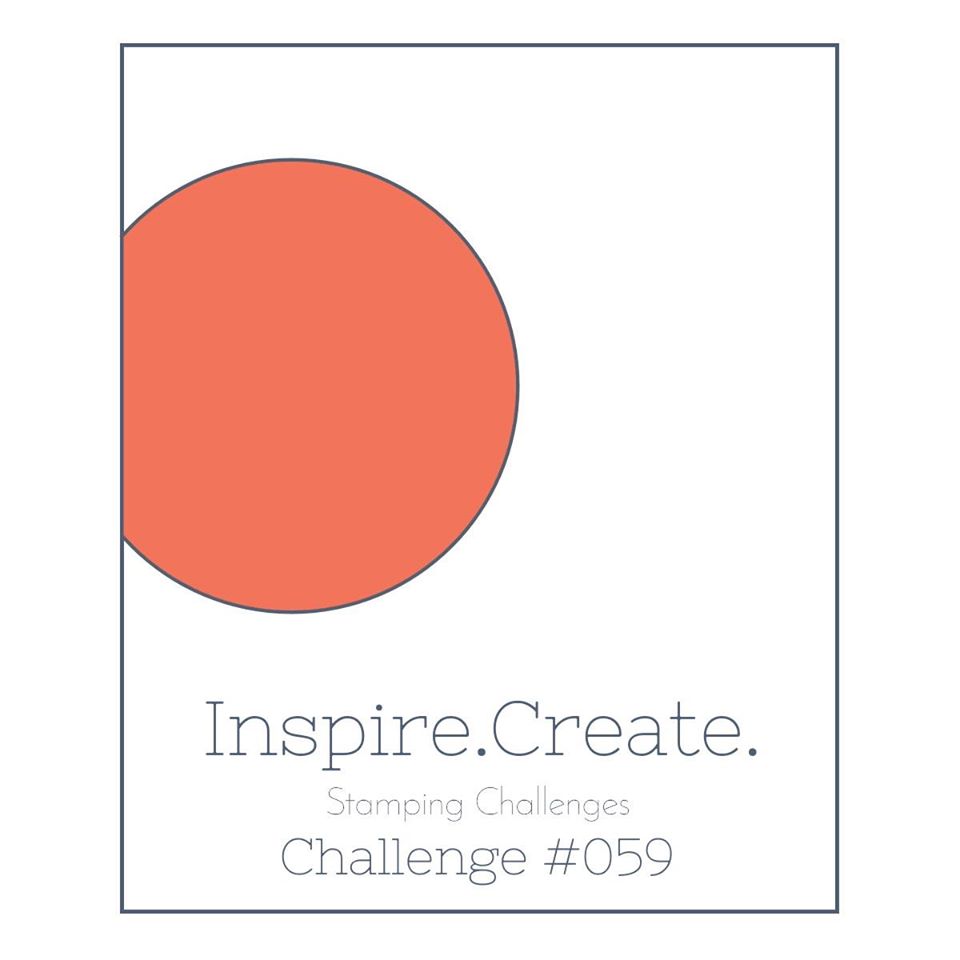 Noch ist das Jahr nicht zu Ende. Daher habe ich eine fröhliche und untypische Silvesterkarte für euch. Keine Sektgläser und Korken, sondern ein putziger Schneemann.
I've made an unusual new years card. Instead of champagne glasses and fireworks, I'm having a cute and happy snowman ringing in the new year.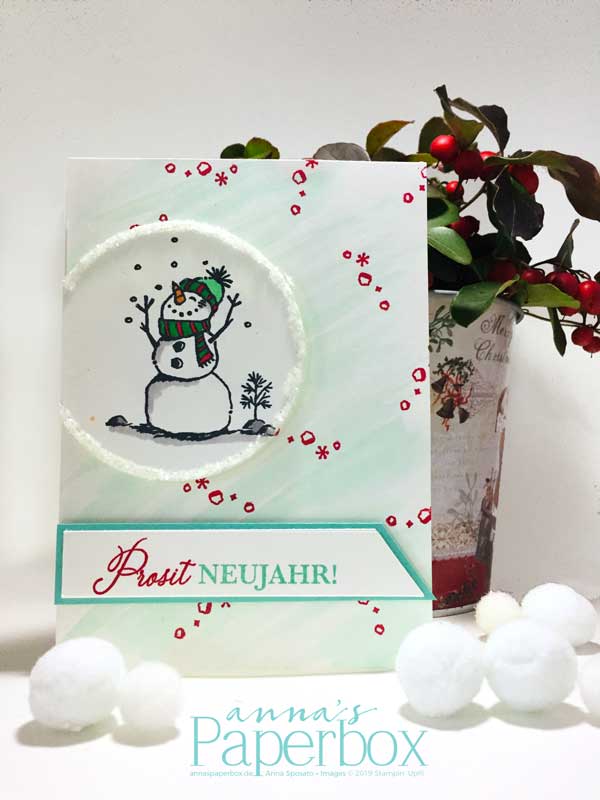 Den Hintergrund habe ich mit etwas Tinte und den Wassertankpinseln schnell eingefärbt und nach dem trocknen mit ein paar Schneeflocken (könnte auch als Konfetti durchgehen) in rot bestempelt.
For the background I did da quick watercolour wash with the Aqua Painters and Coastal Cabana ink. After drying, I stamped a few snowflakes (which could also be confetti if you ask me😜 ) in Real Red.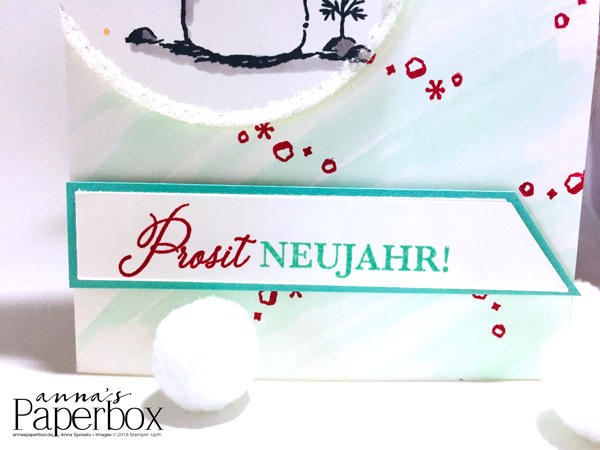 Den Gruß habe ich aus dem Set Grund zum Anstossen zusammengestellt.
The greeting is from the stamp set Sip Sip Hooray.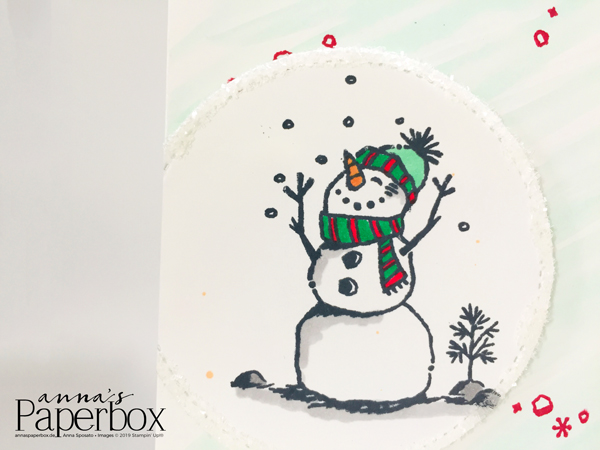 Der Schneemann ist auf einem Kreis gestempelt, dessen Rand ich mit dem Ice Stampin' Glitter gefrostet habe. Könnte man als ein gefrostetes Cocktailglas von oben sehen 😉. Da wären wir auch schon wieder beim Thema Silvester. Wünsche euch allen einen guten Rutsch 🍾🥂
I stamped the snowman on a circle and frosted the edge with the Ice Stampin 'Glitter. Just like a Margarita Cocktail with a salt rimed glass 😉. Cheers and have a faboulous new year everyone 🍾🥂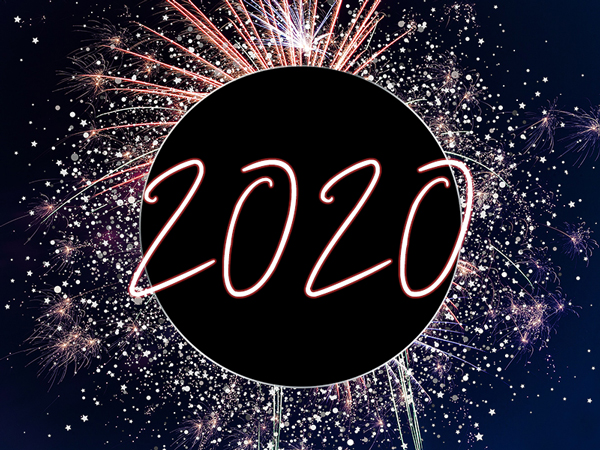 Danke das ihr heute wieder vorbeigeschaut habt. Besucht uns doch auch auf der Challengeseite. Wir freuen uns auf eure Ideen zum Thema.
Thanks for stopping by today. Hope I've given you some ideas and we would love to see your creation over at Inspire.Create.Challenges.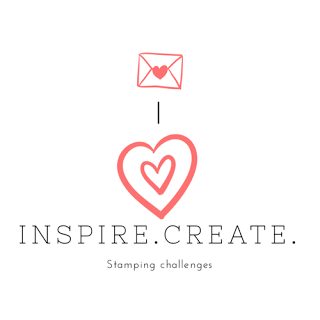 –
Maße für die Karte:

Measurements for the card:

Farbkarton Flüsterweiß:
(1) 11½" x 4⅛" (29 x 10,5 cm)
an der langen Seite bei
5¾" (14,5 cm) falzen
(1) 5¾" x 4⅛" (14,5 x 10,5 cm)
(1) ¾" x 4" (2 x 10 cm)
Farbkarton Jade:
⅞" x 4⅛" (2,5 x 10,5 cm)
Whisper White Cardstock :
(1) 11½" x 4⅛" (29 x 10,5 cm)
score on the long side at
5¾" (14,5 cm)
(1) 5¾" x 4⅛" (14,5 x 10,5 cm)
(1) ¾" x 4" (2 x 10 cm)
Coastal Cabana Cardstock:
⅞" x 4⅛" (2,5 x 10,5 cm)
–
Product List