Hallo und Willkommen zu einer neuen Challenge von Inspire Create. Diese Woche ist Themenwoche und unser Thema ist Ostern.
Hello and welcome to a new challenge from Inspire Create. This week we have a theme and our theme is Easter.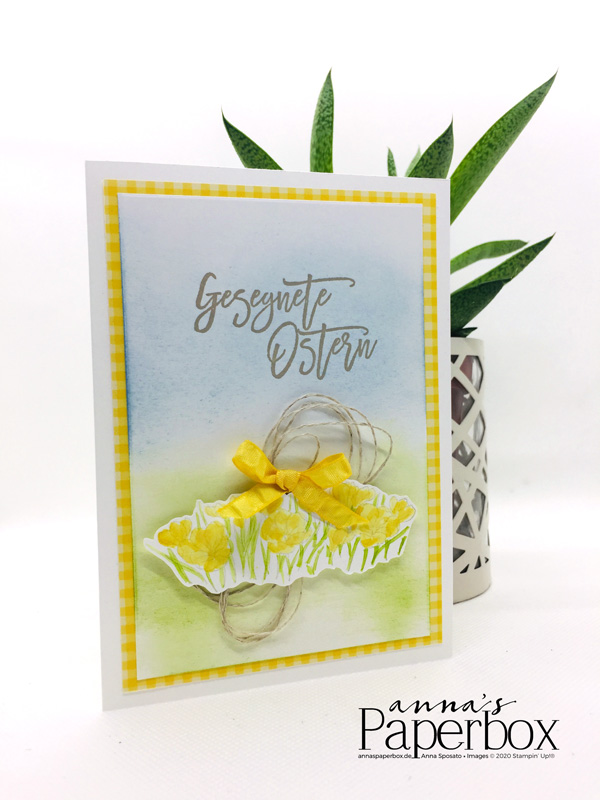 Ein kleiner Blumengruß zu Ostern. Angefangen habe ich mit dem Hintergrund. Dazu habe ich ein Stück weißen Farbkarton mit Schwämmchen und Tinte in Rauchblau und Apfelgrün eingefärbt und anschließend den Gruß in Saharasand gestempelt.
Love that little daffodil field from the Easter Promise stamp set. But first I started with the background. I used Seaside Spray and Granny Apple Green and the sponges to add a bit of colour to a piece of Whisper White cardstock. After that I stamped the greeting in Sahara Sand.
Das Osterglockenfeld habe ich zuerst in Saharasand gestempelt. Da ich den Umriss so dezent wie möglich halten wollte, habe ich das Motiv einmal abgestempelt. Dann habe ich die Blumen mit einem Wassertankpinsel und etwas Farbe ausgemalt. Zum Schluss dann noch mit der Schere ausgeschnitten und mit ein Paar Dimensionals auf die Karte geklebt. Vorher habe ich noch etwas Leinenfaden auf die Rückseite des Blumenmotives geklebt.
Now on to the flowers. I wanted to colour them with the Aqua Painters and didn't want the outline to be too visible. Therefore I stamped the flowers once off. As you can see, it's barely noticeable now. After colouring I fussy cut and fixed them to the card with a couple of Dimensionals. But before that, I glued some linen thread to the back of the flower motif.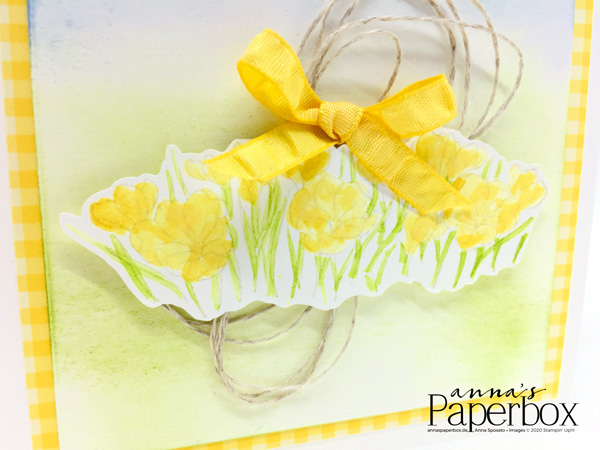 Mir hat aber noch etwas gefehlt. Also hat die Karte noch ein Schleifchen bekommen.
It was still missing something. So I added a cute little bow.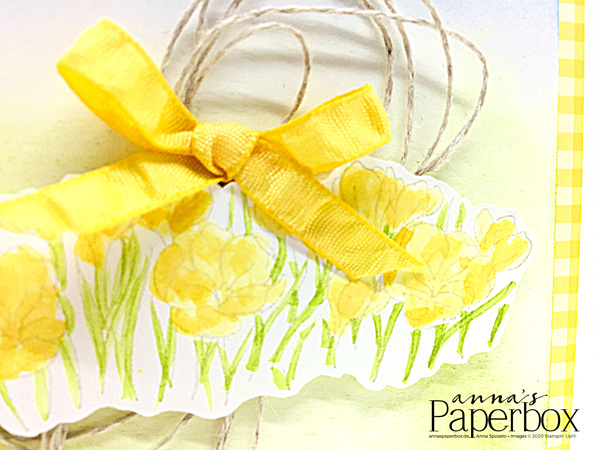 Danke das ihr heute wieder vorbeigeschaut habt. Besucht uns doch auch auf der Challengeseite. Wir freuen uns auf eure Ideen zum Thema. Um auf die Challengeseite zu kommen, klickt einfach diesen Link oder das Challege Logo unten 👇🏻
Thanks for stopping by today. Hope I've given you some ideas and we would love to see your creation over at Inspire.Create.Challenges. To visit the ICC Challenge, simply click HERE or the Image of the Challenge 👇🏻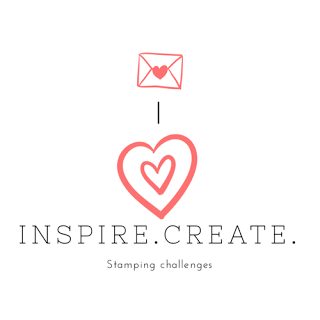 –
Maße für die Karte:

Measurements for the card:

Farbkarton Flüsterweiß:
5¾" x 8½" (14,5 x 21 cm)
an der langen Seite bei
4⅛" (10,5 cm) falzen
3⅜" x 5″ (8,5 x 12,5 cm)
Desigerpapier:
3¾" x 5¼" (9,5 x 13,5 cm)
Whisper White Cardstock :
5¾" x 8½" (14,5 x 21 cm)
score on the long side at
4⅛" (10,5 cm)
3⅜" x 5″ (8,5 x 12,5 cm)
DSP:
3¾" x 5¼" (9,5 x 13,5 cm) 
–
Product List