Hallo und Willkommen zu einer neuen Farb-Challenge von Inspire Create. Brombeermousse, Blutorange, Aquamarin und Olivgrün. Das sind die Farben mit denen wir diesmal unsere Projekte gestalten.
Hello and welcome to a new challenge from Inspire Create. This week we habe a colour challenge with Blackberry Bliss, Poppy Parade, Pool Party and Old Olive.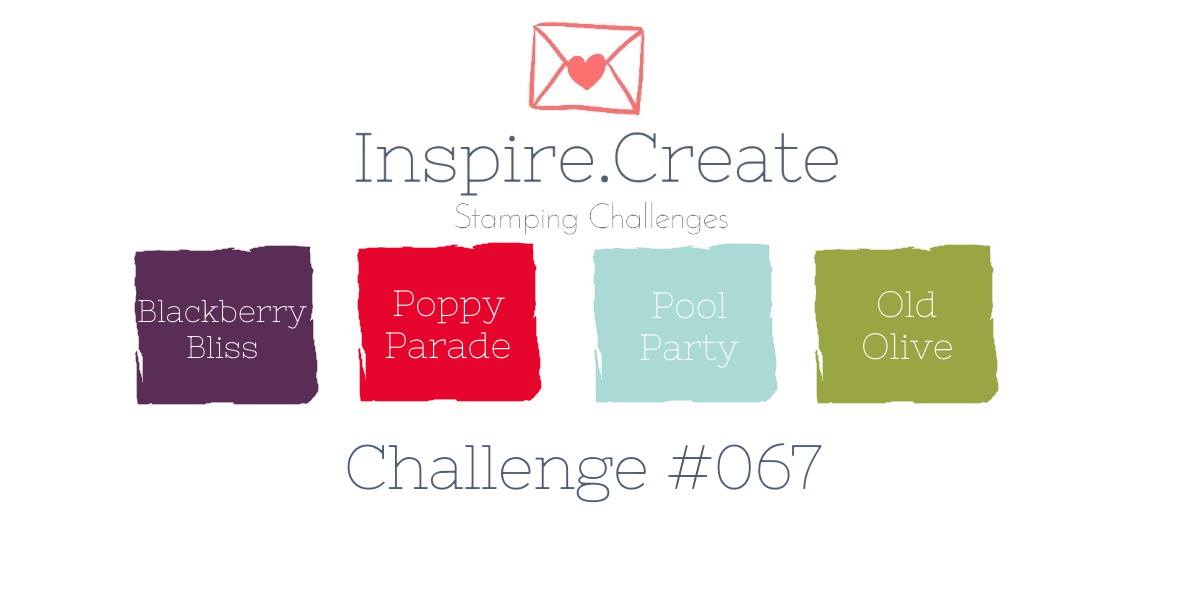 Ich habe eine Geburtstagskarte für euch die ich mit den Mohnblüten aus der Reihe Mohnblütenzauber gemacht habe. Bonus: die Farben für unsere Challenge finden sich auch auf dem dazugehörigen Designerpapier. Das macht die Gestaltung doch gleich noch etwas einfacher.
I've made a birthday card with the Peaceful Poppy Suite. Bonus: the colours from our challenge are also part of the colour palette from the Peacful Poppies DSP. So, of course I also used that DSP for the card.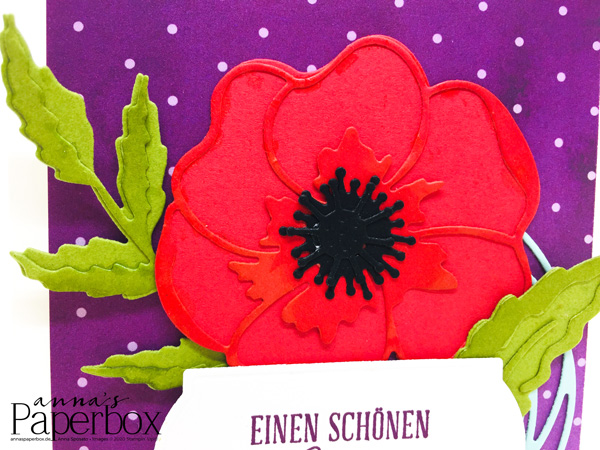 Auf den Hintergrund in Brombeermousse habe ich eine große Blüte mit ein paar Blätter und einem Kringel in Aquamarin gesetzt. Um der Blüte und den Blättern etwas mehr Tiefe zu geben, habe ich einen Teil mit dem Wassertankpinsel und der entsprechend Tinte etwas dunkler eingefärbt. Für noch mehr Pep, könnte man die Tinte mit dem Wink of Stella auftragen. Da verleiht der Blüte und den Blätter zusätzlich noch einen zarten Schimmer.
For the background I chose a design with tiny dots and only one colour. Blackberry Bliss. As it is such a bold colour I only put one big flower with a few leaves and the squiggly loops in Pool Party. To give the flower and the leaves a little more depth, I coloured the top parts a little darker with the same colour inks and the Aqua Painters. For a bit more pep, you could apply the ink with a Wink of Stella. That adds some shimmer to the Flowers and leafes.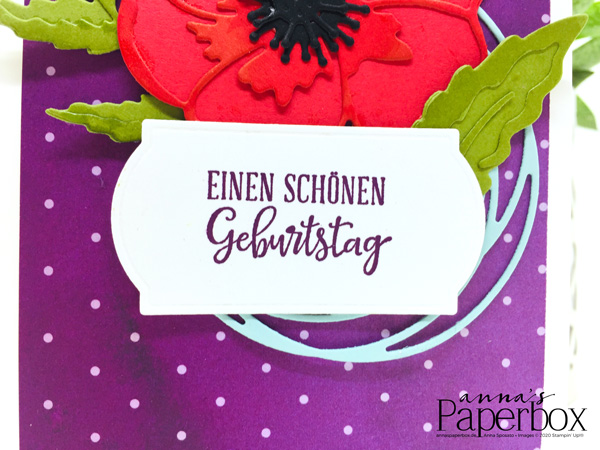 Danke das ihr heute wieder vorbeigeschaut habt. Besucht uns doch auch auf der Challengeseite. Wir freuen uns auf eure Ideen zum Thema. Um auf die Challengeseite zu kommen, klickt einfach diesen Link oder das Challege Logo unten 👇🏻
Thanks for stopping by today. Hope I've given you some ideas and we would love to see your creation over at Inspire.Create.Challenges. To visit the ICC Challenge, simply click HERE or the Image of the Challenge 👇🏻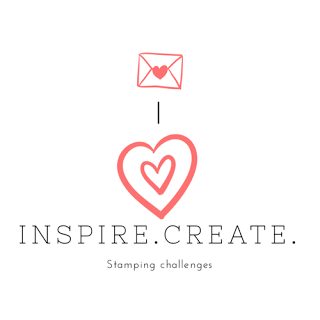 –
Maße für die Karte:

Measurements for the card:

Farbkarton Flüsterweiß:
5¾" x 8½" (14,5 x 21 cm)
an der langen Seite bei
4⅛" (10,5 cm) falzen
Desigerpapier:
3⅝" x 5¾" (9,5 x 14,5 cm)
Whisper White Cardstock :
5¾" x 8½" (14,5 x 21 cm)
score on the long side at
4⅛" (10,5 cm)
DSP:
3⅝" x 5¾" (9,5 x 14,5 cm) 
–
Product List