Hallo und Willkommen zur neuen Challenge von Inspire Create. Diese Woche stehen uns die fünf neuen In Colors 2020-22 zur Verfügung für unsere Projekte. Zimtbraun, Aventurin, Hummelbelb, Magentarot und Abendblau.
Hello and welcome to the new Inspire Create Challenge. This week we're going to play with new In Colors 2020-22.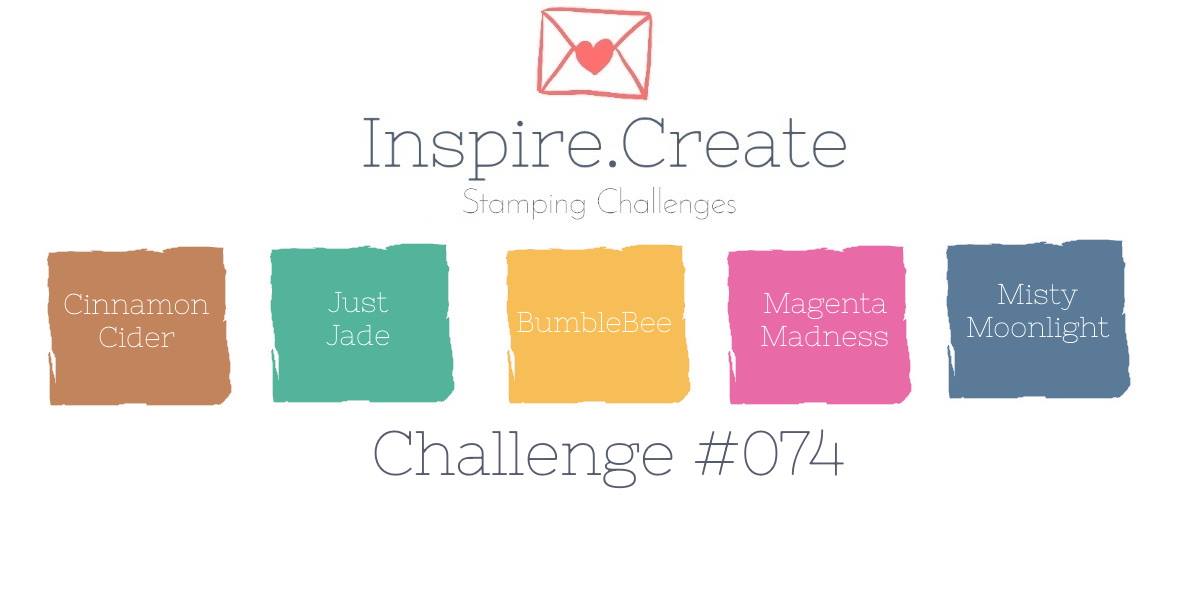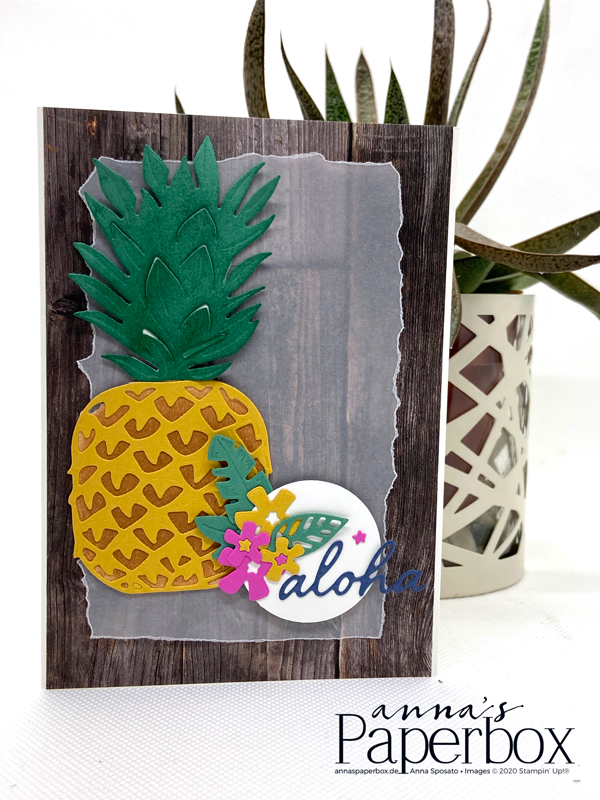 Die Farben sind so schön kräftig und warm. Als ich die Farben zum ersten Mal mal gesehen habe, habe ich gleich an Sommer und Sonne gedacht und die Ananas aus dem Stanzformenset Tropisch ist doch perfekt dafür. Ich habe diesmal kein Stempel verwendet, da ich als Gruß den "aloha" Schriftzug aus dem Set verwendet habe.
These colours are so vibrant and warm. When I saw the colors for the first time, I immediately thought of summer and sun and so I choose the pineapple from the "In the Tropics" dies for my card. After finishing the card I realised that I hadn't used any stamps for this project, because I used the "aloha" lettering die from the set for the greeting.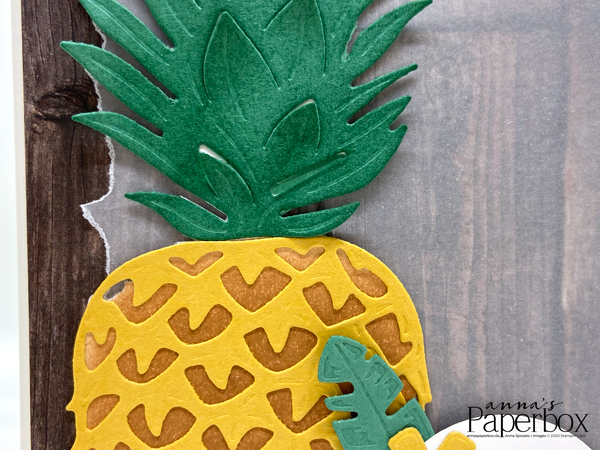 Eigentlich sollte es heute zu dieser Karte ein Video geben. Das hat sich leider etwas verschoben. Wenn die Technik nicht mitmacht…??‍♀️ Ich werde versuchen es bis zum Wochenende fertigzustellen. Schaut einfach noch mal vorbei.
In der Zwischenzeit gibt es die schriftliche Version. Als erstes habe ich alle Formen ausgestanzt. Die Blätter habe ich anschließend für mehr Struktur mit einem Schwämmchen eingefärbt. Den Hintergrund der Ananas habe ich auch mit einem Schwämmchen in Zimtbraun eingefärbt. Ich habe dafür weißen Farbkarton genommen, damit ich auch ein paar hellere Stellen habe. Danach hab ich beide Teile zusammengeklebt und den Unteren Teil zurückgeschnitten. Anschließend noch das Etikett mit den Blüten, Blättern und dem Schriftzug gestalten und alles auf die Karte Kleben. Das Holzmotiv für den Hintergrund ist aus dem Designerpapier "Ganz mein Geschmack". Darauf habe ich ein Stück Pergamentpapier geklebt, das ich an den Seiten ausgerißen habe. Kleiner Tip noch. Pergament ist transparent und wenn man diese Stück vollflächig verklebt scheint der Kleber durch. Um das zu verhindern habe Ich zuerst die Motive auf das Pergamentstück geklebt. So konnte ich dann den Kleber nur hinter den Motiven auf dem Pergamentstück geben.

Actually there should be a video tutorial for this card today. Unfortunately, technology was uncooperative an so I had to postpone it a bit… ??‍♀️ Fingers crossed that I'll be able to finish and upload it by the weekend. Just pop back in in a couple days.
In the meantime here is the written version. First I die cut all shapes. Then I coloured the pieces with a sponge for more structure. I also inked the background of the pineapple with a sponge with Cinnamon Cider. I used white card stock for this to have a few lighter areas. Then I glued both parts together and cut the lower part back. Then I arranged and glued the label with the flowers, leaves and the lettering on a white circle. The wood motif for the background is from the designer paper "In good taste". I glued a piece of vellum paper to it, which's sides I tore off. Here's another tip for you. Vellum is transparent and when you glue this piece over the entire surface the glue shines through. To prevent this, I first glued the motifs onto the parchment piece. That way I could put the glue only behind the motifs on the parchment piece and you don't see any glue marks through the vellum.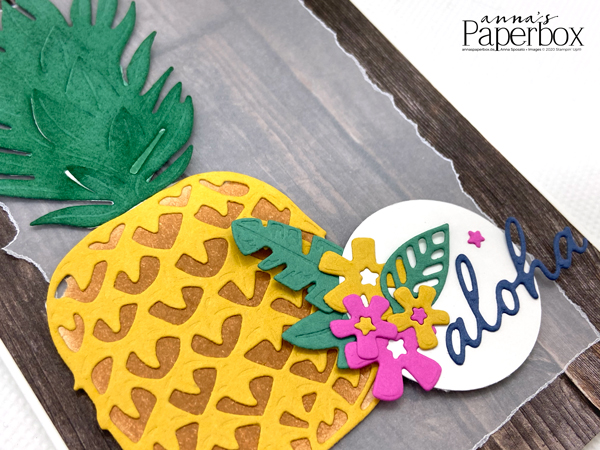 Danke das ihr heute wieder vorbeigeschaut habt. Besucht uns doch auch auf der Challengeseite. Wir freuen uns auf eure Ideen zum Thema. Um auf die Challengeseite zu kommen, klickt einfach diesen Link oder das Challege Logo unten ??
Thanks for stopping by today. Hope I've given you some ideas and we would love to see your creation over at Inspire.Create.Challenges.To visit the ICC Challenge, simply click HERE or the logo of the Challenge ??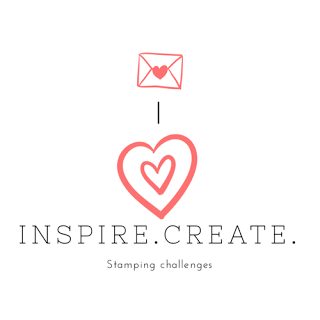 –
Maße für die Karte:

Measurements for the card:

Farbkarton Flüsterweiß:
5¾" x 8½" (14,5 x 21 cm)
an der langen Seite bei
4⅛" (10,5 cm) falzen
Farbkarton Pergament :
4″ x 5¾" (10 x 14,5 cm)
Designerpapier:
4″ x 5¾" (10 x 14,5 cm)
Whisper White Cardstock :
5¾" x 8½" (14,5 x 21 cm)
score on the long side at
4⅛" (10,5 cm)
Vellum Cardstock:
4″ x 5¾" (10 x 14,5 cm)
DSP:
4″ x 5¾" (10 x 14,5 cm)
–
Product List