Hallo und willkommen zum April Blog Hop von Inspire Ink. Diesmal haben wir einen Sketch für euch.
Hello and welcome to Inspire Ink's April Blog Hop. This month it's a sketch challenge.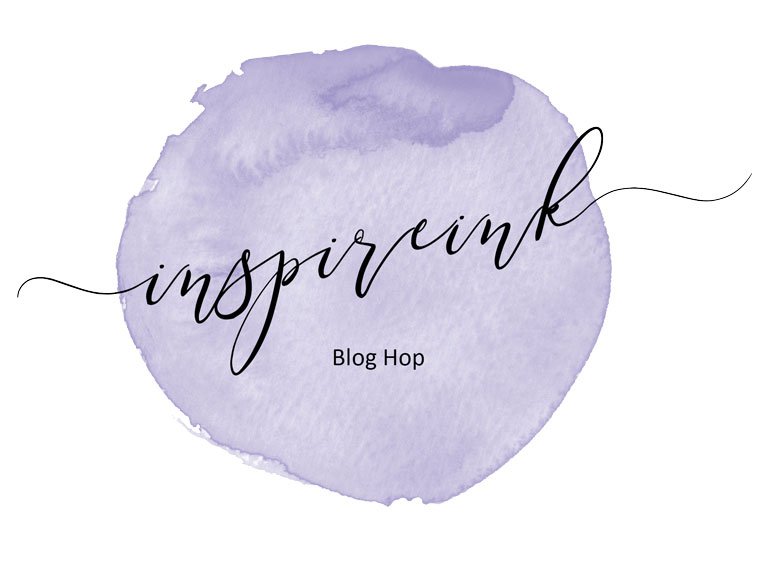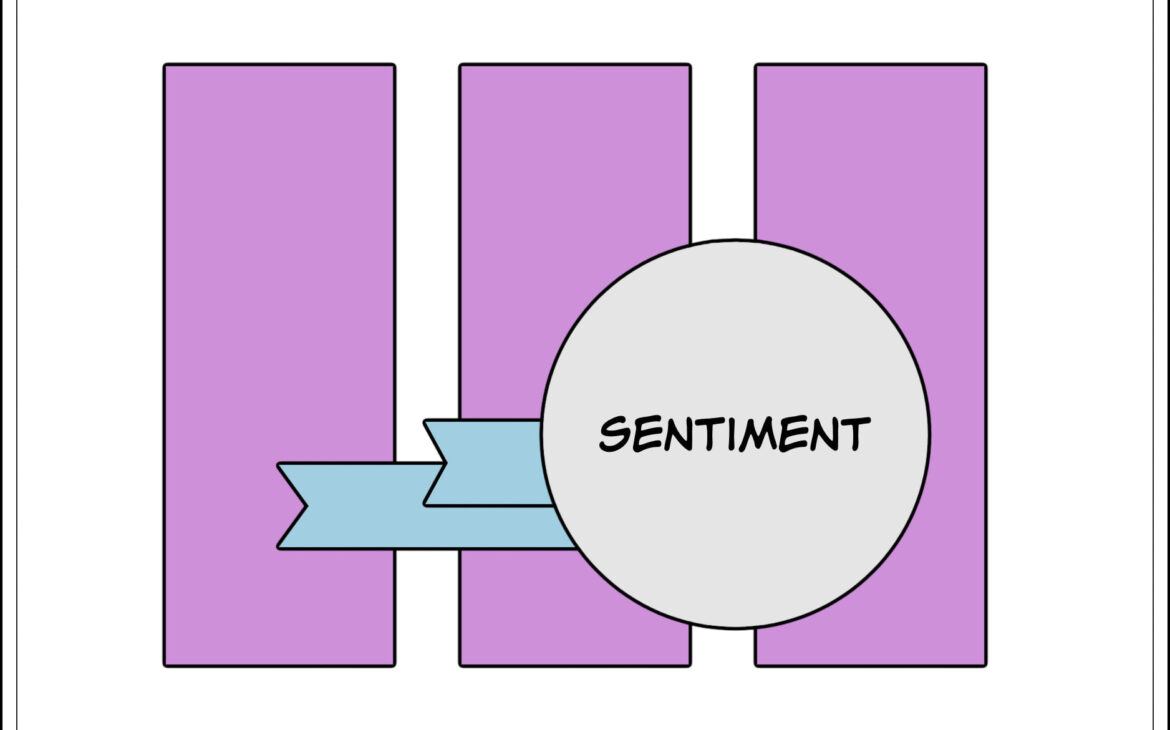 Heute habe ich etwas neues. Das Stempelset Freundschaftsblüten und drei der neuen Incolor Farben aus dem neuen Jahreskatalog. Wenn ihr noch keinen habt und gerne einen möchtet schreibt mir einfach und ich sende euch gerne einen zu.
Die Blumen habe ich zuerst in Lodengrün gestempelt und anschließend mit einem Wassertankpinsel leicht mit Papaya koloriert. Da dies normaler Farbkarton ist, empfehle ich den Pinsel recht trocken zu halten, damit ihr das Papier nicht zu sehr aufweicht. Mit wenig Wasser und wenigen, leichten Pinselstrichen klappt das wunderbar. In diesem Fall auch wichtig, das ihr sonst die Tinte des Stempelabdrucks mit verwischt, da es ja keine Wasserfeste Tinte ist. Ein wenig ist ok, wie man auf dem unteren Bild sehen kann. Die Blätter sind mit Seladon koloriert.
For today's project I used a few new goodies. The Flowers of Friendship stamp set and three of the new Incolor colours from the new annual catalogue. If you don't have one yet and would like one, just send me a note and I'll be happy to send one to you.
I first stamped the flowers in Evening Evergreen and then coloured them lightly with Pale Papaya using a water brush. Since this is normal cardstock, I recommend keeping the brush quite dry so that you don't get to much water on the paper and risk breaking it. With a little water and a few, light brushstrokes, this works wonderfully, especially in this case. Otherwise you smudge the ink of the stamp imprint to much, since it is not waterproof ink. A little smudging is ok as you can see in the picture below. The leaves are coloured with Soft Succulent.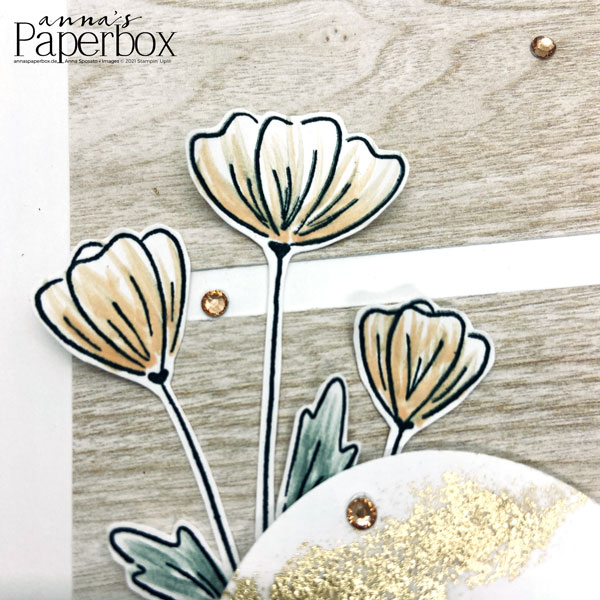 Für das Etikett habe ich einen 2″ großen Kreis gestanzt und den Gruß in Lodengrün gestempelt. Dann habe ich einen Tropfen Versamark Tinte über und unter den Gruß gegeben und diesen mit dem Finger verwischt. Danach das Heißklebepulver drüber verteilt und mit dem Erhitzungsgerät das Pulver geschmolzen. Blattgold drauf und den Überschuss mit einem festeren Borstenpinsel entfernt. Zum Schluß habe ich noch ein paar Straßsteinchen in Champagner aufgeklebt.
For the label I punched out a 2 " circle and stamped the greeting in Evening Evergreen. Then I put a drop of Versamark ink over and under the greeting and smeared it with my finger. Then sprinkled a bit of the Heat and Stick powder over it and melted the powder with the heat tool. Next add the gilded leafing on it and remove the excess with a firmer bristle brush. To finish the card I also added a few Rhinestones in Champagne.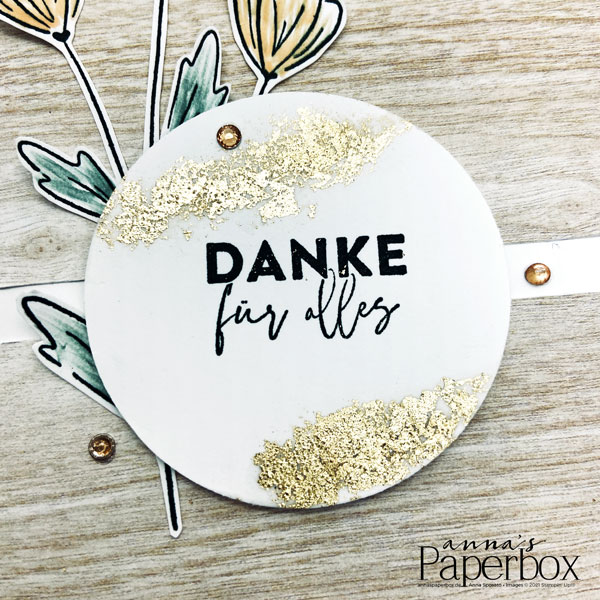 Danke dass ihr heute vorbei geschaut habt. Weiter geht es im Blog Hop weiter unten. Klickt euch einfach durch die vielen tollen Projekte. Viel Spaß beim weiterhoppen. Bis zum nächsten mal.
Thanks for stopping by. Hope you are having fun hopping around and continue on to see lots more fabulous projects. Happy hopping and CU next time.
---
Maße für die Karte:

Measurements for the card:

Farbkarton Flüsterweiß:
5¾" x 8½" (14,5 x 21 cm)
an der langen Seite bei
4⅛" (10,5 cm) falzen
3⅜" x 5″ (8,5 x 12,5 cm)
Farbkarton Babyblau/Puderrosa:
3⅝" x 5¼" (9,5 x 13,5 cm)
Whisper White Cardstock :
5¾" x 8½" (14,5 x 21 cm)
score on the long side at
4⅛" (10,5 cm)
3⅜" x 5″ (8,5 x 12,5 cm)
Balmy Blue/Powderpink Cardstock:
3⅝" x 5¼" (9,5 x 13,5 cm)
---
---
Links für die fehlenden Produkte (Stempelset und Tinten) folgen sobald diese Verfügbar sind.
I'll add the links for the missing products (stamp set and inks) as soon as they are available.
Product List