Hallo und willkommen zu einem neuen InspireINK Blog Hop.
Hello and welcome to a new InspireINK Blog Hop.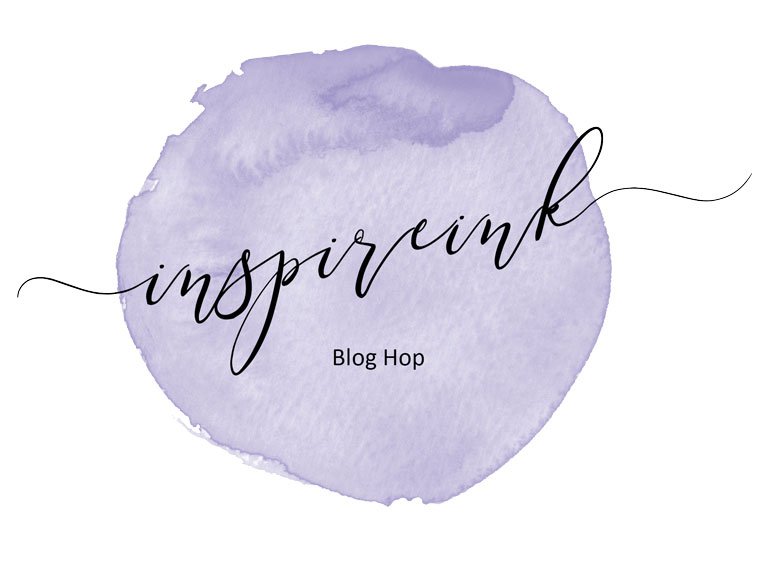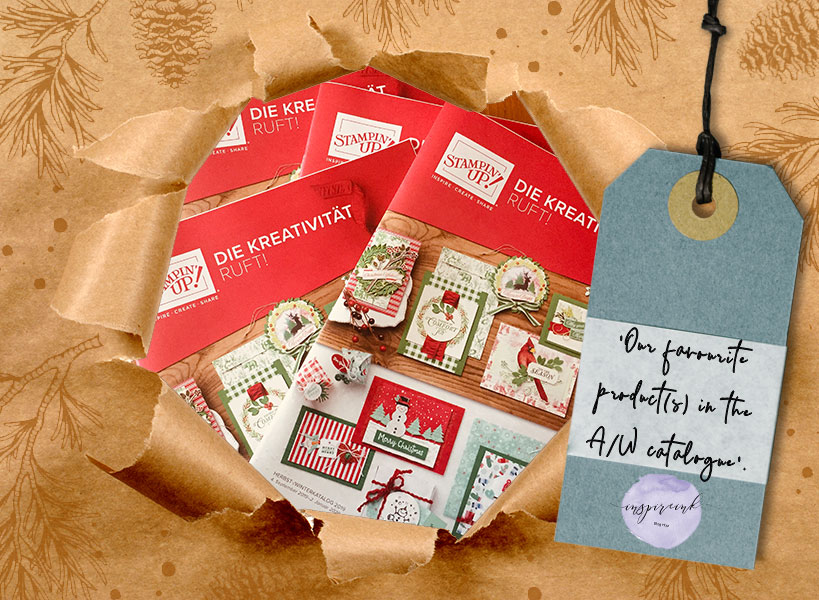 Heute zeigen wir euch unsere Lieblinge aus dem aktuellen Herbst-/Winterkatalog. Meine Top Favoriten sind das Stempelset Snow Front, der Christal Effects Schimmerkleber und das Stampin' Glitter Eis. Ich fand ja schon das Set Water Front aus dem Hauptkatalog klasse und ich finde das Snow Front dieses Set super ergänzt.
Today we're showcasing our favourites from the current autumn / winter catalogue. My top favourites are the stamp set Snow Front, the Shimmery Crystal Effects Glue and the Ice Stampin' Glitter. I absolutely love the Water Front stamp set from the main catalogue and this new set is a great addition to that one. You can mix and match these two for even more beautifully themed cards and projects. Love it! Little sneak peak: there's another set coming in the new mini catalogue in January. Can't wait to show you that one too.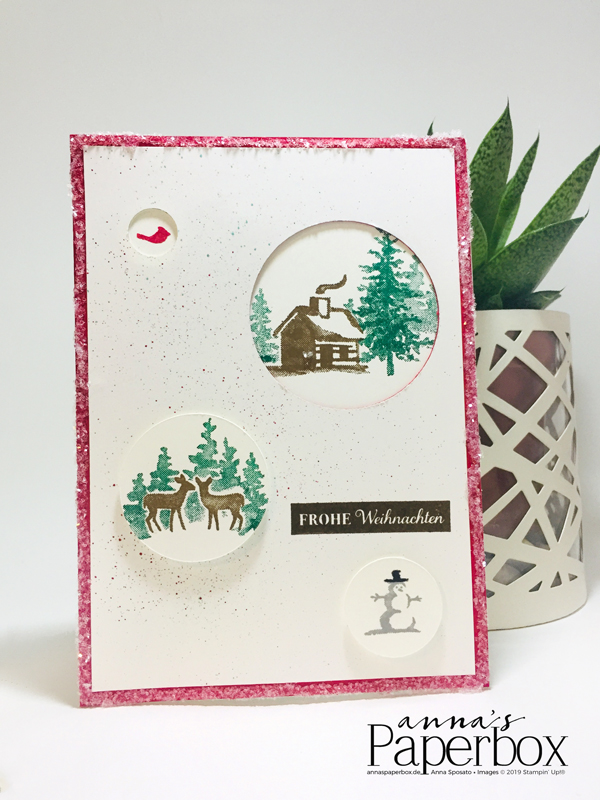 Als erstes habe ich auf den obersten Aufleger einige Sprenkel mit den Markern gespritzt, den Gruß gestempelt und anschließend auf eine rotte Mattung geklebt und die beiden oberen Kreise gestanzt. Die Hütte und der kleine Vogel sind direkt auf die Grundkarte gestempelt. Die beiden anderen Motive habe ich nach dem stempeln auf ein Stück Farbkarton mit verschieden großen Stanzen/Stanzformen gestanzt und mit Dimensionals auf die Karte geklebt.
So, how'd I make this card? First, I added some speckles with the markers on the topmost layer, stamped the greeting, then glued this layer on to a Real Red mat and punched out the top two circles. The hut and the little bird are stamped directly onto the base card. After stamping the other two motifs on a piece of cardstock I punched them out with different sized circle punches (or you could also use circle dies) and glued them on with Dimensionals.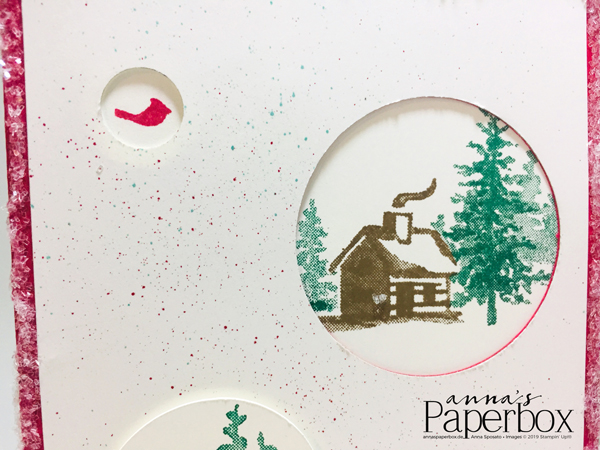 Zum Schluß noch der frostige Rand. Dafür habe ich den Christal Effects Schimmerkleber auf den Rand aufgetragen und anschließend das Stampin' Glitter Eis darübergestreut und mit dem Finger festgedrückt, damit es sich schön über den ganzen Rand verteilt.
The last bit is the frosted edge. I applied the Shimmery Crystal Effects Glue to the red border and then sprinkled the Ice Stampin' Glitter over it and pressed it on with my finger, so that it spreads nicely and even over the whole border.
Danke dass ihr heute vorbei geschaut habt. Weiter geht es im Blog Hop weiter unten. Klickt euch einfach durch die vielen tollen Projekte. Viel Spaß beim weiterhoppen. Bis zum nächsten mal.
Thanks for stopping by. Hope you are having fun hopping around and continue on to see lots more fabulous projects. Happy hopping and CU next time.
–
Maße für die Karte:

Measurements for the card:

Farbkarton Flüsterweiß:
5¾" x 8½" (14,5 x 21 cm)
an der langen Seite bei
4⅛" (10,5 cm) falzen
3⅜" x 5½" (8,5 x 14 cm)
Farbkarton Glutrot:
5¾" x 4⅛" (14,5 x 10,5 cm)
Whisper White Cardstock :
5¾" x 8½" (14,5 x 21 cm)
score on the long side at
4⅛" (10,5 cm)
3⅜" x 5½" (8,5 x 14 cm)
Real Red Cardstock:
5¾" x 4⅛" (14,5 x 10,5 cm)
–
–
Product List