Hallo und willkommen zum monatlichen Inspireink Blog Hop.
Hello and welcome to another Inspireink blog hop.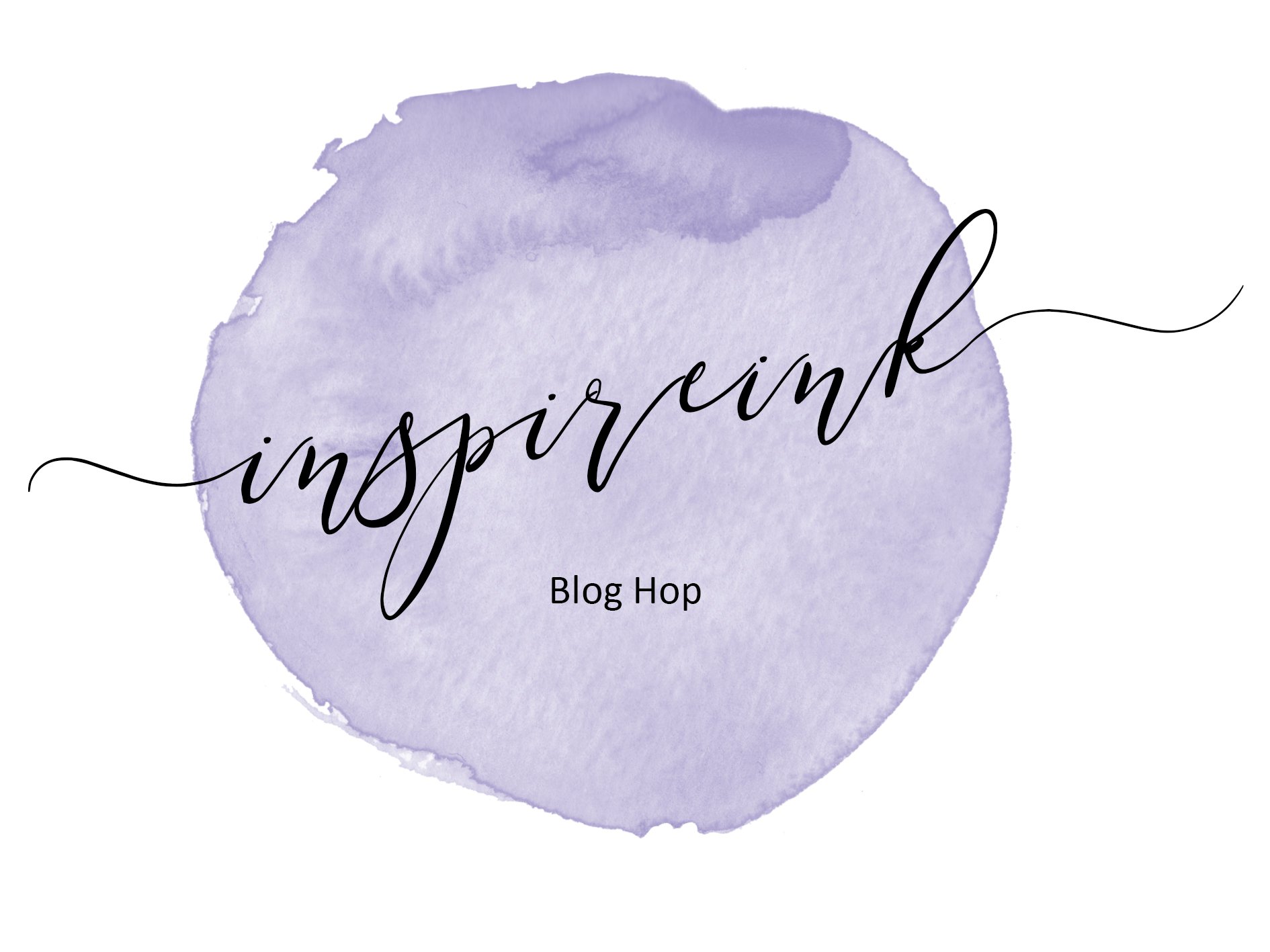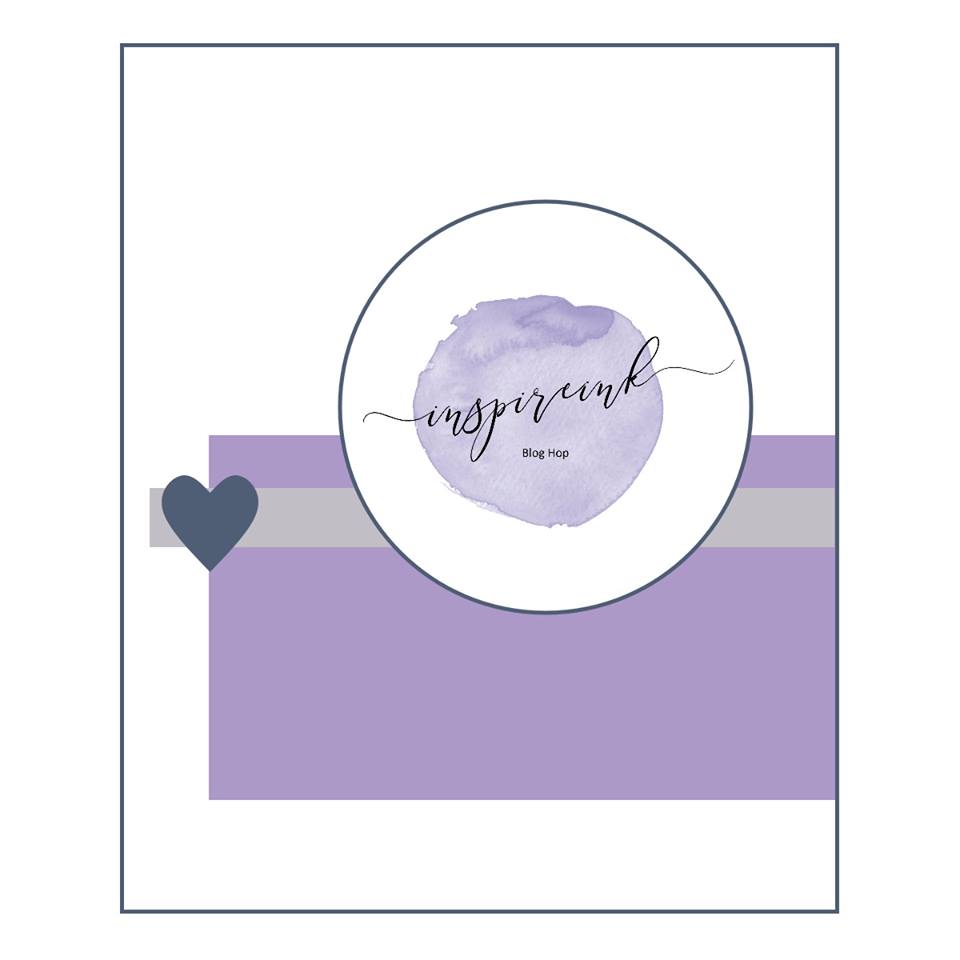 Diesen Monat hat uns Hannah diesen tollen Sketch gegeben. Ich mochte auch die Farben also habe ich unsere Designer Papiere durchforsted und mich am Ende für Poesie der Natur entschieden. Was zwar etwas dunkler ist aber umso schöner.
This month, Hannah gave us a lovely sketch to play with. I liked the colours of the sketch and wanted to stay in that colour range and found them in the Nature's Poem DSP. A bit darker, but oh so beautiful.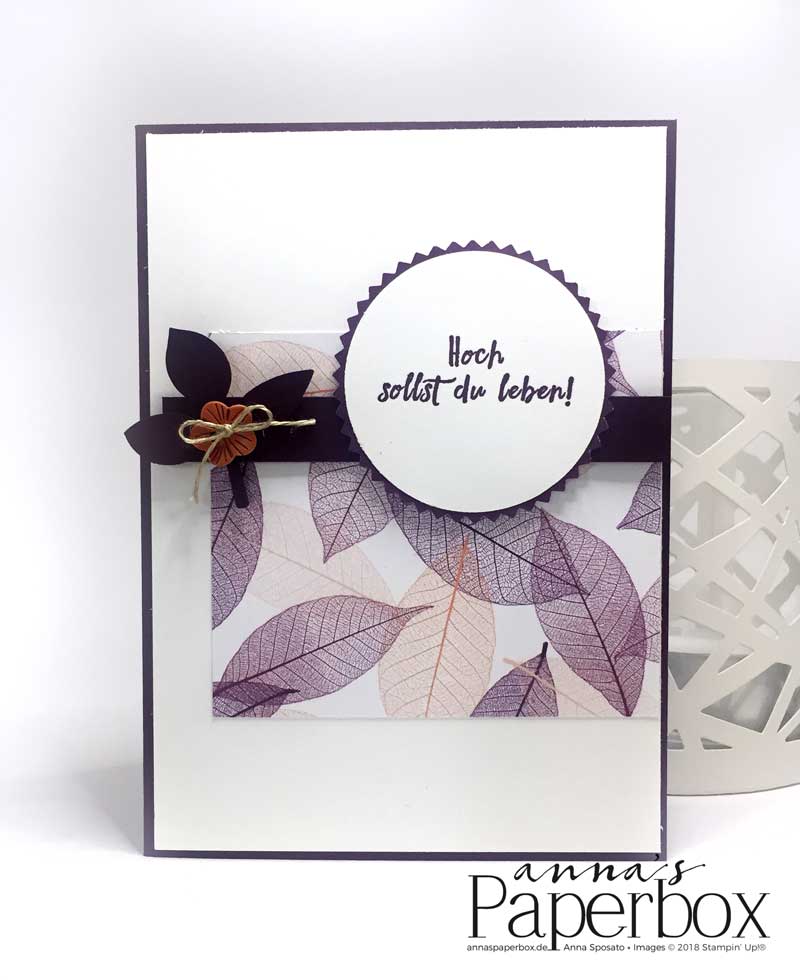 Die Farben auf dem Papier sind Brombeermousse und Terrakotta. Da ich unbedingt ein Blümchen auf dem Blatt wollte, wir aber keine passenden Blüten in Terrakotta haben, habe ich einfach eine Blüte der Tropenflair Akzente, mit einem Alkoholmarker umgefärbt. Klappt wunderbar. Benutzt habe ich Dunkel Calypso. Da die Blüten eine Savanneton haben wirkt die Farbe jetzt eher Terrakotta.
The DSP i chose for this project features Blackberry Bliss and Cajun Craze. I didn't have any flowers or leaves in that colour. So I took one flower from the Tropical Elements Accessories, which are a Crumb Cake shade, and coloured it with the dark Calypso Coral Stampin' Blends marker. Now it's almost Cajun Craze. Perfect!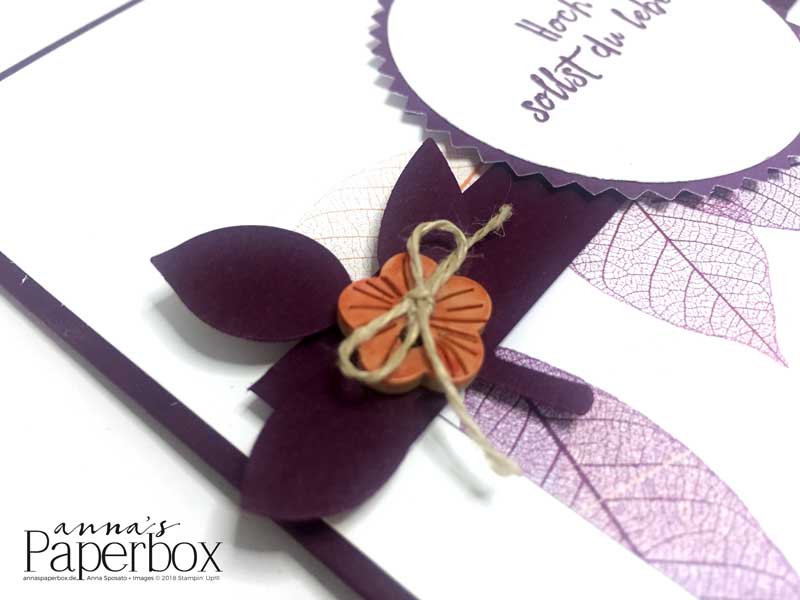 Zum Schluß hab ich die Blüte noch mit einem Stück Leinenfaden an das ausgestanzte Blatt gebunden und diese dann mit einen Glue Dot auf die Karte geklebt.
I tied it with a piece of Linen Tread to the punched out leaf and used a Glue Dot to fix it on the card.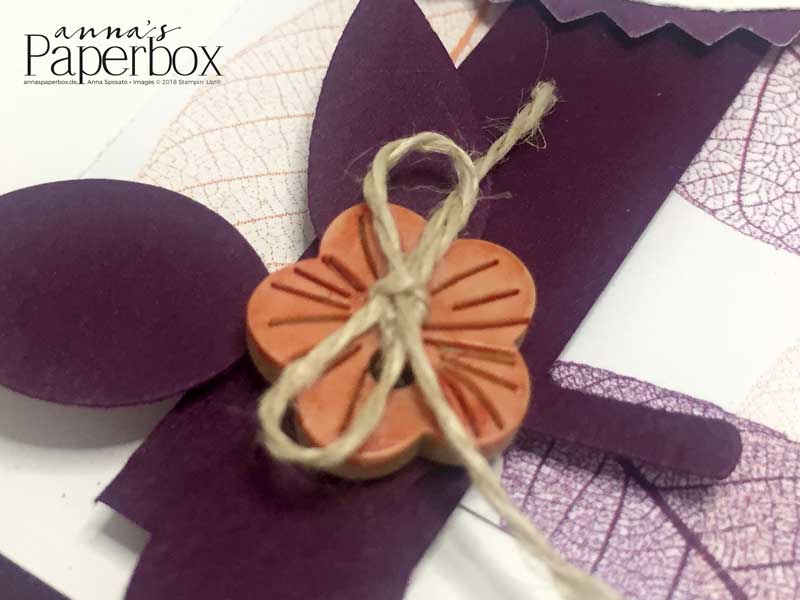 Weiter geht es zu Jill Chapman. Nutzt den Button um euch ihr tolles Projekt anzuschauen. Wünsche euch noch ein schönes Wochenende und bis zum nächsten Mal.
Next one is Jill Chapman. Hop on over to see her beautiful Project. Have a great weekend and CU next time.
–
Maße für die Karte:

Measurements for the card:

Farbkarton Brombeermousse:
5¾" x 8½" (14,5 x 21 cm)
an der langen Seite bei: 4⅛" (10,5 cm) falzen
3⅞" x ½"
Farbkarton Flüsterweiß:
4″ x 5⅝″ (10 x 14 cm)
Designerpapier:
3½" x 3″ (2,5 x 14,5 cm)

Blackberry Bliss Cardstock:


5¾" x 8½" (14,5 x 21 cm)
score on the long side at: 4⅛" (10,5 cm)
3⅞" x ½"


Whisper White Cardstock:


4″ x 5⅝" (10 x 14 cm)

Designer Series Paper:


3½" x 3″ (2,5 x 14,5 cm)

–
Materialien/Product List
–