Ich freue mich riesig diesen Monat Teil des Pootlers Design Teams zu sein. Jeden Donnerstag  stelle ich euch ein Projekt vor, das mit dem Stempelset Bella and Friends kreiert wurde. Sam wählt jeden Monat 4-5 Teammitglieder und ein Stempelset aus, mit dem das jeweilige Team dann einen Monat lang tolle Projekte zaubern darf.
I'm really excited to be in this month's Design Team. For the next four Thursdays I'll show you one project made with the Bella and Friends stamp set. For each month Sam chooses 5 team members and a stamp set with witch we (the January Team) will create a weekly project.
Dieses Set aus dem Hauptkatalog war schon länger auf meiner Wunschliste, weil es einfach zuckersüß ist. Als Zusatz-Challenge habe ich mir vorgenommen wirklich nur dieses Set zu benutzen, was nicht leicht sein wird, da ich gerne mindestens zwei verschiedene Sets verwende. Mal sehen, ob ich  das schaffe. Wie ihr sehen könnt, hat es bei meiner ersten Karte geklappt.
I've had this adorable stamp set on my wish list for quite some time now. Usually I use at least two ore more stamp sets for my projects but for this one – unlike me – I'm going to use the given stamp set only, and see how that will turn out. Well, it worked just fine! I'm happy with the result of my first card.  😉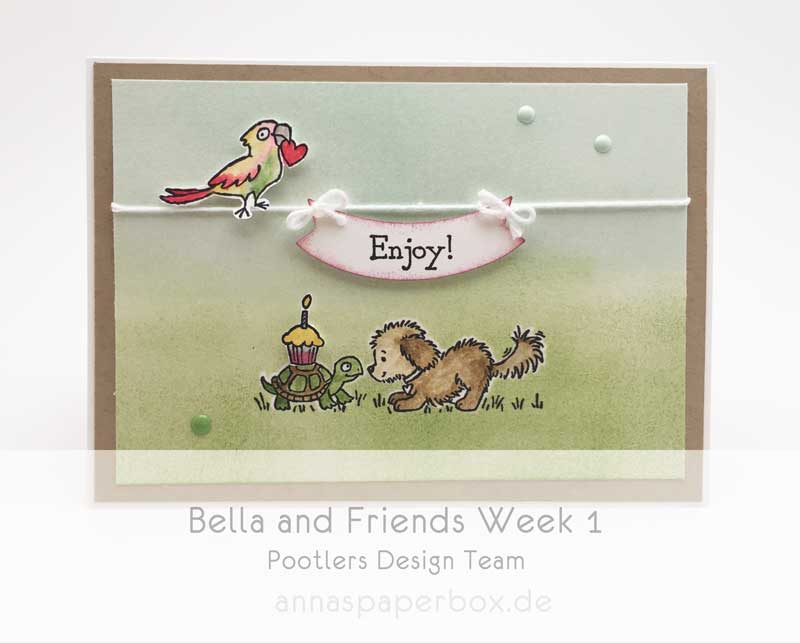 Als erstes habe ich den Hund mit der Schildkröte gestempelt und mit den Mischstiften ausgemalt. Dann das Motiv maskiert und den Hintergrund mit den Schwammwalzen eingefärbt. Papagei und Cupcake sind beide ausgeschnitten und mit Dimensionals aufgeklebt. Ebenso das Banner (hierfür gibt es allerdings eine Stanze 😉 )
Maskiertechnik: das Motiv noch einmal auf ein Post-it stempeln,  ausschneiden und auf das gestempelte Motiv kleben. Jetzt kann man andere Motive darüber stempeln oder den Hintergrund färben ohne das Motiv zu überstempeln.

First I stamped the pup with the turtle and coloured it with the blender pens. Then I masked the motive and coloured the background with sponge brayers. The parrot and cupcake cut-outs as well as the banner (for this you may use the banner punch 😉 ) where glued on with dimensionals.
Masking: stamp again the image on a Post-it, cut it out and stick it on the stamped image. Now, you can both stamp more images on top of it and colour the background, without stamping over the masked image.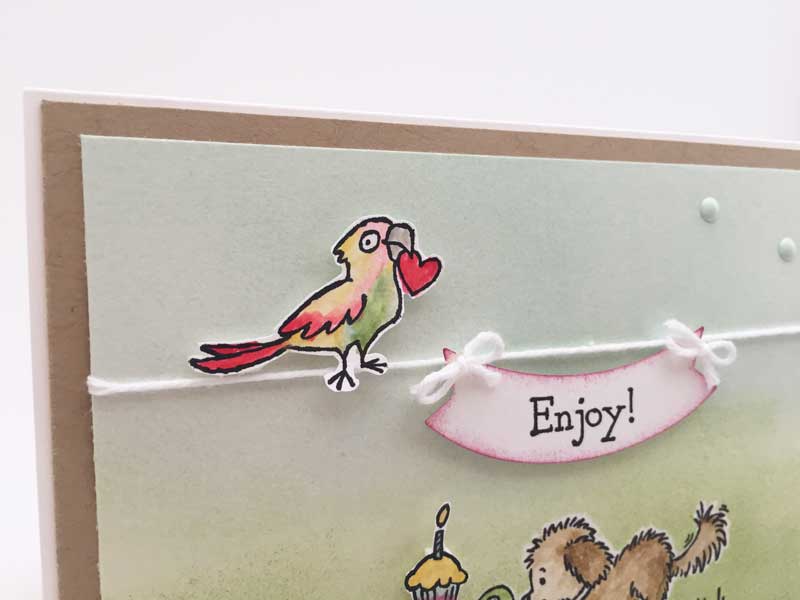 Auf dem Foto sieht man es nicht, aber ich habe den Cupcake mit einem hauch Glimmer (Wink of Stella Stift) versehen.
Das war die erste Woche und ich hoffe, euch gefällt mein Beitrag.
Although you may not see it in the picture, I put some glimmer (Wink of Stella) on the cupcake.
Well, so far so good. Hope you will enjoy my contribution to this week's challenge.
---
Materialliste
Save
Save
Save