Hallo und willkommen zu Pootler's Design Team Hop. Vier Wochen, vier Projekte ein Stempelset. Zum Ende des Jahres bin ich wieder Teil des Pootler's Desing Team. Im Januar habe ich schon einmal mitgemacht und es hat so viel Spaß gemacht, dass ich mich für Dezember wieder beworben habe. Meine Upline Sam (Pootles) hat uns diesmal dieses tolle Stempelset geschickt.
Hello and welcome to Pootler's Design Team hop. Four weeks, four projects and one stamp set. I've had so much fun the last time I participated, that when Sam (my upline) asked for volunteers, I jumped at the opportunity and here I am again :). This time we've got this great stamp set to play with.
Mein erstes Projekt damit, ist diese Aufstellkarte oder Easel-Card und ich habe mal wieder zu meinen aktuellen Lieblingsprodukten gegriffen. Den Stampin' Blends 🙂
My first project is an easel card and once again I used my favorite colouring tools. The Stampin' Blends.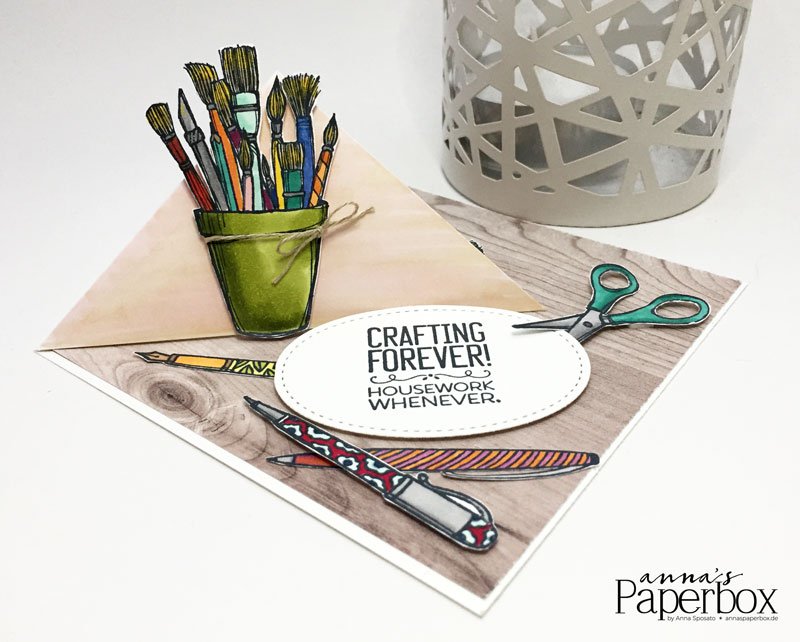 Nach dem falzen und schneiden der Karte hab ich das Aufstellerdreieck mit den Alkoholmarkern eingefärbt. Benutzt habe ich die Farben Elfenbein und Hell-Zartrosa. Für die metallischen Teile (Schere, Stifte…) finde ich, eignet sich am besten Hell-Schiefergrau und Dunkel-Schiefergrau für Schatten und Akzente.
After scoring and cutting the card I coloured the easel triangle with the Ivory and Light Powder Pink Blends. For the metal parts of the various tools and pens I used both Smoky Slate Blends.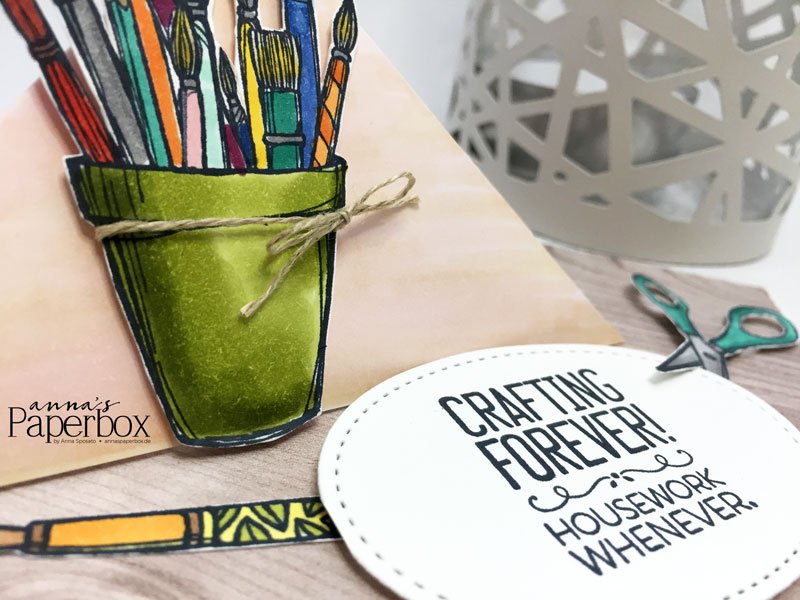 Weil mir der Platz unter dem Zelt/Dreieck ein bisschen zu leer war, habe ich noch einen Satz Pinsel hinzugefügt. Ich habe den Topf abgeschnitten, die Pinsel geteilt und dann verdreht wieder zusammengesetzt.
Um die Scherengriffe einfacher auszuschneiden habe ich zuerst ein Loch mit der größeren Handstanze gestanzt und dann den Rest mit der Schere ausgeschnitten.
After completing the card, there was a bit too much empty space under the "tent" of the easel part. So I colored a second set of the brushes, cut off the pot and also cut them in half, to rearrange them a bit differently. Just so they don't look exactly the same. Here's a little tip for the scissor handles. Punch a hole in the middle of the handle and then use the snips to cut them neatly out.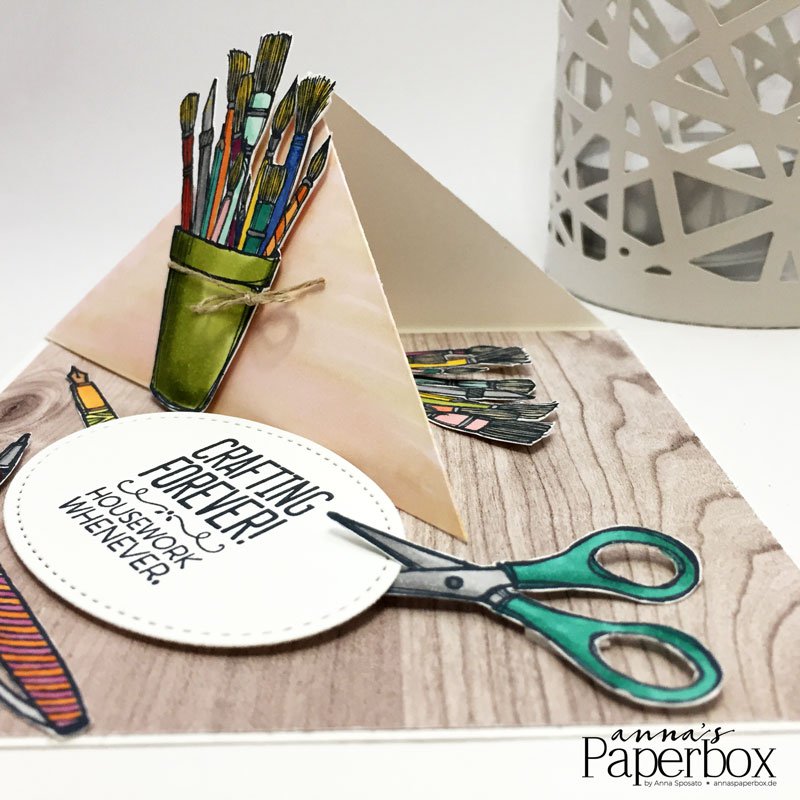 Ich habe auch eine PDF Vorlage für euch. Zum Download einfach auf das Bild unten klicken. Viel Spaß beim nach basteln.
If you want to make your own card, just click on the pic below to download a PDF template with all the measurements.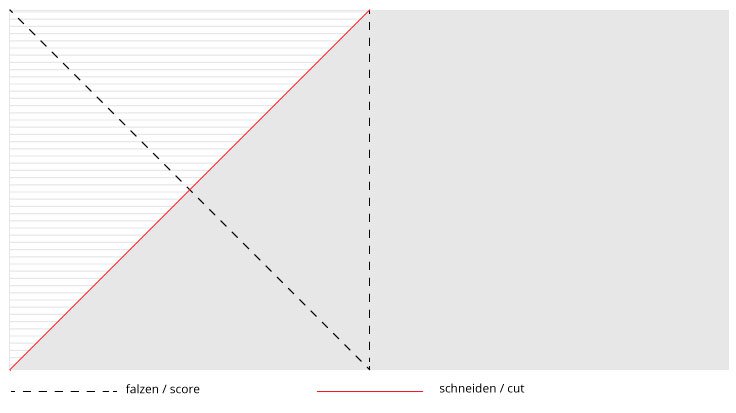 –
Materialliste/Product List
–