Hallo und Willkommen zu einem neuen Pootlers Blog Hop zum neuen Herbst-/Winterkatalog.
Hello and welcome to a new Pootlers Blog Hop. On today's hop we'll take you on a tour through the new autumn/winter catalogue.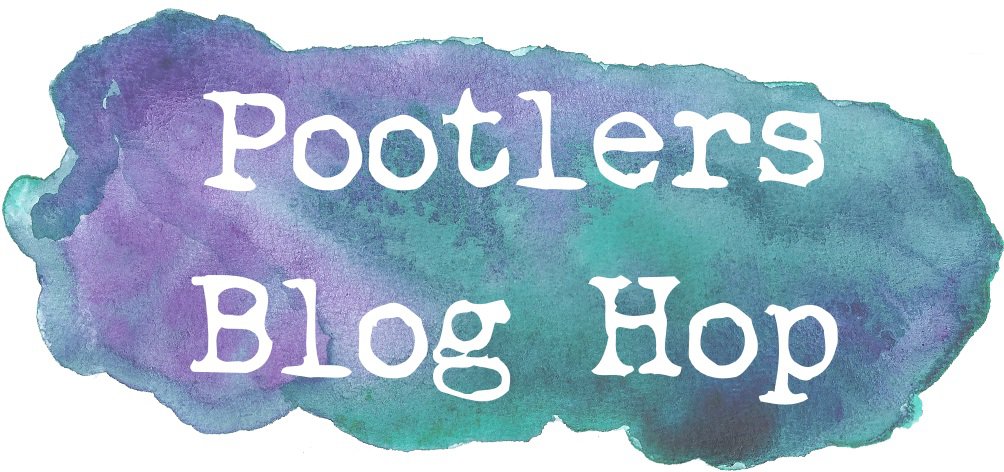 So viele schöne neue Artikel. Da weiß man gar nicht was man zuerst nehmen soll. Eine Produktreihe war jedoch ein absolutes Must Have für mich. Die Reihe Meer der Möglichkeiten. Stempel, Stanzformen, Papier, Accessoires, Farben… Traumhaft schön!
I chose two stamp sets that you can use year round. Sip Sip Hooray and Cheers to that. I used a mat that I cut the same as the card base front to stamp my images. If you use extra thick card stock you could stamp directly onto the base. No need for an extra layer.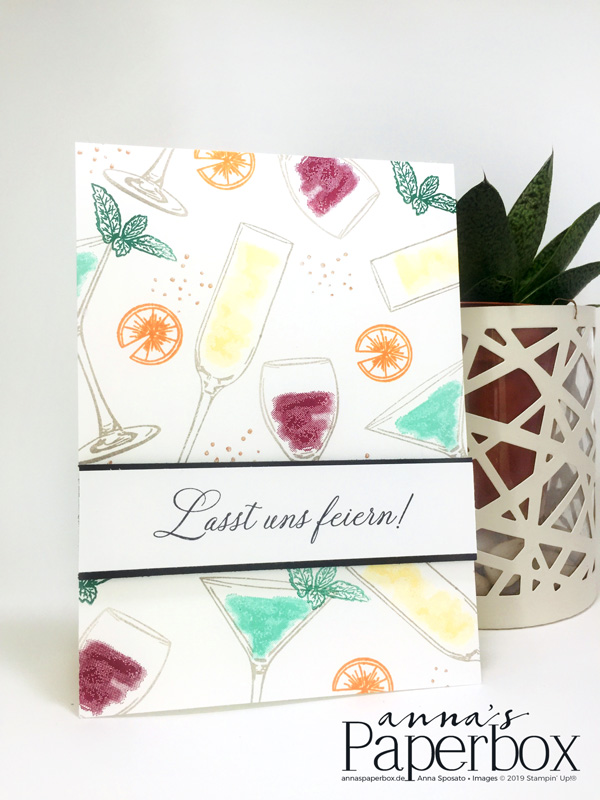 Ich habe damit eine große Tütenverpackung gemacht. Fertiges Größe ist 3″ x 2″ x 7″ (8 x 5 x 17 cm). Die Maße findet ihr unten. Wenn ihr schauen möchtet wie ich die Tüte gemacht habe, schaut morgen wieder vorbei. Dann hab ich ein Video für euch. Mein erstes Video ?.
To add a tiny bit of sparkle, I stamped the bubbles/dots with the new Delicata metallic ink in copper. I loooove those new metallic inks ?. They are so pretty. You should definitely try them out. The only colour that I stamped once of is Daffodil Delight for the champagne.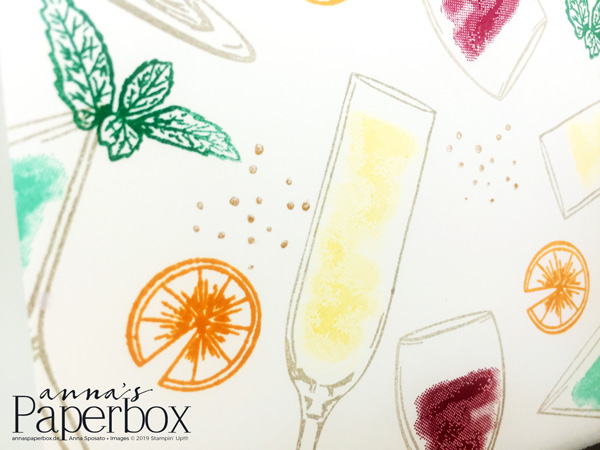 Mit dem "Lasst uns feiern!" Spruch aus dem Stempelset Ein Hoch auf alles, eignet sich die Karte prima für Einladungen. Daher habe ich sie auch recht einfach gehalten. Bei größeren Mengen will man ja auch nicht unbedingt ewig and den Einladungen herumbasteln ?.
I've used the German version of Cheers to that which has a phrase that says "let's celebrate". Perfect for invitations. That's also why I kept it fairly simple. Cause if you have to make a large number of them, you don't really want to spend forever making them ?.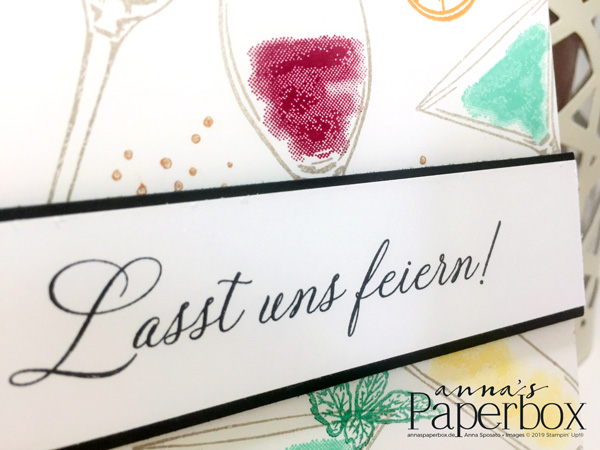 Jetzt wünsche ich euch noch viel Spaß beim weiterhoppen.
Thanks for stopping by. Hope you are having fun hopping around and continue on. Happy hopping and CU soon.
Maße für die Karte:

Measurements for the card:

Farbkarton Flüsterweiß:
(1) 11½" x 4⅛" (29 x 10,5 cm)
an der langen Seite bei
5¾" (14,5 cm) falzen
(1) 5¾" x 4⅛" (14,5 x 10,5 cm)
(1) 1" x 4⅛" (2,5 x 10,5 cm)
Farbkarton Schwarz:
(1) 1⅛" x 4⅛" (3 x 10,5 cm)
Whisper White Cardstock :
(1) 11½" x 4⅛" (29 x 10,5 cm)
score on the long side at
5¾" (14,5 cm)
(1) 5¾" x 4⅛" (14,5 x 10,5 cm)
(1) 1" x 4⅛" (2,5 x 10,5 cm)
Basic Black Cardstock:
(1) 1⅛" x 4⅛" (3 x 10,5 cm)
Product List