…unter der Haube 😄. Die Framelits für die SAB Cupcakes sind einfach Zucker. Besonders die Glocke mit passendem Fuß.
Delicious cupcakes in a glass bell jar 😄. For todays card I used one of the new SAB-coordinating products. The Call me Cupcake Framelits Dies.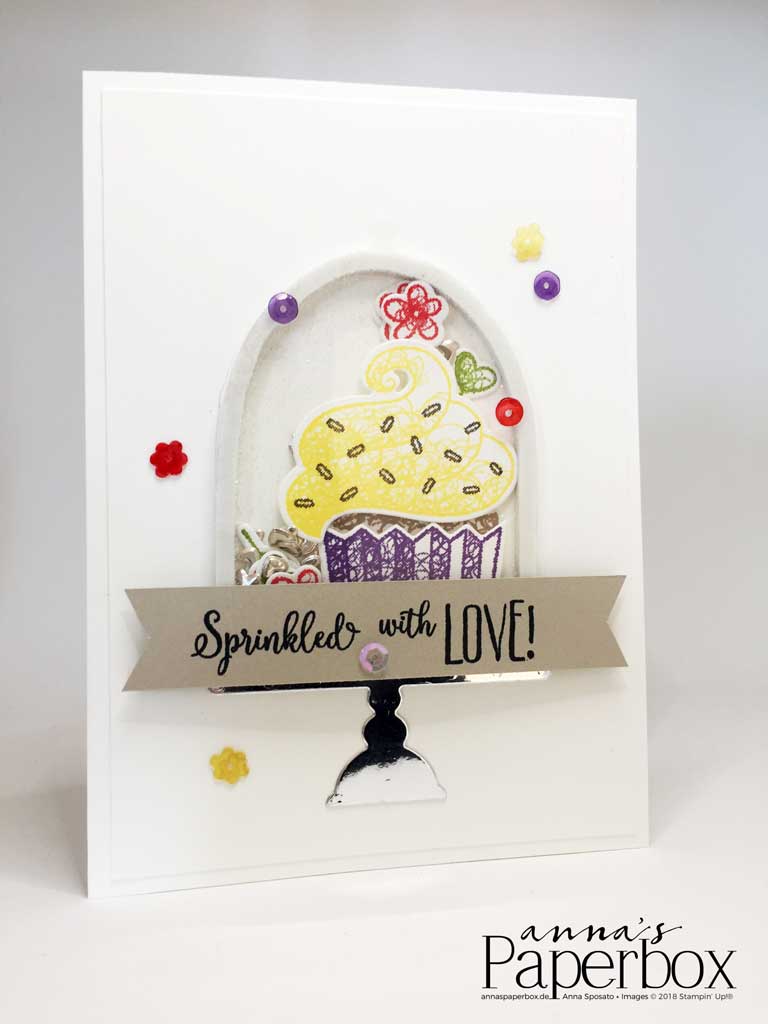 Da habe ich doch gleich mal eine Schüttelkarte damit gemacht. Die Glocke hab ich aus Klarsichfolie gestanzt und den Fuß aus Metallic-Folienpapier. Ich wollte eine freistehende Glocke, also habe ich die Schaumstoffklebestreifen direkt auf die Folie geklebt und diese dann auf die Karte. Vorher hab ich den Cupcake mit Dimensionals aufgeklebt und das "Konfetti" und etwas Glitzerpulver auf den Cupcake gestreut, damit ich die Glocke einfacher aufklebn konnte.
The bell and cakestand are two of those framelits, which just scream "shaker card". So of course I made one. For the bell I used Window Sheets and for the foot Silver Foil Sheets. I wanted a freestanding bell. Therefore I put the foam tape directly onto the foil and then stuck it on the card. Before attaching the bell though, I attached the cupcake with Dimensionals and sprinkled the "confetti" and some glitter on the cupcake. That makes it easier to position and attach the bell.
Die Pailetten in rot gibt es so nicht. Ich habe einfach die transparenten der Selbstklebenden Gartenglück Pailetten mit einem roten Alkololmarker eingfärbt.
The red sequins are coloured with a red alcolol marker. I used the Balmy Blue ones from the Gingham Gala Adhesive-Backed Sequins as they seem almost transparent.
–
Materialien/Product List