Es ist Mittwoch und wir haben eine neue Challenge auf Inspire.Create. Diesmal gibt es einen Sketch.
It's Tuesday and it's time for a new Inspire.Create. challenge. This week we've go a sketch.

Wer liebt die süssen, knuffigen Party Pandas nicht? Also ich tu es. Also hier sind sie und sie passen wunderbar zur Reihe Perfekte Party.

Who doesn't love the Party Pandas? Well I do. So here they are and they are just a perfect match to the Picture Perfect Suite.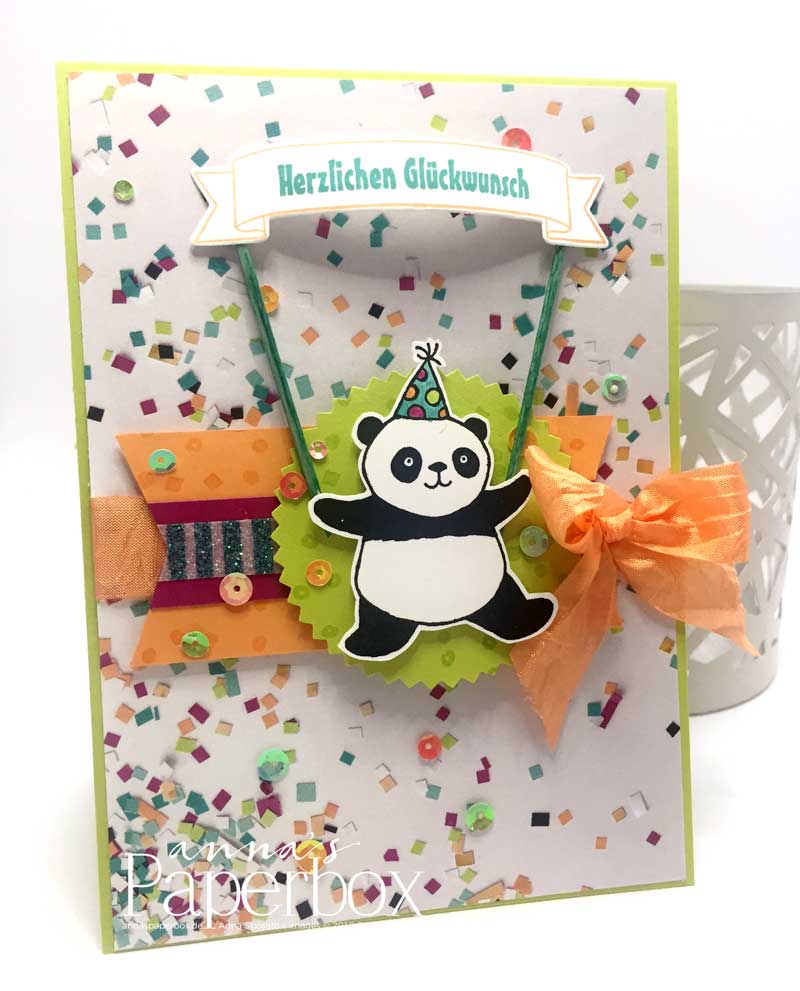 Schön bunt sollte es diesmal sein. Für den Hintergrund habe ich die Fotoseite des Designerpapiers benutzt. Jedes Blatt hat eine Fotoseite und eine Grafikseite. Die Grafikseite habe ich für die kleine Verpackung (Link für Vorlage hier) verwendet. Das Banner mit den Glückwünschen ist leicht gebogen und mit Glue Dots an zwei Zahnstochern befestigt. Die Zahnstocher habe ich vorher mit dem hellen Bermudablau Stampin' Blend eingefärbt. Am unteren Ende sind sie auch noch einmal mit Glue Dots an dem Panda geklebt.
I wanted a bright, colourful card this time. For the background I used the photographic side of the DSP. Each sheet of this DSP has a potographic imagery and a designed imagery side. I made a matching little treat pouch (download a template for the pouch here) which shows the designed imagery side. The banner with the Happy Birthday (Herzlichen Glückwunsch) is slightly bend to give it a nice round more banner like look. I attached it with Glue Dots on two toothpicks which I coloured with the light Bermuda Bay Stampin' Blend. I also added two more Glue Dots behind the paws and attached the picks there as well.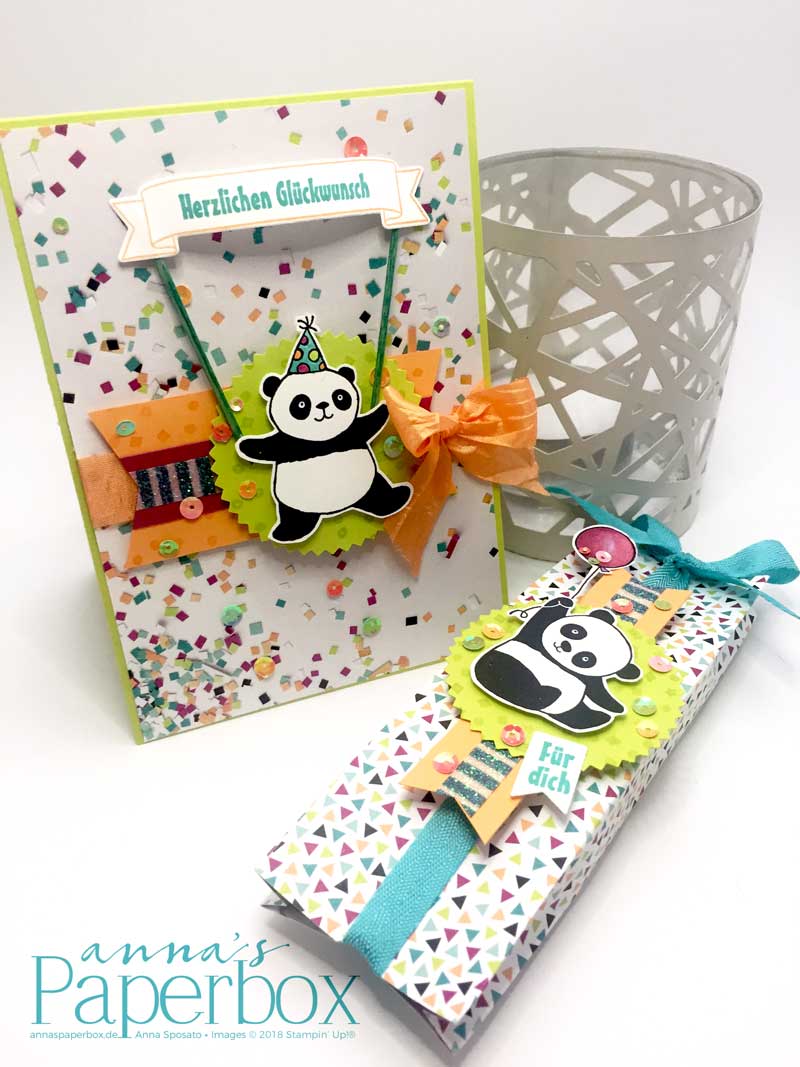 Da es keine Blends in Sommerbeere gibt musste ich mir die Farbe für den Ballon der Verpackung zurecht-mischen. Dafür habe ich die hellen Varianten der Farben Chili, Himbeerrot und Zartrosa übereinandergelegt bis ich mit dem Ergebnis zufrieden war 🙂
For the balloon on the pouch I wanted a Berry Burst tone and I wanted to use the Blends. But we don't have that colour as blends. So what to do? I ended up layering Light Cherry Cobbler, Light Rich Razzleberry and Light Pink Pirouette till I got a Berry Burst tone 🙂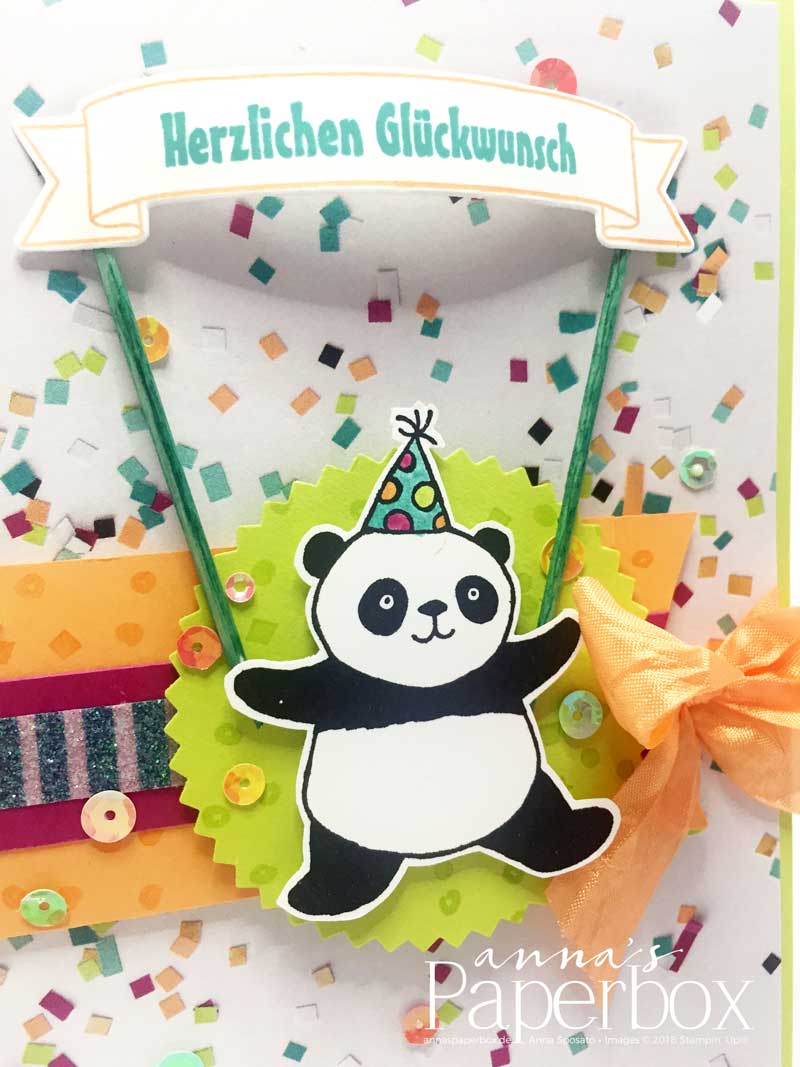 Danke das ihr heute wieder vorbeigeschaut habt. Besucht uns doch auch auf der Challengeseite. Wir freuen uns auf eure Projekte zum Sketch dieser Woche.
Thanks for stopping by today. Hope I've given you some idea and we would love to see your creation with this sketch over at Inspire.Create.Challenges.

–
Maße für die Karte:
Farbkarton Limette:
(1) 11½" x 4⅛" (29 x 10,5 cm)
an der langen Seite bei: 5¾" (14,5 cm) falzen
Farbkarton Pfirsich Pur und Sommerbeere
(1) 3¼" x 1½" (8,5 x 4 cm)
(1) 3¼" x ¾" (8,5 x 2 cm)
Designerpapier:
5⅝" x 4″ (14 x 10 cm)
Measurements for the card:
Lemon Lime Twist cardstock:
(1) 11½" x 4⅛" (29 x 10,5 cm)
score on one side at: 5¾" (14,5 cm) falzen

Peekaboo Peach and Berry Burst cardstock
(1) 3¼" x 1½" (8,5 x 4 cm)
(1) 3¼" x ¾" (8,5 x 2 cm)
DSP
5⅝" x 4″ (14 x 10 cm)

–
Materialien/Product List
–